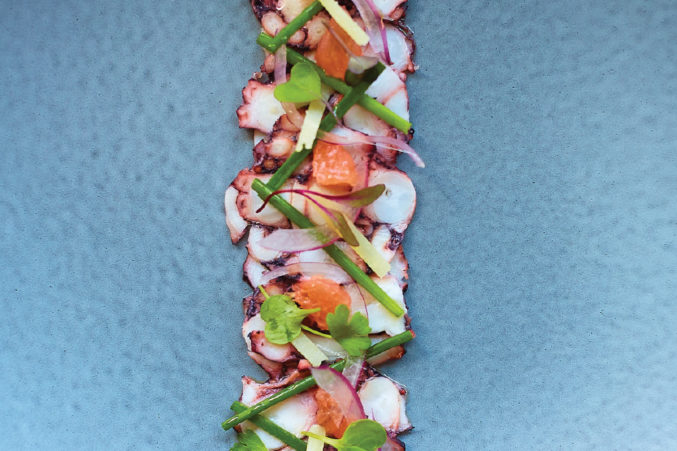 Abacus Rises Again as Jasper's Uptown
This is the third location.
Tuesday night marked the return of Abacus—and also not. On June 1, the Abacus Jaspers Restaurant Group closed the establishment that had lived out a 19-year run in the Knox Henderson neighborhood. Tears were shed over the demise of fancy sushi rolls and lobster shooters. Within two months, the doors are re-opening as a third location of Jasper's (the others are located in Richardson and The Woodlands).
The press release is glowing:
"Guests will be thrilled to experience that simple has never been so delectable when they dine at Jasper's Uptown," said Bill Hyde, owner of Abacus Jasper's Restaurant Group. "Imagine relaxing with family and friends while sipping in-house infused cocktails and enjoying pure, simple ingredients transformed with a twist of smoke or a turn on our wood fired grill."

Jasper's Uptown will capture the flavors of the American Southwest, Mediterranean and Pacific Rim by rotating items seasonally to ensure guests are exposed to locally sourced meats, game, fish, vegetables and cheeses at optimal times. The menu will offer some of Jasper's award-winning favorites: Slow Smoked Baby Back Ribs and Blue Cheese Potato Chips along with some exciting new creations such as the Spicy Melon Salad, Prince Edward Island Mussels, Late Summer Squash Angel Hair Pasta, Coal Charred Ribeye and Sushi.

Executive Chef Chad Bowden, tenured chef at Abacus, has been selected to lead the kitchen staff at Jasper's Uptown. Chef Bowden is no stranger to the Dallas dining scene. He was the executive chef at Culpepper Steak House for many years and in 2005 was named by Dallas Morning News as one of the rising stars in the Dallas culinary scene.
I'm not so sure. A place where they serve fried calamari crusted in five-spice doused in a sweet chili vinaigrette and Gulf crab cakes with a tomatillo-poblano cream and jicama-tortilla slaw on a menu that also boasts hearth-smoked or rotisserie meats is, indeed, not too far from what Abacus was doing. But that model of bold-flavor mix-and-match is beginning to feel absurdly outdated. I have yet to visit, and it may be that the execution is outstanding, the products top-notch. As a business decision, the opening makes perfect sense. It remains to be seen whether another Jasper's—and in some ways another Abacus—is what that spot needs.