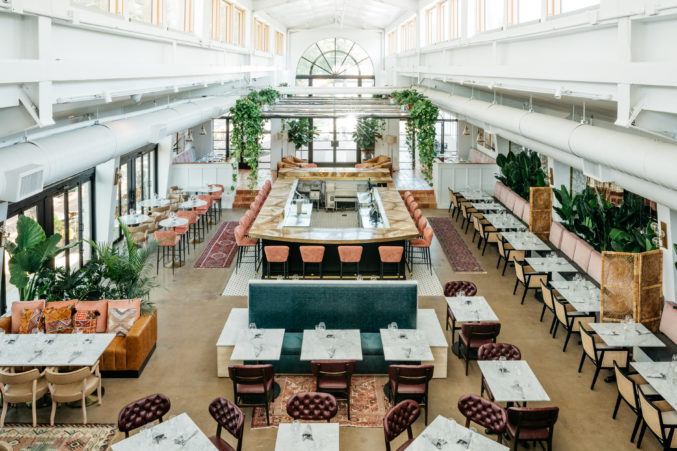 A Look Inside Paradiso in Bishop Arts
Expect modern, light, Mediterranean fare and courtyard views.
If you have been to Botanist, which recently opened in Bishop Arts—and, let's face it, all of the Park Cities seems to have been—you already know that Paradiso, the restaurant across the patio from the moody-chic bar, was poised to open. Now, we're closer: it soft-opens this Friday. The restaurant is the lynch-pin in the Exxir Group's trio of spots arranged around a gurgling fountain.
Here is what they have to say about Paradiso: "The coastal, southern European-inspired restaurant will be taking limited reservations for several weeks. Expect a menu of light apps pushed around on bar carts—shoulder porchetta with salsa verde, toasted fregola with Italian sausage and manila clams and fried baby artichoke hearts—as well as seasonal salads, house-made pastas, wood-fired pizzas, grilled branzino, pork chops and bavette."
When I first was being introduced to the concept, what they told me conjured images of wood-fired pizzas and fresh bread from a deck oven; house-cured meats and house-made pastas; fancy, funky cheeses; whole fish; and carts circumambulating with orange wines.
"We grew up in Europe. My dad and mom loved to go to the south of France, Spain, Italy. You get a lot of little mezze on the table," says Exxir co-founder Michael Nazerian, explaining the affinity for a light-bite, breezy atmosphere. "We wanted to bring that feeling to the restaurant. We're a hybrid of Europeans, Californians, and Texans."
Nick Hurry is executive chef and Anne Parravano is pastry chef. The kitchen was built with ample space for in-house, ingredient-focused production that includes a proofer for breads, a sheeter for laminated-dough pastries, like croissants, which will be served in Good Companions, a coffee-and-pastry shop.
"We'll eventually be drying our own pastas as well," says Jeremy Hargrove, COO of Exxir Hospitality, so that not only fresh ravioli, but also dried pastas like fettuccine and spaghettis will be in-house. "It's really a celebration of ingredients. [The goal, in European tradition, is to] not overdo it. Keep it light and beautiful."