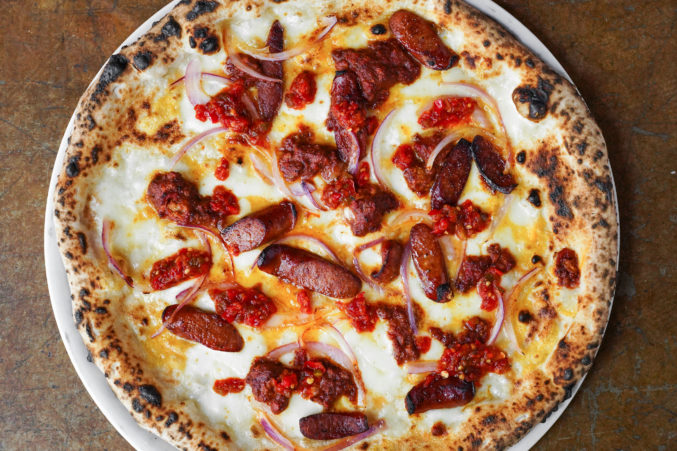 There's a Pizza at Cane Rosso That's Topped With Luscher's Post Oak Red Hots
And you should eat it.
People like hot dogs. According to the highly esteemed National Hot Dog and Sausage Council, in 2018, consumers spent more than $3 billion on hot dogs in U.S. supermarkets. Also, on the Fourth of July, Americans are expected to consume 150 million hot dogs. Guys, that's so many hot dogs. What are you doing with all of them? Actually, don't answer that.
After spending the better half of this morning clicking around on the National Hot Dog and Sausage Council's site, I learned some compelling facts. Did you know that hot dogs were one of the first foods eaten on the moon? No you didn't. Stop trying to look smart! Hot dogs were sold at baseball games in the late 1800s. Mickey Mouse's first on-screen words were "hot" and "dogs." (It's true, I fact checked it.) Los Angeles residents consume the most hot dogs in the country. The world's longest hot dog was 668 feet long. And this happened in 2011:
Now that you're caught up on your tubed-meat history, let's get to the point of this blog post: Cane Rosso is celebrating July, which happens to be National Hot Dog Month, with a pizza they're calling the Red Hot Chili Pepper. The pie is topped with Luscher's Post Oak Red Hots. These are like the haut monde of hot dogs in Dallas. The pie is also topped with house-made mozzarella, Texas chili, sharp cheddar, red onions, and a spicy pepper relish.
It's good. Like, way better than that "Hot Dog Bites" pizza that Pizza Hut was pushing a few years ago. This is my professional review.
Here's what some of my colleagues had to say:
"Hello, Luscher's Post Oak Red Hots! (Brian, send us a six pack. What's up, man!) I miss these things a lot. And while I could do with a little more char on the dogs, that's a small complaint. I love the balance of the smoky sausage and rich chili with the tart sweetness of the red pepper jam. I would absolutely order this. I am now pro hot dog pizza." – Matt Goodman
"I like it. If they want to do the Fourth of July on a pizza, they're close. There's the sweet-hot chile relish, a little bit sweet and feisty; the Red Hots; and the dollops of house-made chili, which may be the best part. Those blisters on the crust – it's like a fire pit, too. All I want is a s'more and a beach." – Eve Hill-Agnus
"As a child growing up in Ohio, summers were happiness. Hot dogs were happiness. And in the summer, when my mom would set out the fixings for make-your-own pizza night, we would slather sweet, canned tomato sauce on a pre-cooked round of dough; sprinkle shredded and bagged Kraft mozzarella to the edges, and top the whole thing with fat slices of hot dogs, munching on cold slices as we worked. That was pure bliss. As is this." – Kathy Wise
"Got the last piece. It only had one sausage on it but it was good." – Christiana Nielson
The pizza is available at Cane Rosso through July. Happy National Hot Dog Month. Happy Independence Day. Give your mom a hug for me and tell your dog I say hi. xoxo. 😘🌭