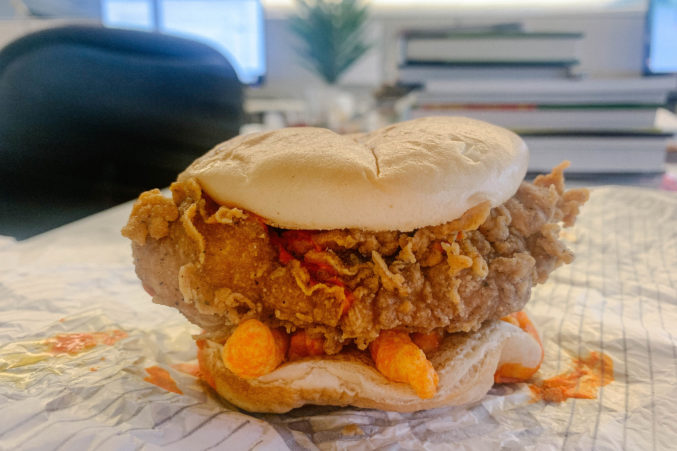 Taste Test: KFC's Cheetos Sandwich
Plano's greatest export is delicious. Here's the proof.
Last month, KFC debuted a Cheetos Sandwich. It's basically what it sounds like: fried chicken that's coated in something called "special Cheetos sauce" and served on a pile of Cheetos, which are stacked on a bun that's smeared with mayonnaise.
Each sandwich has 560 calories, 33 grams of total fat, 22 percent of your recommended cholesterol intake, and 25 grams of protein. It's free of tree nuts, peanuts, and soy. So, if you're allergic to these items, you can eat this sandwich. It does, however, have gluten, milk, and MSG, so if you're allergic to these things, I'm sorry.
I ordered a few sandwiches to the office. Cheetos are Plano's greatest export (challenge me on this, I dare you), which means they're local and therefore this is a Dallas story.
I had a teensy-tiny-microscopic bite and admittedly, I dug it. I'm not ashamed to admit this. Some of the people I work with dug it, too.
These are their thoughts.
"You're stoned in college and your buddy puts a leftover fried chicken breast on a bun and tops it with Cheetos and slathers on mayo and is very happy with himself. That's this sandwich. It's not bad. It's just easy. Lazy, even. They should've leaned in. Batter that chicken breast in smashed Flaming Hot Cheetos. Put on a slice of Monterrey Jack. Turn the Flamin' Hot dust into an aioli. Try a little."
"Dude, yeah. This is tasty. I was never a Doritos-on-my-turkey-sandwich kind of guy, so my expectations were low. But the Cheetos were quite nice, and that juicy, actual piece of chicken was a tender surprise. If they don't come out with a hot Cheetos version, management can expect a sternly worded letter."
"I am morally and gustatorily opposed to the Cheetos Sandwich. It is another sign of the downfall of our society, a plot point from Idiocracy 2. I feel bad for every chicken who gave its life to KFC, only to have its flesh fried and topped with a cheese-flavored puffed snack that looks like a skin tag pulled from Otto the Orange, the Syracuse mascot. All that said, these things are effing delicious."
"This would make really good drunk food. How late is KFC open, anyway? Do they have a hot Cheeto version because that would be amazing."
"Have you been watching the British-Canadian series Tin Star on Amazon, starring Tim Roth? You should. It's amazing. I just started season 2. But I had to go back and watch season 1 first because I had forgotten everything in the interim. In one of the most heartbreaking episodes, when we learn the secret of just what Tim Roth's undercover cop character did to a young boy that would later turn him into a cold-blooded killer, there's a poignant scene where Roth makes the boy breakfast in a godforsaken trailer in the backwoods of Britain while the boy's mother and Roth's lover is sleeping off a bender. He takes a couple of slices of spongy white bread from a plastic sleeve, tosses them on the table, slathers them with butter, and piles a handful of potato chips on top. He and the boy smash their crisp sandwiches together and gleefully tear into them with huge bites, as bits of broken crisps fly through the air and the two giggle at their morning decadence. It is the last moment of bliss before everything horrible happens. That is this sandwich."