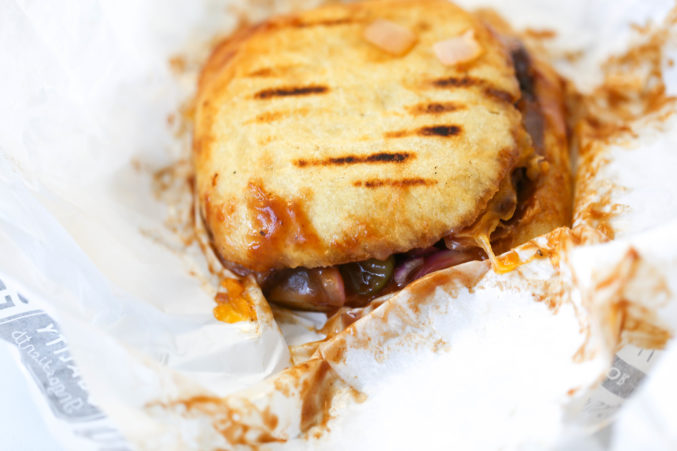 Sad Panini at Main Street Garden's Walk-Up Window Made Me Feel Less Sad About My Existence
Hot Off The Press was lacking. But it somehow improved my mood.
Several months ago, a guy friend and I made a pact that if we're both single, widowed, or divorced for the second or third time by age 60, we'll get married. The ceremony will be intimate and take place on one of those all-inclusive senior citizen cruise ships. He reminded me of this promise Monday night, while loosening a neon pink Jell-O shot in a plastic cup with his ring finger before wiggling it free and sucking it down. I laughed and squeezed his shoulder. That's, like, so far away.
The night was fun so it struck me as odd that I went home with a sinking feeling in my chest and then woke up the following morning with a similar sinking feeling in my lower abdomen (and it had very little to do with the fact that I needed to empty my bladder). I laid there, after hitting the snooze button on my phone for the third time, and counted backwards from 60. "Like, so far away" is only 27 years away.
Wait.
I'm only 27 years away from being 60?
This is in no way meant to offend or irritate people who are closer to, or past, this milestone. I have friends in their 60s and I hope to make it there one day, myself. The sinking feeling stems from an existential anxiety that emanates by fast forwarding into the imaginary future and realizing it's not actually that far away from the real future. Life moves fast.
What the heck does any of this have to do with panini? Stay with me and find out. Or don't. If you'd rather read about Saambili, the obnoxiously adorable baby gorilla at the Dallas Zoo, click here.
Yesterday, I decided to eat my feelings and stroll over to Main Street Garden and pick something up for lunch. Lunch makes me happy. There's a new, tiny walk-up restaurant located on the outskirts of the downtown park called Hot Off The Press. It's from the guys behind Spice In The City and their grand opening, according to the dude I just spoke to on the phone, was May 5.
There were two women in line when I arrived. I stood behind them and checked out the menu. Categories: hot panini, snacks, fresh salads, soups, cold drinks, hot drinks, seasonal. Curtis Mayfield's "Superfly" played overhead. A man seated at a nearby table who was much closer to 60 than myself complimented my phone. He had the same one. He seemed happy.
After the women ordered, they walked over to the jumbo Jenga and waited for their food. I asked the man at the ordering podium outside of the hut, which doubles as a kitchen, what the most popular items are. He told me that the Hot Chick and The DMN Lead Story were the best-selling paninis but The Big Easy was his personal favorite. I got The DMN Lead Story because it sounded silly. (The News' offices are across the street.)
The description: "Black Forest Ham, Blackberry preserves, fresh arugula, herb~mayo + organic goat cheese, served on a buttered, toasted ciabatta bun. As an homage to the Dallas Morning News, this panini is the perfect mix of savory, sweet + flavor all jam-packed in this headline-worthy panini!"
This description makes me laugh. And laughing makes me happy.
I also got The Pegasus (brisket, cheddar, pickles, red onions, and tangy barbecue sauce served on a buttered and toasted ciabatta) and The Downtown Delight salad (spinach, pesto chicken, red onions, mushrooms, tomatoes, and bacon bits).
I sat at a table on the patio and watched some teenagers play giant Connect Four. 10 or so minutes later the man who had taken my order handed over a brown paper bag with the goods. I walked back with enough stuff to share with my desk-mates. Sharing makes me happy.
By the time I'd passed San Jacinto St. on Saint Paul, the sinking feeling had been minimized to a tiny, internal itch. Something that could easily be scratched by consuming one of these panini. I rode the elevator with a sandwich-delivery bike-guy who was wearing a helmet and smelled like marijuana. He smiled and waved as he got off on a lower floor. Depending on the context, people who smile and wave make me happy. He did.
I was practically a ray of effing Monday-afternoon sunshine when I returned to my desk. I removed the panini, which were packaged in black and white sandwich paper, from the sack and unwrapped them.
This is when things got delicate.
The DMN Lead Story looked nothing like it does in the photo on the site. Slices of black forest ham and goat cheese were protruding from under a ciabatta bun, which was branded with eight golden-brown panini press grill marks. The arugula was wilty and the tangy cheese and sticky blackberry preservers squished out onto my thumb as I gripped the sandwich. I mean, the flavors were complimentary. Goat cheese and berries and ham and arugula and herb mayo are a respectable combo. But the execution was sloppy.
But not as sloppy as The Pegasus.
The barbecue sauce from the sandwich had caused the wrapper to become soggy. I pulled wet paper from the bottom piece of equally wet bread as I unwrapped the mound of flimsy meat and sauce. There were lots of pickles on this one. One of my colleagues was into those, but overall this was a big miss. Plus, the brisket was rubbery.
Now, I wasn't expecting a masterpiece like this stunner from All'Antico Vinaio in Florence.
But I was hoping for something more palatable than the panino equivalent of elementary school sloppy joes. After all, their 7 Yelp reviews are glowing.
The salad, too, was nothing to phone home over. A pile of spinach topped with a pile of chicken topped with a pile of tomatoes topped with a pile of bacon topped with a pile of red onions but without a pile of salad dressing. I guess they forgot that.
"You shoulda got The Sweet Thang," said one of my colleagues while looking over my shoulder at the menu as we compared what we had in front us to what was displayed online. Maybe she was right. Maybe I shoulda. Maybe I should try again. After all, I believe in second chances. Second chances are the pinnacle of happiness.
The sinking feeling didn't return. In fact, as I sat at my desk and stared down at the mound of soggy bread and floppy meat in front of me, I was filled with a sense of relief. I had air in my lungs and shoes on my feet and food within reach. Sure, it wasn't great food. But it was edible. This sloppy sandwich served as a reminder that it could always be worse. After all, its existence was far more dismal than mine.
I thought: Hey, I may be 27 years away from 60, but at least I'm not a sad panino.
And that made me happy.