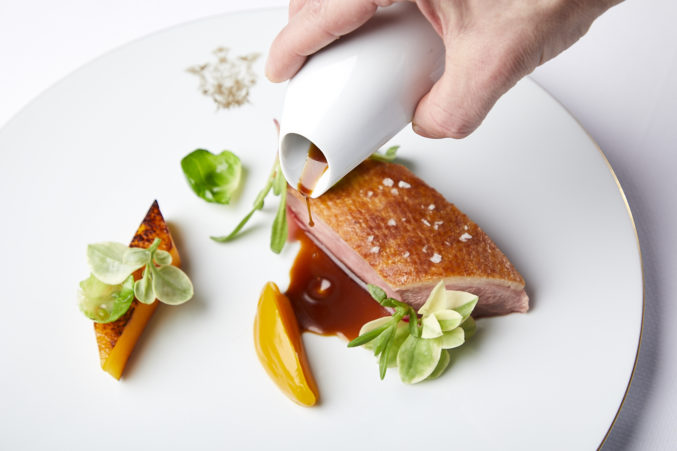 The French Room's Executive Chef is Out
This is the second chef to exit those pretty doors since the remodel.
The French Room seems to have struck out yet again and is on the search for a new executive chef. According to Brian Reinhart at the Dallas Observer, Anthony Dispensa no longer holds the title. It was only August when Dispensa, who has held positions at Heston Blumenthal's Michelin-starred Dinner in London took the reins behind the scenes, though his menu would not debut until October.
Then, it was all shift and transition: movement away from a meticulous five-course, prix fixe tasting menu and towards à la carte. Not less technique-driven, just more democratic was the notion.
Executive chef Michael Ehlert had departed in July, only 10 months after the lavish redesign in late 2017 that updated the storied Rococo room. His menu had introduced the niceties of a table-side cheese cart (the best in the city) and elegant throw-backs like Escoffier-style consommé in a gilt-rimmed bowl. Dispensa's menu took the preciousness of presentation and applied it to dishes like a beet risotto with pearl onion petal cups that held daubs of horseradish gel. He had time to cook for the D Magazine Best New Restaurants event in December. I had no time, however, to see his menus through any sort of season-change.
The Dallas Observer quotes a written statement from the Adolphus that is curt and terse, thanking Dispensa for his time. It will be interesting to see in what direction the elegant restaurant chooses to go next. Times are difficult for white-tablecloth dining. The hot-button words are "accessible" and "approachable." There is no word yet on the inevitable search. Elsewhere in the food world, Flora Street Cafe has just completed a lengthy search. Whether the talent pulled in will be local (like Ehlert), national, or international (like Dispensa) has yet to be seen.
Meanwhile, may we recommend the Saint George absinthe or the tableside Sazerac at the French Room Bar? They will never go out of style.