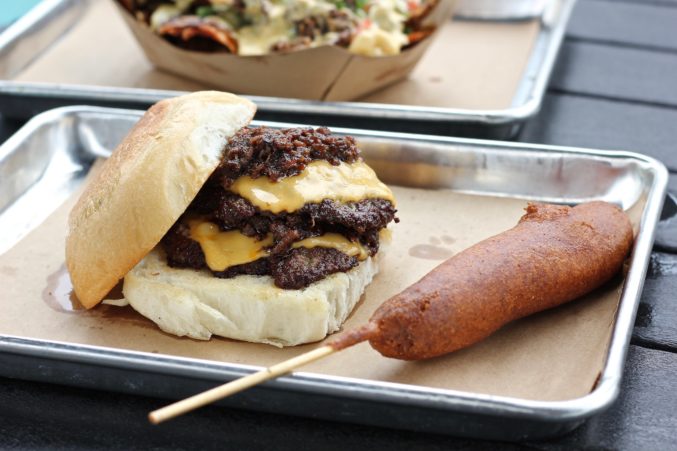 Heim Barbecue Has Opened a Second Location
And they're serving burgers.
By Daniel Walker
Published in Food & Drink
May 22, 2019
10:40 am
As craft barbecue continues to surge across North Texas, on the Fort Worth side, many enthusiasts would argue that Heim Barbecue has led the charge over the last few years. Heim followed a familiar path for many popular barbecue businesses. They began as a food truck, gained some notoriety, and eventually opened their brick-and-mortar on Magnolia Ave. They've done well for themselves here, landing a slot in the Texas Monthly Top 50 list and drawing crowds from all over the state.
But when an opportunity arose for owners Travis and Emma Heim to purchase property in the River District, they could not pass up the chance for a second shop. This new location, nicknamed "Heim on the River" recently opened, sporting a spacious, open interior, large patio, and a full-service bar. It's a beautiful barbecue restaurant.
Of course, Heim River offers the standard cuts of meat that put these guys on the map. Prime brisket, ribs, house-made sausage, turkey, and their famous bacon burnt ends. But that's not what piqued my interest in the new location. Here, they've decided to expand the menu with a number of items, which were previously only offered as specials in the past. Trust me, even if you're familiar with the original location, it's worth a visit.
Perhaps most notable is their new burger menu. The star of this list is their Heimburger, which is composed of two griddled beef patties blended with smoked brisket, American cheese, and bacon burnt end jam. It's a superb burger. Other burgers include the Hell Burger with pepper jack and jalapeños, the Funky Burger with blue cheese and bacon burnt end jam, and the Pit Master, which is topped with brisket.
I would also pay close attention to the loaded potato skins. They take the skins from their potato salad, fry them, and top them with chopped brisket, queso, pico de gallo, chives, and cotija cheese. I mean, it doesn't belong on any known diet plan, but it's worth the calories. I also got myself a very nice corndog made with their house-made jalapeño cheddar sausage in a beer-battered shell. Lastly, they're making their own flour tortillas for tacos and filling them with a variety of smoked meats.
Heim River is located at 5333 White Settlement Rd. In Fort Worth and is open for lunch and dinner everyday except Monday. Check it out.