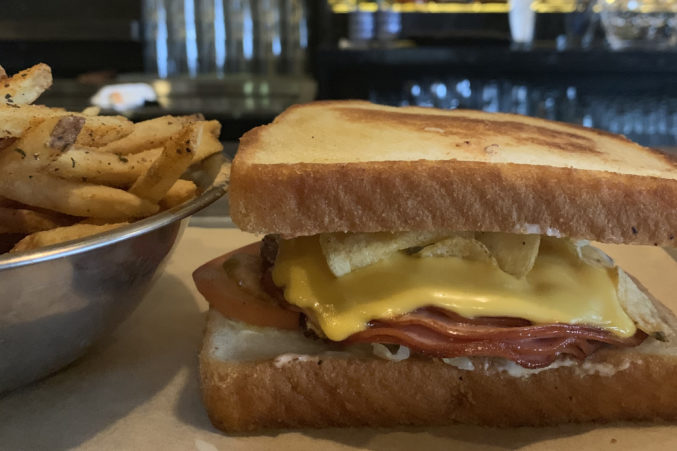 Eat the Bologna Sandwich at Hillside Tavern
And also eat the onion rings.
Brooks Anderson says he was aiming to open a "friendly, approachable, inviting, neighborhood tavern, pub, just kind of casual restaurant and bar."
Hillside Tavern, located in a strip mall at 6465 E. Mockingbird Ln., is all of these things. The place is popular with its Lakewood neighborhood. It was almost impossible to grab a seat a few Saturday nights ago. And was nearly just as busy on a Wednesday evening a week later. On both occasions, service was friendly and punctual. The menu was simple and to-the-point, with items like burgers, fish and chips, and nachos. And diners were casually lounging in their casual blue jeans while casually sipping beers.
Good job, Brooks. You did it.
Hillside Tavern isn't Anderson's first restaurant. He's the guy behind Veritas Wine Room, Rapscallion, and Boulevardier. And chef Nathan Tate, who runs the kitchen at Rapscallion and Boulevardier, is behind the menu.
"We're just trying to be a super casual, come as you are tavern with better food than you'd expect," says Anderson. "Obviously Nathan Tate is, I think, widely considered a flavor wizard. So, our food is just better than you'd expect from a little neighborhood bar."
That's a bold claim considering there's some damn good food coming out of Dallas bars. Take Jackson Tran's Vietnamese menu at Cosmo's; Abram Vargas' Hungarian-style pub fare at Armoury D.E.; Joel Orsini's Spanish-inspired tapas at Izkina; heck, even the always-freaking-delicious loaded cheese fries at Lakewood Landing. Dallas' bars know how to feed people.
Is Hillside Tavern's food better than you'd expect from a neighborhood pub? No. But is it good food? Yes. Some of it is. And one of these things is the bologna sandwich.
Take a deep breath. Dim the lights. Cue Tim Cappello on the saxophone. Exhale. Turn the spotlight on.
Enter the bologna sandwich.
It starts with two thick slices of slightly grilled white bread, the bottom portion is slathered with mayonnaise. The top piece gets coated in "secret sauce," think of Thousand Island dressing with the restaurant's barbecue rub added in. That rub is a blend of chili powder, smoked paprika, garlic powder, whole leaf oregano, and basil. In between the bread you'll find thin layers of mortadella that have been smoked over pecan wood for about five hours.
What's that? It's too tantalizing? You need me to slow down so you can catch your breath? Fine. Here's a video of an orphaned baby sloth being rescued in Costa Rica. Better? OK, let's continue.
The meat is topped with melted American and provolone cheese. The mound sits on shredded iceberg lettuce and sliced tomatoes. It's finished with a stack of Zapp's dill chips. It's good. Really, really good. Like a grown up version of something you'd pull out of your metal Knight Rider lunchbox. It's about as close as Dallas is getting to Turkey and the Wolf's famed bologna sandwich in New Orleans.
The sandwich is served on its own but you should order a side of onion rings. They're the perfect complement. Thick bands of onion are coated in corn starch before they're beer-battered. The rings are crips and zesty (that barbecue rub is added to the batter) and when you bite into them, or pull them apart, the onion stays in place instead of sliding out. What a feat.
Hillside Tavern is not quite a restaurant and not quite a bar. But it does serve good bar food. Specifically this sandwich, even if it is somewhat of a ripoff. (Hey, imitation is the sincerest form of flattery or something, right?) You should eat it.