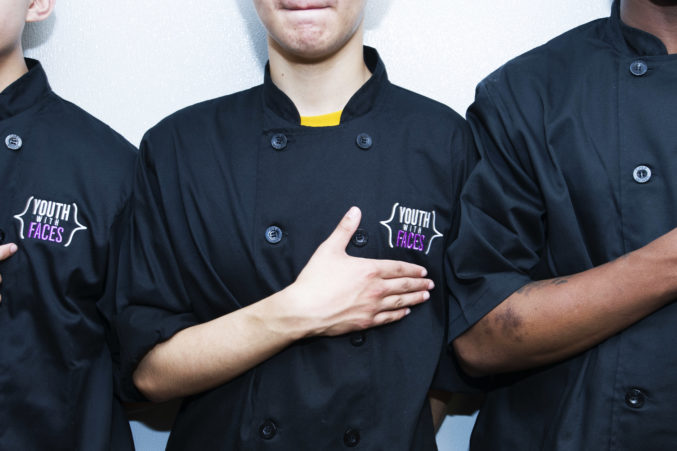 Dallas Chefs Come Together for a Benefit Aiding Incarcerated Youth
The focus was on mentorship in the kitchen.
Earlier this month, a group of chefs prepared a multi-course, farm-to-table-inspired dinner served at the Statler to benefit Youth With Faces, a nonprofit that provides opportunities in training and mentorship for youth in the juvenile justice system.
The dinner included courses by Matt Balke (Bolsa); Jimmy Contreras (Taco y Vino); Matt Ford (Billy Can Can); Jeff Harris (Americano); Francesca Nor (Dive Coastal Cuisine); and Nathan Tate (Boulevardier, Rapscallion). Each chef mentored a Youth With Faces culinary arts student in the kitchen, having them work as apprentices while the food went out to guests.
Youth With Faces gives incarcerated youth the opportunity to learn and practice character and life skills needed to be capable, contributing members of the community. Their programs include nutrition and culinary arts, dog training, work readiness, horticulture, welding, blueprint reading, and forklift driving.
"Field & Vine is so much more than a fundraiser," says Chris Quadri, CEO of Youth With Faces. "Thanks to the tireless dedication of our volunteers, the event introduces our students to exciting hands-on career training and allows them to apply what they've learned in our culinary arts class to a real job. The students were so excited to work and train alongside the best chefs in Dallas. But the best part was seeing their pride while supporters got to see firsthand how their dollars impact young lives."
The May 5 event was the second annual such dinner, called Field & Vine; last year, it was held in the historic Turner House in the Winnetka Heights neighborhood of Oak Cliff.
As someone who has watched programs like this—and Café Momentum, which was originally an off-shoot of Youth With Faces (formerly Youth Village Resources of Dallas)—thrive, I am inspired to see the interplay between chefs, venues, and youth. I know people who make deliveries to programs like this of odd, heirloom varietals they've been growing in their gardens so budding cooks can experiment with esoteric produce. I see businesses like Ruthie's Rolling Café jumping into the game, making sacrifices and adjustments in order to provide hands-on experiences. As the second-annual fundraiser, this event has drawn high-profile chefs. Our city is, after all, a village.
To learn more about Youth With Faces, go here.