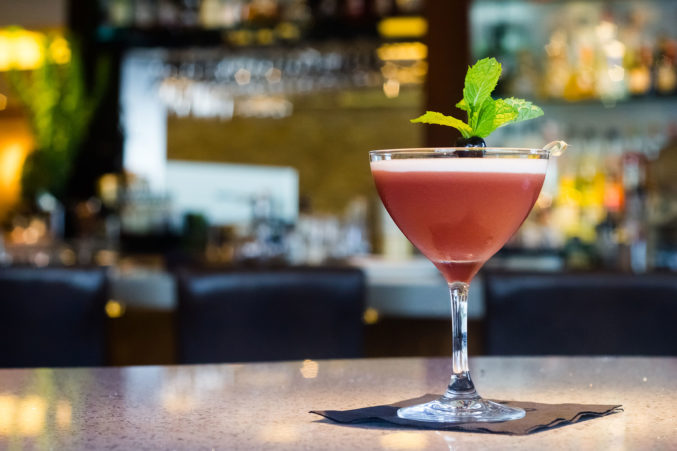 A Dispatch from the Final Ladies' Night Out at Abacus
It was great, especially when the men cleared out.
As soon as the word reached our friend group that Abacus, after 20 years going strong on McKinney Avenue, would be closing on June 1, the emotional texts began.
"One last ladies night next Wednesday before it closes for good!? [sobbing face emoji]"

"SO SAD! Yes I can do Wednesday. [single tear emoji]"

"Ugh I can't go. I'm so sad. Get a Russian Roll for me!"

"What it's closing!?!? And yes I can go. SO SAD!"
We were sad. After trying and failing for years to find a happy hour that A. we could score actual deals at, and B. we could actually make before those deals dried up, my friend Cait stumbled upon Abacus' toward the end of 2018. In general, Abacus' happy hour deals are very good. Held exclusively in the front bar area (I've actually never even been in the dining room), there are half-priced bar bites on Tuesdays, Wednesdays, and Fridays, along with heavily discounted drinks until 7:30pm almost every night. But the pièce de résistance was Wednesday's "Ladies' Night Out," where all sushi rolls (even the really fancy one with lobster and wagyu beef) are only $8, and all cocktails and wines by the glass (including Veuve Clicquot) are half-price until 10pm.
Clearly, it's something worth mourning. So yesterday, four of us coordinated in our sad face emoji-filled text chain, and arrived promptly at 6:15 pm, which isn't exactly early, but Ladies' Night was never exactly crowded. It was last night though. The bar area was filled with women and men. "What are these dudes doing mucking up Ladies' Night?" one friend asked. The few actual tables in the bar were taken, so the four of us perched ourselves on a corner bar stool and subtly (we hope) stared down a group of women who looked like they were wrapping things up. You know how it goes.
It turns out, half of the crowd were coworkers, and the other half were former Abacus employees paying their respects. Fair! The happy hour deals that run until 7:30pm see no gender. And neither should we! Ladies Night can be for all. Except for the gentleman who came up to me and my friends to test out the opening line, "Wine. It's crazy, huh?" Ladies' Night is not for you, my man.
We did, finally, make our way to a table, and quickly placed an order for every sushi roll (and two Russian Rolls) on the menu (except the blasphemous cream cheese-filled one). We were all on our second glass of half-priced wine. Once the clock struck 7:30pm, the crowd (and the men) cleared out, allowing the scene to morph back into the Ladies' Night I know and love: just a few small groups of women enjoying affordable (good) sushi and drinks, engulfed in conversation within the confines of Abacus' dimly lit bar.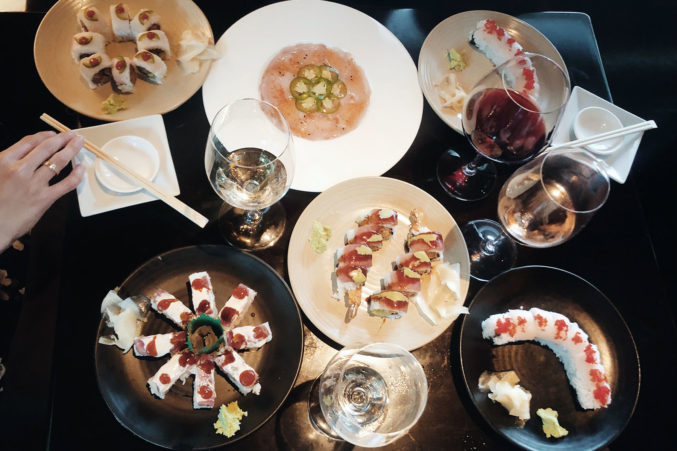 If you told me I'd be writing about Ladies' Night a couple of weeks ago, I would think you were insane. Ladies' Night was our secret, well-kept to ensure that intimate scene didn't become overrun with other girl groups who might also enjoy the black caviar and white tuna of a Russian Roll, or Veuve Clicquot for $13. (The cat was clearly already out of the bag on the general happy hour, which was particularly crowded on Fridays.)
I reached out to the team at Abacus to see if they'd be hosting something similar at the new concept, scheduled to open later this summer. Understandably, they're not revealing any new menu or event details just yet, but us ladies can hope.