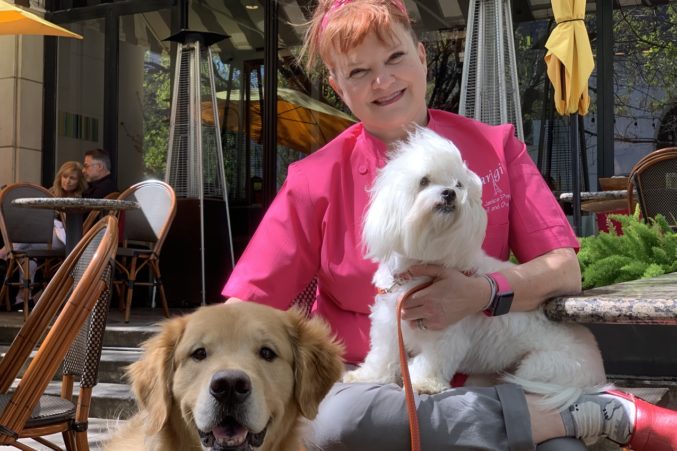 Provost, Parigi, Pooches, and Patios: A Love Story
How dog-friendly patios came to be in Dallas.
By Steven Lindsey
Published in Food & Drink
April 4, 2019
2:34 pm
People in Dallas love their dogs. And dogs in Dallas, in turn, love Janice Provost (at least that's my guess). That's because the chef-owner of Parigi made it possible for our four-legged foodies to join us on patios around town. Legally.
Rewind to 2008 when Provost realized she had a mission for mutts.
"Austin already had dog-friendly patios and obviously I love my dogs. I don't have kids, so they're my children," she says. "I go to Paris and I see dogs in the dining rooms and they're so well-behaved. You see this all over Europe. I yearned for it and thought it would be so cool if we could do that here."
The year she was president of the Greater Dallas Restaurant Association, she realized she had a prime opportunity to make a difference.
"I was president and Jamee Jolly was the executive director and one of the things that I wanted to achieve was to get dogs on patios. The preliminary process going [to City Hall] was easy, but what they shot back was insane. They wanted a wind wall for every entrance, so if you had a dog going on the patio they wanted a barrier that would push the air out. Originally, they also wanted the patio hosed down every 30 minutes. I don't remember everything they wanted exactly, but it wasn't very realistic," she says. "So we kept pushing back and coming up with something that would be workable for everyone."
After three to four months of back-and-forth with the city of Dallas, the good news finally came. On May 28, 2008 at 8:20 p.m., Provost received a text from Jolly that read, "Hey there! It's Jamee. Dog variance just passed council. Yeah!!"
Ever since, dogs have been allowed on patios of restaurants and bars that apply for a Dog Variance Application with the city's Department of Code Compliance Consumer Health Division.
All a business owner needs to do is pay $264 for a two-year variance and fill out a simple two-page application. An inspection of the establishment will be scheduled and conducted and the variance will either be approved or denied based on their findings.
"The rules that they have make sense from a health standpoint. For example, if you're an employee of the restaurant, you can't touch the dogs. The rules are easy to follow and totally manageable," Provost says.
Dog owners may not be aware of all the legal do's and don'ts, but they're straightforward and rather common-sense. The full list has 10 requirements that must be maintained in order to keep the permit.
"A dog must be kept on a leash and remain in the control of the customer while in the outdoor patio area. The dog must be wearing a collar or harness with a current rabies tag and current registration tag. A dog is not allowed on a seat, table, countertop, or similar surface in the outdoor patio area," Provost said, reading aloud from the list of rules. "A dog is not allowed to have contact with any dishes or utensils used for food service or preparation at the food establishment. And a dog may not be given any food, including, but not limited to, dog kibbles, biscuits, and edible treats, while in the outdoor patio area, but may be given water in a disposable container."
Provost is proud of this achievement and lights up with a big smile whenever the subject comes up.
"We put a lot on Facebook and Instagram with pictures of the dogs and we encourage people to bring them. If I'm telling somebody about the restaurant, it's always the next thing that falls out of my mouth. 'If you've got a dog, we have a dog-friendly patio,'" she said. "To me it's just an extension of my family, although mine are not as well-behaved. But the people who come do not bring dogs that aren't well-behaved. We've never really had an issue because we have responsible dog owners so there's no crazy barking or dogs pulling on their leashes. It's not a dog park, it's a restaurant."
To find out if an establishment has their dog variance in place for its patio, simply call before you go. Or take a look at this list.