In May 2008, Parigi's chef/owner Janice Provost led the charge to legalize dogs on patios in the city of Dallas. Today, it's hard to imagine dining without doggies. It's practically an American right. Just don't let them off-leash: restaurants and dog owners have a list of simple rules they must follow, but your best dog won't care as long as they're leashed and by your side.
With patio season upon us, here's a list of top dog-friendly spots for Spot within the Dallas city limits—sorry greater DFW—where people and their furry friends alike can sit, stay, and play all day.
The mutt movement all started here, so there's no way this Oak Lawn bistro wasn't going to make the list. Dogs of all shapes and sizes can be found mingling with their humans at lunch, brunch, and dinner under the bright yellow umbrellas on the friendly patio for the laid-back vibe of a Parisian sidewalk cafe.
Perfect patio pairing: Escargot and a Veuve Clicquot French 75
This mural-clad downtown patio has a colorful Mexican flair (perfect for selfies with your pup) that's semi-enclosed so the little furry ones won't be distracted by everything that walks by. Another plus among the city's dog-friendly restaurants: it's right across the street from Main Street Garden if he needs a little exercise and potty break.
Perfect patio pairing: Gulf shrimp taquitos and an avocado margarita
It's not unusual for dogs to outnumber people at this Uptown dog park/outdoor eatery. If you needed to know how this ranks among our pet-friendly bars and restaurants, there are three separate areas for big dogs, small dogs, and well-behaved homo sapiens. In addition to being able to run free and splash around in pools with fellow four-legged friends, dogs have the added perk of their own menu items, including pupsicles and mini beef franks.
Perfect patio pairing: Original chicken sandwich and a bourbon-spiked pecan praline milkshake
In addition to offering more than a dozen culinary options, this ever-popular restaurant incubator complex features a massive covered dog-friendly patio shared by all the Singleton Boulevard-facing eateries. So not only can you pop back and forth between restaurants, so can your dog. And you can both log plenty of steps across the street on the Ronald Kirk Pedestrian Bridge.
20 Feet Seafood Joint
The name may sound like some sort of nautical depth to fit the seafood theme, but it's actually a nod to the owners and their four dogs for the most fun algebra equation of your day: (4 dogs x 4 feet) + (2 people x 2 feet) = 20 feet!) The picnic-table clad patio even features pics of pooches on the napkin holders, so they'll feel extra welcome. Cold water and roasted salmon skin doggie treats take the hound hospitality one step further.
Perfect patio pairing: Fried Ipswich whole belly clams and 16 bottles of wine (it's BYOB, so why not?)
Royal Blue Grocery
Get Fifi in her classiest canine couture for a stint on the cozy sidewalk patio of this Highland Park Village market under the shade of blue-and-white striped umbrellas.
Perfect patio pairing: A turkey Reuben (with a side of habanero sauce for a little kick) and an Arnold Palmer from the coffee bar
The early bird may get the worm, but early visitors also get the best patio seats at this new addition Lakewood with great big breakfasts to start the day. The wrap-around covered patio makes it a welcoming respite from the heat any time of day.
Perfect patio pairing: The four-egg-and-venison-sausage "Monster" omelet with a spicy Bloody Mary
Everyone loves to frolic around in the great outdoors at this Lower Greenville beer garden and hangout that's almost one big outdoor patio entirely. With old truck beds turned into seating, occasional live music, a bar made out of an Airstream trailer, a cheesesteak kitchen, happy hour specials, and an ever-rotating parade of food trucks, this destination just off Greenville Ave. couldn't be more perfect for pets.
Perfect patio pairing: A loaded Wagyu cheesesteak and a frozen trash can punch
Cane Rosso may mean "great pizza" to many in Dallas, but it literally translates to "red dog" in Italian. Founder/owner Jay Jerrier's first dog was a red-haired Hungarian Vizsla and became the restaurant's namesake and also the inspiration for Cane Rosso Rescue, which translates to lots of extra dogs at Jerrier's home while they await adoption. Each location's patio has a different vibe, but the common theme is a lively place for people of all ages and their mutts to hang out over a shared meal. Visit the Deep Ellum original and take a walk around the neighborhood afterward.
Perfect patio pairing: The signature Cane Rosso pie with an ice-cold Miller Lite draft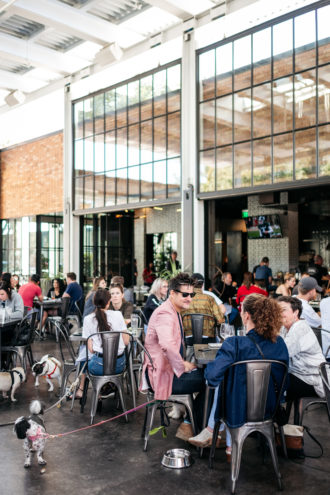 Dog lovers have it made in the shade in the Design District at this massive covered patio highlighted by artist Daniel Arsham's "Moving Figure" sculpture. Dogs are so welcome here that "Bark and Brunch" happens regularly (the next edition is this Saturday, April 13 from noon to 3:00 p.m.) with cold water and treats for the well-behaved K-9 set. Help yourself to a few craft beers.
Perfect patio pairing: A house-made, quinoa-based veggie burger with a Salty Dog (natch)
La La Land Kind Cafe
Everything's feel-good about this coffee shop & cafe in an old house, from the employment of older foster kids to the "dog parking" area in the backyard, which features string lights and plenty of comfy furnishings.
Perfect patio pairing: Honey strawberry toast and an iced strawberry fields matcha latte
The infinitely walkable Bishop Arts District is a dog owner's dream, but when it's time to take a load off, the sidewalk patio makes a great place for the pups to nap under the canopy of trees while you fuel up on food and quench your thirst with a variety of beverage options.
Perfect patio pairing: Arthichoke fonduta and a seasonal cider from local Bishop Cider Company
Chef Stephan Pyles' fine-dining gem in the Dallas Arts District has gone to the dogs—but only at Sunday brunch. The newly expanded patio will feature a champagne and oyster cart, as well as "pooches on the patio" programming during brunch with snacks and water bowls for the dogs. There's always plenty to do nearby on Sunday afternoons, including the Klyde Warren dog park that only takes a few minutes to reach.
Perfect patio pairing: Pulled pork BBQ eggs Benedict and a spicy blood orange mimosa
Bonus classics: You can't go wrong with Lee Harvey's in the Cedars or the Katy Trail Ice House in Uptown. They're two of the city's most prominent patios, so they probably need no introduction. We just felt like we couldn't leave them off.
Get the SideDish Newsletter
Dallas' hottest dining news, recipes, and reviews served up fresh to your inbox each week.