It's 7 p.m. on a Thursday and the parking lot of Beverley's on the west side of Central on Fitzhugh is swarming with SUVs and sedans. A valet maneuvers a silver Ranger Rover, like a Tetris master with a tetromino*, across concrete as a lineup of idling cars wait their turn to be parked. The sidewalk near the entrance is lined with round, black bistro tables, each occupied by diners hovering over marinara-dripping mounds of meatballs and crisp toast smeared with chicken liver mousse. Diffused sunlight cuts through glasses of wine and coupes filled with various cocktails.
*If you don't understand this reference, we can't be friends.
Inside, it's packed. There's a 45-minute wait for a table and nowhere to sit—or even stand—at the bar. Dudes in suits sip martinis. A local restaurateur and PR agency owner are lost in conversation. A notable Dallas chef breezes by and exits. Every white marble table in the dining room is full. Bodies are snug in plush burnt orange leather benches. It's loud. Really loud. (An issue, which restaurant owner Greg Katz addresses when we later chat. They'll soon be installing fancy sound-proofing apparatuses. Don't ask me what kind, because I don't know. But they're supposed to bring the noise level down from a football stadium filled with howler monkeys to a high school gymnasium filled with chirping desert rain frogs. Nice.)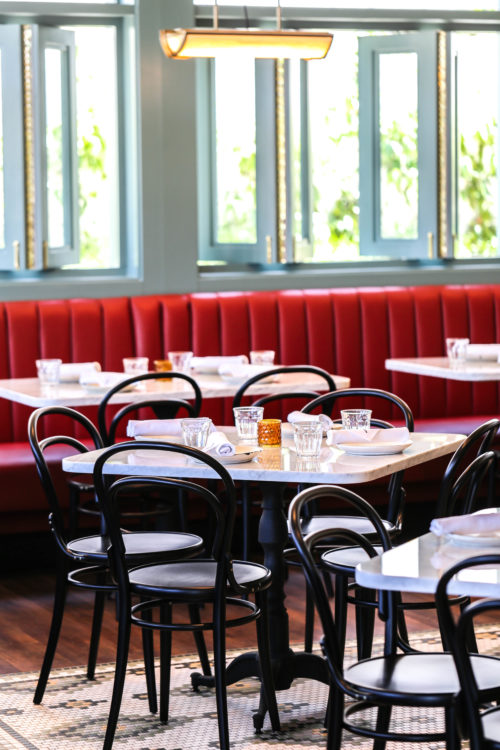 Even though Beverley's opened quietly, without email blasts and massive social media campaigns, word of the neighborhood bistro spread.
"As we're in there setting things up, everyday, 10, 15, 20 people are just popping in the door," says bar manager Ravinder Singh. "They're like: 'Hey, when are you open? When are you open? When are you open?' And they all live around the neighborhood, and they're all walking."
This is what Katz set out to achieve with his stylish bistro. A spot for the neighborhood with a draw of the entire city.
"I immediately knew that that this location would pull from Park Cities and East Dallas and Lakewood, and Knox and Uptown, and Downtown," he says of the building at 3215 N Fitzhugh Ave. (which used to be BJ's and before that was Crews Inn). "If you just look around that dining room, you can clearly see how diverse it is, and how all the different directions have come together, and I love that because that's what that New York bistro feels like to me.
I wanted it to be a classic. I'm not interested in it being a trendy restaurant for now, I want it to evolve into being a classic Dallas iconic neighborhood bistro."
Katz, who grew up in Cape Town, South Africa and moved to Dallas when he was 11, got his start working in restaurants in 1998. He worked as a prep-cook for Dean Fearing. "I made $5.25 an hour," he says. "I worked with Dean at The Mansion for five years and I worked every position at The Mansion when he was there." His resume also includes Victor Tangos and the Headington Company.
"Growing up as a Jewish kid, on the holidays we'd eat latkes, we'd eat them with apple sauce and stuff. I'm like, this is my restaurant, it's like my modern version of it. Growing up, we also ate schnitzel all the time."
Latkes and schnitzel are popular here. The russet potato pancakes are golden and crisp and topped with a dollop of sour cream mixed with buttermilk. They're held together using chickpea flour and are topped with American Hackleback caviar.
The schnitzel is made from slightly-butterflied chicken breast that's brined in salt water, sugar, and spices for four to eight hours before it's pounded, breaded in Panko seasoned with dry herbs and chili flakes, and deep-fried. The dish is served on a small puddle of tangy cremini mushroom Marsala sauce.
"Greg had this thing done, for the most part. He had a really clear vision of where he wanted to go with this menu. It was all laid out. I essentially came in and helped execute it," says chef Josh Sutcliff, who has worked at FT33 and Mirador.
Sutcliff, who is buds with Katz, will spend the next couple of months at Beverley's before focusing on his hospitality group Sutcliff and Brammer—a business endeavor he's taking on with Seth Brammer, who used to work as beverage director at Filament. The duo plans to open a farm-to-table restaurant with a greenhouse on the outskirts of the Design District. We'll get you more details on this at a later date.
In the meantime, you'll find Sutcliff in the kitchen at Beverley's slinging meatballs and ceviche tostadas and charred octopus. And everything else previously mentioned in this post.
"OK, we've got matzo balls, schnitzel, caviar latkes on the menu," says Katz. "That's the Mediterranean, Middle Eastern, Jewish, whatever you want to call it [element]. Then we've got tostadas, that's a southwestern, Texan. And then we've got shrimp scampi and meatballs and things like that. All this stuff's mushed together, but when you put the plates up all in a line, they look like they do come from the same restaurant."
The drinks, too, are all over the place, but they work.
There's a gin and tonic with lavender bitters, lemon oil, black pepper, and thyme; a mezcal cocktail with acidified orange juice (orange juice is blended with maleic and citric acid so that it behaves similar to lemon or lime); and of course, an Aperol Spritz.
Bottom line: this place is good. I like it. The neighborhood seems to like it. You should go here and try it. Stay tuned for a proper review from our dining critic Eve Hill-Agnus. And most importantly, have a nice day.
Get the SideDish Newsletter
Dallas' hottest dining news, recipes, and reviews served up fresh to your inbox each week.