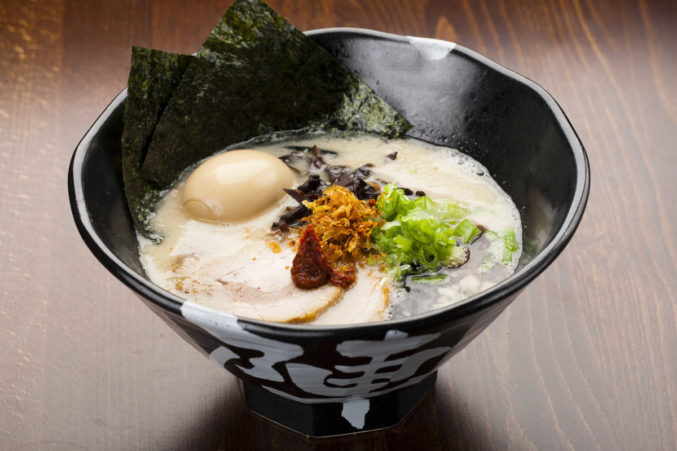 Jinya Ramen Bar Will Open in Victory Park
Slurp away.
It was only a matter of time before Victory Park got a ramen shop. Jinya Ramen Bar (625 High Market Rd., Ste. 185) is no one-off, though. It opened in Tokyo in 2000 and then spread quickly in locations across the United States and Canada, touching down first in California, where the greatest concentration of its locations still exist.
The slurping emporium offers over a dozen ramen types, including Sprouting Up Ramen, with crispy Brussels sprouts; Tonkotsu Black, a hearty tonkotsu broth with a layer of garlic oil and spicy tare; and a Spicy Creamy Vegan option. There's ramen with wontons; ramen with asparagus and crucifers (vegetable soup); and ramen with miso and pork soboro. (Did we mention this was ramen for everyone?)
In the Dallas location, as elsewhere, the menu will also highlight the Goku Midnight Cowboy ramen, a bowl with brisket and a price tag of nearly $20. The choices between thick and thin noodles extend to a list of toppings that's over a dozen deep, ranging from extra chashu to corn, kikurage (wood ear mushroom) to kaedama, the word for a noodle refill.
Those wanting to join ramen-aficionados without partaking can order up poké tacos, pork chashu with kimchi, and what looks like a McDonalds Happy Meal, complete with a child-size bowl of ramen, karaage (fried chicken), and a lollipop. Don't believe me? Go see for yourself.
And I'm not even going to get into the meatballs that seem to come with tomato sauce and Parmesan cheese. Don't think of this as "unauthentic," necessarily; izakayas all over Japan (and here) have "wafu" (Western) snacks like spaghetti with ketchup and diced ham. It's similar to Korean soju-bar fare that might include corn in a lake of cheese.
Jinya Ramen Bar's opening date is set for late March.