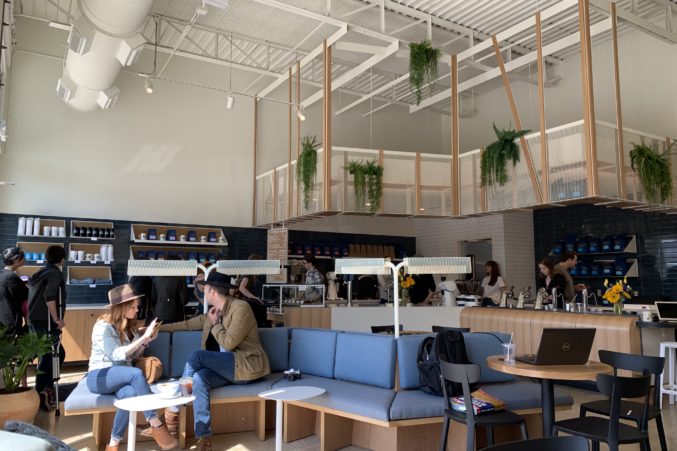 First Look: Merit Coffee Co.
The new Deep Ellum spot has stellar lighting, plentiful seating, and friendly baristas. Oh, and great coffee too.
As I walked in the 70-degree sunshine toward Merit Coffee Co., past Braindead Brewing, Local Hub, and Jade & Clover, I was unaware that it was opening day for the coffee shop. My friend had discovered it and texted me to come check it out, so I made my way over during lunch. Bright red letters overhead and blue-painted brick walls greeted me. So did a long line of curious Deep Ellum-goers. That was a good sign.
Inside, light streamed through the floor-to-ceiling windows. People munched on Bisous Bisous Pâtisserie goods and chatted with friends on the sky-blue banquettes. Baristas pulled espresso shots and poured lattes. And everyone, staff included, seemed to be enjoying themselves.
The space, which opened on Tuesday, is the ninth outpost of San Antonio-based Local Coffee (the six locations there are called Local, and everywhere else is called Merit). There are two Merits in Austin, with another coming this summer, and now one in Dallas, with a Highland Park location opening next Tuesday. Owners Robby and Neesha Grubbs have been busy since they first opened in San Antonio in 2009.
Robby opened the first Starbucks in Texas in 1994, in Plano, the same year he met his future wife in Deep Ellum. But he then veered away from coffee and into the family business, real estate, and built homes in San Antonio and Austin, where the couple was living. They wanted to get back into coffee and planned to open Local in Austin in 2008, but then the recession hit. So they decided to sell everything and make a lifestyle change. They put all they had into opening Local in San Antonio the next year. And they chose the name to mirror Robby's roots.
"Merit was a name we came up with when we started roasting coffee in 2014," Robby says of Merit Roasting Co. in San Antonio. "All locations there are called 'Local,' but they all have Merit coffee. We have a badass group of all female roasters."
Merit, which offers six to 10 different roasts depending on the season, including the house coffee, a Colombian single origin named Vascos, has Jamie Isetts to thank for sourcing. The shop's green coffee buyer spends about half the year working with farmers to find the best beans in countries around the equator. They're picked as cherries, milled at origin, put in grain bags, and shipped to Texas. "Rarely will you see a blend," Robby says. "Most everything is single origin."
That extends to Elixir Specialty Coffee, which is sold in bottles. Australian musician and sound wave expert Lee Safar discovered a way to use sound waves over time to create the coffee-and-water drink that "looks like whiskey, feels like tea, is made from coffee, [and is] unlike anything you've ever tasted before." Merit sends its coffee to her in Los Angeles, and she sends it back when she's done. As for the process, she keeps those cards close.
The Deep Ellum location has a soundproof coffee lab for employee and wholesale training, and Robby plans to have a wholesale team working from there soon. From the design and aesthetic to the partnerships to the finished coffee products, he has orchestrated and executed every detail to a T.
"Every single thing matters," he says. "So far, it's been more than I hoped for."
The Deep Ellum location, at 2639 Main St., is open Sunday through Wednesday 7 a.m.-9 p.m. and Thursday through Saturday 7 a.m.-10 p.m. The Highland Park location will open April 2 at 4228 Oak Lawn Ave.