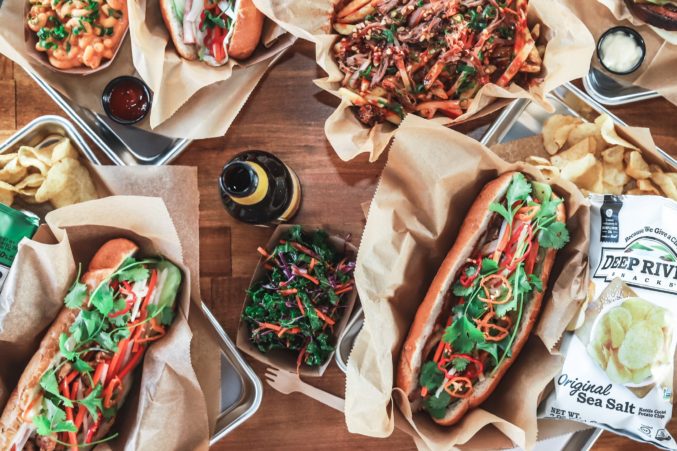 The Scoop: Bánh Mì Station Opens, and More
Your weekly helping of Dallas dining news.
Bánh Mì Station to open on February 16: Vietnamese sandwiches are now available at Sylvan | Thirty. The 1,440-square-foot space was designed by Coeval Studio. Take a look:
Uchiba's next Uncommon Ramen series should be a banger: The monthly ramen event is featuring chef Chris Shepherd and chef Alex Astranti. You're probably already familiar with Astranti, who is chef de cuisine at Uchiba. But who is Chris Shepherd, you ask? Well, according to the press materials I have in front of me:
"Chef Chris Shepherd is a James Beard Award-winning chef who has helped change the landscape of the Houston culinary scene since opening Underbelly in 2012. He built the restaurant to support the Houston food community and its suppliers by buying local and drawing inspiration from the people and cultures that live in the city. Shepherd was named one of the 10 Best New Chefs in America by Food & Wine in 2013 and was then awarded the 2014 James Beard Award for Best Chef: Southwest. Since then, he has opened several restaurants in Houston to include UB Preserve, Georgia James, and One Fifth. Shepherd's foundation Southern Smoke, has donated more than $1 million to the National MS Society, in honor of his friend who lives with multiple sclerosis, and to those in the food and beverage industry in crisis."
I requested the menu and will include it in this post the second I have it. So, yeah, if you'd like to slurp some ramen, then you should check it out. The event takes place at Uchiba on Monday, February 25 from 5 p.m. until 10 p.m. Limited reservations will be accepted. Call this number to snag a spot: 214-855-1354.
National Margarita Day at El Fenix and Meso Maya and La Ventana and other concepts from the Firebird Restaurant Group should also be bangers: This is fairly straightforward. Tequila specials! Ohmygosh!
According to the release:
El Fenix: $1 (8 ounce) margaritas, Feb. 22 – Feb. 24, all day.
Meso Maya: $5 house margaritas, 3 p.m. until 6 p.m. downtown, 4 p.m. to 7 p.m. all other locations, Feb. 22.
La Ventana: $3 margs (rocks or frozen) during happy hour, 3 p.m. until 6 p.m., Feb. 22
Snuffer's: $3 house, frozen, or rocks margaritas, and $4 Snufferitas all weekend, Feb 22-Feb. 24
Village Burger Bar: $3.50 house (frozen or rocks) margaritas, all day Feb. 22
TorTaco: $4 house margaritas (rocks or frozen), all day Feb. 22
Tulum: $7 house rocks margaritas from 5 p.m. to 7 p.m., Feb. 22
Have a scoop? Send it to [email protected]