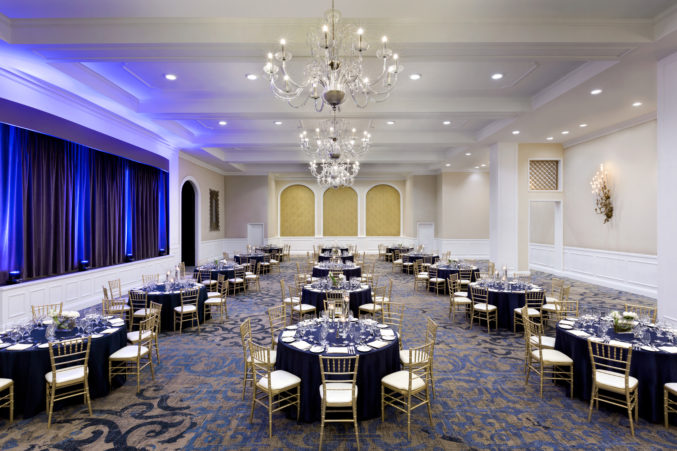 The Fairmont Hotel Debuts a Kosher Kitchen
It will be the only kosher kitchen at a hotel in downtown Dallas.
After a ribbon cutting ceremony on Tuesday, Feb. 19 that will welcome key figures in the city's Jewish community, the Fairmont Hotel Dallas will become the only hotel with a dedicated on-site kosher kitchen in downtown—welcome news to anyone planning a Bar or Bat Mitzvah, wedding, or other special event, as well as to the hotel's catering staff, which had seen a rise in kosher events in recent years. The unveiling coincides with the hotel's 50-year anniversary.
I spoke with James Phillips, Executive Chef of Catering & Conference and George Daye, Director of Food & Beverage.
"We have a very strong relationship with the Jewish community in Dallas," Daye says. "We've been increasing the number of kosher events."
Conversations with guests and a desire to provide a service prompted the initiative. The hotel took over an existing, 50-year-old kitchen space, gutting and rebuilding it from the ground up. "Literally, we had to jackhammer some things out," Daye says. The result is 750-square-feet that can cater events with as few as 50 and as many as 1,000 guests.
"We worked with [the rabbi community] throughout," Daye says, "understanding what their requests and requirements might be. Every step of the way, we would step back and check in."
Previously, the team had sometimes run into bottlenecks in scheduling, as a kosher and non-kosher event might be scheduled to require simultaneous preparation. Without a designated kitchen and equipment, the team had to troubleshoot—double-staffing or meticulously avoiding equipment sharing—in order to uphold the strict rules of kashrut, Jewish dietary law.
Now, the kitchen will be under the direct supervision of Dallas Kosher, a supervising authority that will ensure it meets the strict requirements of certified orthodox kitchens in foods handling, preparation, sourcing, and storage. This is no small task: a rabbi must be present for all stages of preparation. "Even days before the event," Daye specifies. "Because there are plenty of things to do, and [the rabbis are] there 100 percent, before the event right through clean-up and breakdown."
Executive chef Jared Harms, who has been at the Fairmont for just over two years after working at The Mansion under chef Bruno Davaillon, collaborated closely with Phillips on a menu that would include touchstones of typical upscale Jewish cuisine. The kosher menu includes canapés and hors d'oeuvres, salads (like mixed heirloom chicories with burnt honey and citrus dressing), mains (herb-crusted New Zealand lamb, 24-hour braised beef short rib, a free range chicken roulade, and fresh fish), and a dessert menu that includes challah banana bread pudding with crème anglaise.
A full list of kosher wines includes some sourced locally from Kosher Palate, the kosher barbecue smokehouse and deli that opened last year in North Dallas.
"We recognized that adding an on-site kosher kitchen would be a very welcome resource to the Dallas Jewish community. The entire team at Fairmont Dallas is excited and honored to provide our guests with exceptional, artfully prepared kosher cuisine," wrote Chad Mendelman, Director of Catering & Conference Services in a press release.
But for Phillips, it's the time and community outreach that made the project feel like an important forward step.
"There are plenty of kosher restaurants," he says. "But not a hotel. It's always exciting to bring something new into our environment. And tapping into something new that people aren't really doing in other hotels: it's extremely exciting. I love having the relationships with the rabbis. I've learned a lot, meeting new people and cooking food in the Jewish community."
The final note is a point of pride: "We took the time. We built it from the ground up," Phillips says.