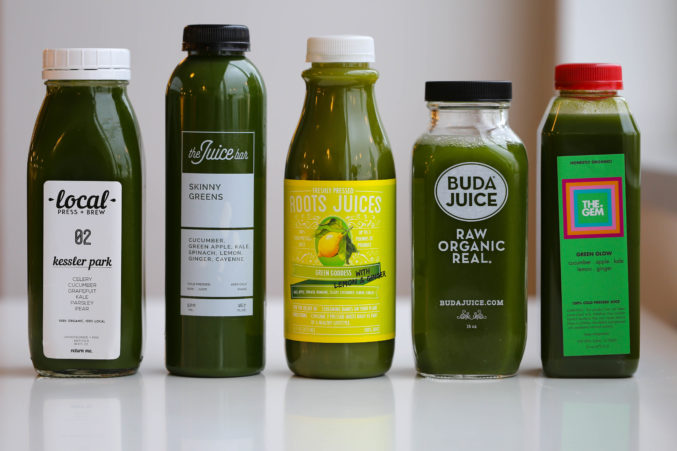 Taste Test: Green Juice
D Magazine staffers get healthy this week.
D Magazine staffers got healthy during our semi-weekly taste test. I picked up a handful of green juices (escaping death in the process) for the panel of, like, one expert and nine stunningly beautiful, intelligent, hilarious, kind, non-juice-experts, who are just happy to be here.
I didn't participate in the taste test because I knew which juice was which and that would be cheating. I will, however, tell you that I enjoy all of these juices. I enjoy them so much, that I dumped the leftovers into one giant cup and chugged the entire thing. I now have the physique of She-Hulk, and should probably swap out the photos on my Tinder profile to more accurately represent myself.
But yeah, I personally recommend all of these juices. Our panel of judges were a bit more persnickety, though, and compared them to things like swamp water and cleaning supplies. They also hint at there being kiwi in some of these bottles. Yes, the juices are green, and we know that color can alter your perception of food. But no, none of these contain kiwi. They also don't contain grass, frogs, mint chocolate chip ice cream, emeralds, mitred parakeets, or Mike Wazowski from Monsters, Inc.
Sorry for the spoilers.
The juice:
Local Press + Brew: Kessler Park (celery, cucumber, grapefruit, kale, parsley, pear)
The Juice Bar: Skinny Greens (cucumber, green apple, kale, spinach, lemon, ginger, cayenne)
Roots Juices: Green Goddess With Lemon and Ginger (kale, apple, spinach, romaine, celery, cucumber, lemon, ginger)
Buda Juice: Green Juice (cucumber, spinach, celery, apple, kale, ginger, parsley, lemon)
The GEM: Green Glow (cucumber, apple, kale, lemon, ginger)
Tasting Notes:
Local Press + Brew
This one was really tart, and had such an aggressive aftertaste. Very healthy tasting.
Has a fresh, beachy, salty taste.
Smells like broccoli or kale, tastes like grapefruit. Whoo-ee, this really feels like drinking veggies. Like a patch of broccoli florets. I love how dark green and hearty it is, but balanced by that grapefruit tang. A little sweet, but this would be my go-to.
Citrusy and a little sweet, but something unpleasantly funky hit my nose as a took a swig.
My take on green juice is that the more you can disguise the bitter kale-y grassiness the better. This rates six on that scale. Ain't bad.
A little sweet and tangy. Very drinkable.
Earthy. Made my tongue feel a little weird.
This tastes like grass. Like in the summer, when you mow your yard at dusk. It's not too hot, but you're still mowing the lawn.
Has a stronger smell than flavor.
Surprisingly sweet. Honestly liked the flavor of this one the most, but since it was so sweet, I bet it has a lot of sugar. I don't drink green juice for the taste, but to be healthy.
The Juice Bar
This was nice! Refreshing and fine.
Lemon-y, tart, tasty
Lots of cucumber in this one. Smooth, easy, refreshing. But I don't get that vegetable punch.
Refreshing and goes down smooth—too smooth. Is this even healthy?
Kiwi is to fruit as crab legs are to seafood; so much work for so little reward. But I'm pretty sure I can taste a lot of kiwi in this one, and I didn't have to peel it or however you prep kiwi. I dig kiwi in juice form.
Somewhat bland but okay. Earthy.
Fruity with an apple flavor.
This one's light and bright and acidic, completely bereft of grass flavor. This is like after you take a shower when you're done mowing the lawn.
Sweet! Not at all like grass.
Smelled like wheatgrass but also tasted sweet. Seems like the most traditional green juice. Sweet enough that I didn't gag, but green enough that I feel like the epitome of health.
Roots Juices
It sort of tastes like sugary celery and I like that.
Definite celery flavor but also a little sweet and salty.
Sweet and gingery. This is green juice for people who don't really want green juice.
Oooh, it has a little ginger kick. Wish that was a bit stronger.
This tastes most grassy to me, and I'm into it.
Very sweet, celery and ginger notes. LOVE.
Too spicy?
This one looks like yard clippings that landed in a puddle after you mowed your lawn. It tastes much nicer than that. No grass here, just a nice kick of ginger. It's kinda like looking at your freshly mowed lawn the morning after you cut it.
Really distinct smell and flavor. Pretty good.
Tasted like it has a little spice or kick. Maybe a little cayenne or paprika.
Buda Juice
Far too healthy tasting. No thanks!
Cucumber-y, maybe with some peppery ginger flavor. Not great, not bad.
This may have been the least sweet. Cucumber-y and lots of celery, which makes it a little bitter. But with a ginger heat.
Bland. Green water. Swamp water?
This is like three but subdued. Nah.
Bitter, ew. Would not pay for this.
Tastes like household cleaner has been mixed in.
This one tastes like when your yard is overgrown, but not too bad, but you know if you wait a week it's going to be a mess and you will be frustrated with your inaction. But it's fine for now, so you wait anyway.
Very mild.
Watered down watermelon rind. No thank you.
The GEM
This one tastes like lemony celery. I'm neither here nor there on it.
This tastes very clean, not in a good way.
There's a little too much parsley in this one for me, and the balance feels off. I'm not sure how the sweeter elements are working with the parsley.
Nice citrus flavor with just a hint of veggie taste. I guess this one was my fave, but I wish I could add the ginger bite from No. 3.
So damn sweet.
Tart, sweet, great.
Kiwi!
This one tastes like it feels to be a week out after mowing your lawn. You still feel good about doing that chore, but not as good as you did the morning after. You know the time is coming to do it all over again.
Green apple heavy. Ehhh.
Also seemed wheatgrass-y. It has an odd sweetness, like they added Minute Maid.
Tally up:
Local Press + Brew: 1
The Juice Bar: 5
Roots Juices: 3
Buda Juice: 0
The GEM: 1
The winner is: The Juice Bar's Skinny Greens is the favorite. The blend of cucumber, green apple, kale, spinach, lemon, ginger, cayenne, and NOT KIWI, appealed to our panel of tasters. If you have any deep thoughts about green juice, or just feel like telling a story, you know what to do. Hit up that comment section and let's chat. Until next time.