The Dallas Morning News reports today that John Tesar is the latest of seven chefs to leave their stalls at Legacy Hall in Plano.
Tesar, whose Knife Burger will close this week, speaks of sales dropping after an initial honeymoon period. Tom Fleming, who owns Crossroads Diner and opened the extremely short-lived French dip concept Chez Dip, about which we wrote recently, spoke about uninspiring revenue. Tim Byres opened and closed Tight Quarters—an outpost of health food in vibrant guises—in relatively short order as well.
I'm not surprised.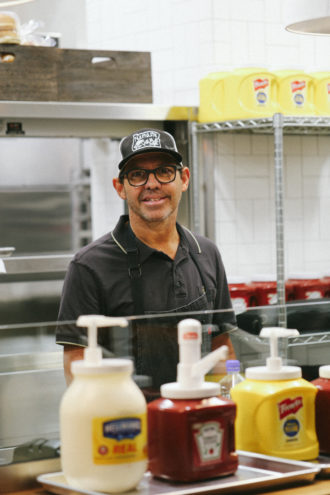 Every time I visited the three-story behemoth, I was struck by its inadequacy as a food hall. The ground-floor level is dim, crowded, and noisy. I spent one lunch there feeling as though I was inside a casino. The food was cold, I could hardly see what was in front of me, and nothing scored above uninspiring fast-casual. In Fort Worth, the Food Hall at Crockett Row strikes me as a far more forward-thinking model, with light pouring in invitingly through floor-to-ceiling windows, ample and comfortable seating, and fewer food stalls. Its general atmosphere feels far less corporate.
Meanwhile, new ventures cycle through at Legacy Hall. The rent remains high, and owners told the News that large percentages of their sales were going to the management company, Front Burner Restaurants. They said they were shipping off up to 30 percent.
When Legacy Hall opened, it was in line with the bustling food hall trend that has swept the country. But it has proven a disappointment, not a place for gourmet bites and chef sensibilities in tiny niches—as in New York, Los Angeles, the Bay Area, and Napa Valley—but for uninspiring fast-casual in a space that seems designed to streamline profit.
I hope to see other food halls taking notes from the successes elsewhere to build a model that thrives. Meanwhile, I'd rather drive to Fort Worth than Plano to seek out a boutique breeding ground of vendor talent in a setting that seems to honor their intent.
Get the SideDish Newsletter
Dallas' hottest dining news, recipes, and reviews served up fresh to your inbox each week.