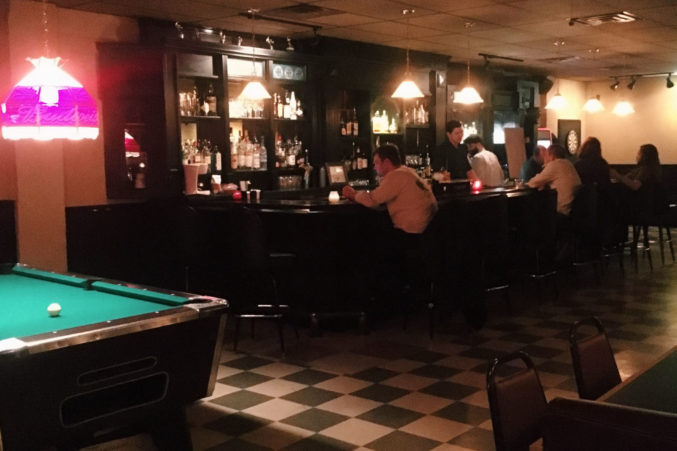 Mike's Gemini Twin Is Keeping It Simple in The Cedars
The new bar is by the neighborhood, for the neighborhood.
Here's the scenario:
Your buddy texts you over the weekend to tell you about a new bar in The Cedars. It reads: "We're at Mike's Gemini Twin. It rules."
A couple of days later, on a Tuesday night (because Tuesdays and Fridays and Saturdays are all the same when you don't have a curfew) you plan to meet a friend at the new spot. It's on a desolate strip, at 1902 S. Harwood St., near a florist and a salon. Your pal gets there before you do and texts: "Hell Yeah. I like this place." Except it's in all lowercase because, and I quote: "Stylistically the nature of texting is casual and it looks clunky and stiff to use capitalization, especially when periods aren't often used."🧐🤦🏼‍♀️🤓
Your GPS says you've arrived. But it's dark. And there are no fancy signs with bright block lettering marking your destination. There's one, two, three—I don't know, more than a single door to choose from. It's like a game of Let's Make a Deal, minus Monty Hall standing there, guiding your decision, while also protecting you from potential muggers who could be lurking in the shadows.
You pick one, pull it open, and slide in. Here, you're greeted by a middle-to-later-in-life dude. His words, a bit slurred, sound something like "Man, I think that you stink." But before you raise your arm to sniff your pit, which you're fairly certain you rubbed with organic deodorant that morning, your brain clicks. Ohhhh. He asked: "Can I get you a drink?"
Ah, yes. That makes sense. And while you would absolutely love a beverage, after scanning the room—which is dim, and illuminated by humming neon beer signs—you realize that your friend with an affinity for minuscule letters is nowhere to be found. In fact, it's just you and the guy who greeted you in the space.
You're in the wrong bar.
So, you politely smile and point to the door and take a step backward and awkwardly spin around and exit.
Once you're back on the street, you decide that you're going to start opening doors until you figure it out. Fortunately, the next handle is the winner. Ding ding ding. Cue the confetti and horns and girls in bikinis holding a giant check. No, actually, not girls in bikinis. Horses in onesies. They're more fun in this imaginary gameshow situation. (No offense to women in swimwear.)
The space is warm—physically and visually. The floor is checkered. The booths are plush. The tables are decorated with twinkling candles. Frankie Valli & The Four Seasons is playing on a digital jukebox. The pool table is illuminated by a Budweiser Tiffany Lamp, which hangs from a drop ceiling. The backbar is clunky and feels like it has a history. (You later learn that it was rescued, using a 10-foot-trailer, from the Idle Rich when it closed.) There are mirrors, and sexy amber-hued lighting, and a dartboard. There's a stripper pole that's left over from the bar that previously occupied the space. The owners of Mike's Gemini Twin "didn't have the heart to tear it out."
Each sensory element is met with a check mark in your things-I-like-about-a-casual-bar box. ✔️✔️✔️
You grab a stool next to your companion and order a Campari and soda. He's sipping a Rusty Nail—it's their $5 special.
"We're keeping it pretty simple with a handful of signature cocktails," says co-owner Sam Wynne. "If you tell us what you want, we'll make it for you. There's not a whole lot of space back there, though. We're not able to have cucumbers and stuff like that."
Wynne, behind Braindead Brewing and Bowls & Tacos (which has reportedly closed this week) partnered with Pasha Heidari (Bowen House) on the project. Wynne has lived in the neighborhood for the past six years, and explains that his father, the esteemed restaurateur Shannon Wynne (Meddlesome Moth, Mudhen Meat and Greens, Flying Saucer, Flying Fish, Rodeo Goat), purchased the space.
The bar that was previously in the Mike's Gemini Twin spot is now next door. (We won't go into details because you were just there, like, 30 seconds ago.)
"We're not trying to reinvent the wheel," says Wynne. "This is a neighborhood spot that serves the neighborhood."
Since opening on February 15, he's seen a string of regulars return time after time.
"We want people to feel welcomed. It's like a combination between Cheers and Moe's Tavern with a dash of Campisi's on Mockingbird."
And while the only on-site food is complimentary bowls of nut mix, he says that a lot of pizzas have been ordered in. 🍕
So, what's with the name?
"Gemini Twin is an old name in Dallas," says Wynne, referring to the old drive-in theater at Forest and Central. "Pasha and I are good friends. We're two sides of the same coin. I mean, we look different standing next to each other, but we're very similar when you get to know us. As for the name 'Mike' you can ask me three times and each time I'd give you three different answers. The guy who was in the space before was named Miguel, it's a hat tip to the bar that was in there before."
You drink a few more Campari and sodas.🍹 You hang out on the tiny back patio and run into people you normally see at the Lakewood Landing. 😍 You play a round of pool against a peppy couple in oversized trench coats and lose the game by scratching the 8-ball. 🎱 You eat an entire bowl of nut mix. 🥜 You put some Diana Ross on the jukebox. 💃 You like this bar. 💜
So—and this is very important—do you return to Mike's Gemini Twin?