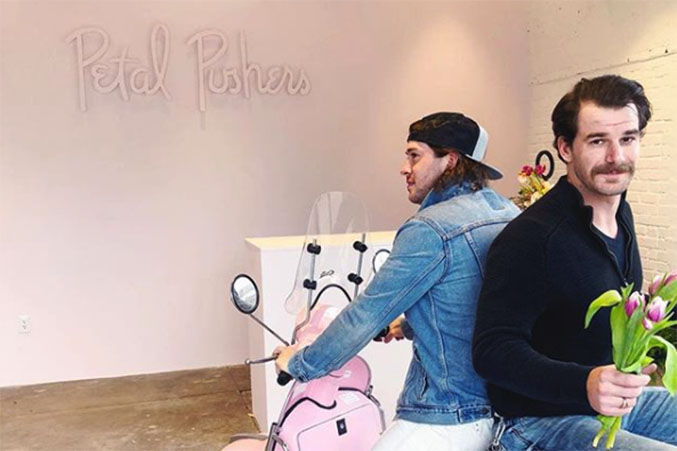 Meet The Hunks Behind Petal Pushers
Just look at them!
A fun thing happened at the D Magazine offices on Monday afternoon. Two handsome dudes, with very good hair, delivered flowers to Caitlin Clark and Holland Murphy. Neither of the women were here at the time. But I was.
I heard some high-pitched giggles drift around the corner from the sales department. They were followed by a deep, Southern-drawl, which bellowed: "Hey, ladies." Two guys, one of which had the most perfect mustache I've seen in ages, sauntered across the newsroom, whimsical bouquets in hand, and placed the flowers on both Caitlin and Holland's desks.
Now, I'm a simple gal who doesn't require much from a potential partner. I only have two needs:
1: A man with strong hands who is kind to animals and tips 20 percent and who is a good dancer—but not Magic Mike good more like Tom Cruise in Risky Business good—with a solid sense of personal style and isn't afraid to cry and is an adventurous eater who likes to travel and can pay his bills and is secure in his masculinity but understands that sexuality is a spectrum and isn't intimidated by fluid gender roles and has a very good work ethic but also isn't frightened by a woman who works just as hard as he does.
2: A mustache.
This guy had half of what I'm looking for. At least. So, I followed him, and his bud, into the reception area. (I ran into another woman who had done the same but I will not name her because she's in a long-term relationship.) He was nowhere to be found. I think they'd gone upstairs and that would require too much effort on my part. I returned to my desk. Holland texted and told me I could have her bouquet. (I think she felt sorry for me because I got so excited over a mustache.)
I later learned from Molly, our awesome receptionist, that the guys work for Petal Pushers. The floral shop in Deep Ellum hires handsome dudes (owner Giselle Ruggeburg's friends) to deliver bouquets on pink Stella scooters. You can read the full story here.
An hour later I had acquired their first and last names, marital status (they're both single), and cellphone numbers. I also learned that they're roommates and was offered their address, which I politely declined. What? It's my job.
Now, I'd feel silly and unprofessional going on a date with one of these guys. But they seem sweet. I called them today and asked them a few fundamental questions. I also linked to their Instagram accounts, so if you feel a spark, you can slide into their DMs.
Call me Cupid. Happy Valentine's Day.
Age: 26
Height: 6'0″
From: Kaufman, Texas
Zodiac sign: Virgo
Favorite food: "Hawaiian food. That's my heritage—on my dad's side they're all Hawaiian. I grew up eating some pretty good Hawaiian food … I love kalua pork."
Favorite animal: "That's tough. I love all animals. I used to do a lot of ranch work and I ended up finding a cat at a sale barn and I took him home and named him Han Solo. He's pretty much the coolest cat who's ever been. I've also got a dog, his name's Ranger. He's out there at my parent's ranch and he's the coolest dude you'll ever meet, too. I've had some really good horses, too, who have come and gone. I can't narrow it down to one animal. I love all animals, really."
Favorite place to travel: "I do a lot of traveling. I'd have to say right now it'd be on the border between Texas and Mexico, near Big Bend. There's this little town there called Lajitas. That's a really special place to me."
Ideal date: "Going out for dinner somewhere. I like little hole-in-the-wall places, maybe an old diner. Then go out and find a little acoustic band playing. Maybe catch a few drinks. Maybe go ride on my motorcycle, I do a lot of riding on my Harley."
What you look for in a partner: "Well, I'm a huge mama's boy. I'm really old fashioned. I'm thankful for my mother because she gave me an old soul. I like a traditional gal, somebody who will let me open the door for them."
Favorite flower: Daisy
Age: 27
Height: 6'2″
From: Lenorah, Texas
Zodiac sign: Cancer
Favorite food: "Soul food; fried chicken, mashed potatoes, all the goods."
Favorite animal: Duck-billed platypus.
Favorite place to travel: Key West, Florida
Ideal date: "I like to keep a woman guessing, so it's always something different. An ideal date for me would probably be dinner, something downtown. We'd go for a walk and maybe a standup comedy show. Or go to a part of DFW that neither of us has been, and go exploring."
What you look for in a partner: "Definitely a sense of humor. That's first and foremost. And she has to think that I'm hilarious. Somebody who is down to earth, which should be something simple but it's harder to find in Dallas than it should be. And somebody who shares the same values as me."
Favorite flower: Carnation.
Leighton is performing tomorrow night at The Blue Light in Deep Ellum. It's a Valentine's Day show and he says he'll be playing "a bunch of love songs and good stuff."
Good stuff, indeed.

In This Post