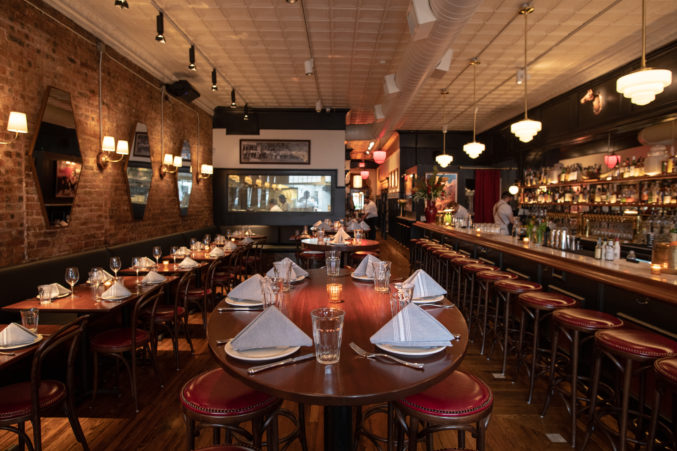 Alamo Club Makes Its Lower Greenville Debut
The restaurant, which occupies the old Blind Butcher space, is now open.
By Matthew Shelley
Published in Food & Drink
February 28, 2019
12:15 pm
Austin Rodgers is no stranger to the Dallas Restaurant scene, and his wealth of experience (Nick & Sam's, Offsite Kitchen, Neighborhood Services, and Town Hearth) can be seen on full display at his new restaurant, Alamo Club, located at 1919 Greenville Ave. in the old Blind Butcher space.
Well oiled with a healthy dose of deep mahogany tones, midcentury modern accents, and Texas family heirlooms, his first restaurant enters bustling Lower Greenville as if it has been here for years. Adorned with the sophisticated comfort of leather-topped bentwood barstools, exquisite lighting, and a dining room that feels like a boisterous, fun-loving living room bar, Alamo Club is setting itself up as a neighborhood social club. The menu comes from executive chef Kyle Newberry.
With 13 years of experience in restaurants, Austin Rodgers comes in with confidence and an efficient manner that sees his restaurant running smoothly and his staff eager and pleasant. Before opening Alamo Club, Rodgers was most recently the general manager at Town Hearth. Years in the orbit of Nick Badovinus has done him well. Avoiding the overdone rustic stylings of recent years, Alamo Club asserts itself in more classic tones of burgundy and leather with even a slight air of punk rock, but maybe that's just the dark, moody comfort one feels upon entering.
On the menu you'll find onion dip, steak tartare, and a wedge salad. It's designed to be an elevated menu celebrating classic cuisine. There's also a bacon cheddar burger, crispy chicken sandwich, and seared snapper. The sides are meant to be shared. Reservations are not accepted, but there's plenty of room at the bar while you wait for a table. With a small front patio and an expansive back patio, you're also encouraged to dine or drink al fresco. Brunch will be available within a couple of weeks and we're excited to see where Alamo Clubs lands itself in the Dallas dining scene. Go eat there and tell us what you think. Now.