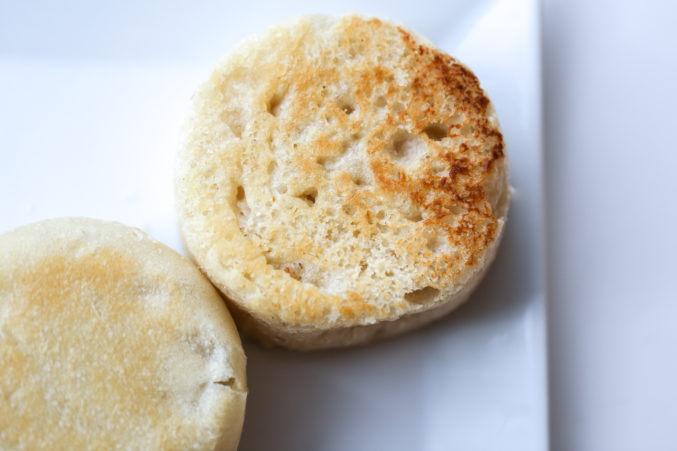 Eat This Now: Sourdough English Muffins from D's Breads
Our local sourdough maven also makes muffins.
Whenever I travel to San Francisco and the East Bay to visit friends I've had since college—who decided to stay and live in the land of levain bread and housing prices you weep about routinely—I stop in at Berkeley's Cheese Board Collective for a sourdough English muffin. I sample the cheeses, of course, and maybe change things up with a Wolverine, filled with dried cherries and pecans. But nowhere have I had such English muffins, springy, tangy, lightly dusted with cornmeal and begging for toasting. I usually bundle at least one up and take it back to Dallas on the plane, though it's never the same. And I considered that nothing could get close, until D's Sourdough's English muffins came into the picture.
If you are a fan of sourdough, you probably know the loaves that Debra Piedra makes, hand-crafted and long-fermented, using wild yeast and freshly milled organic flours. There are die-hard fans of her 7-grain, spelt, or einkorn wheat sourdough, her salted rosemary or rye. But if you arrive early at the Dallas Farmers Market on Saturdays and Sundays, you can snag her English muffins (by the quartet), that have deep pockets and the beautiful sheen of gluten. They're springy and craggy as you please, waiting to be smeared with cherry preserves. They're enormous and happily make a breakfast for two, spread between pages of the morning newspaper.
So do yourself a favor and get to the market early enough to find these baked beauties. (Note to the savvy buyer: they do freeze beautifully.) If you grab the last warm bag, you'll feel like a champ. At least, I always do.