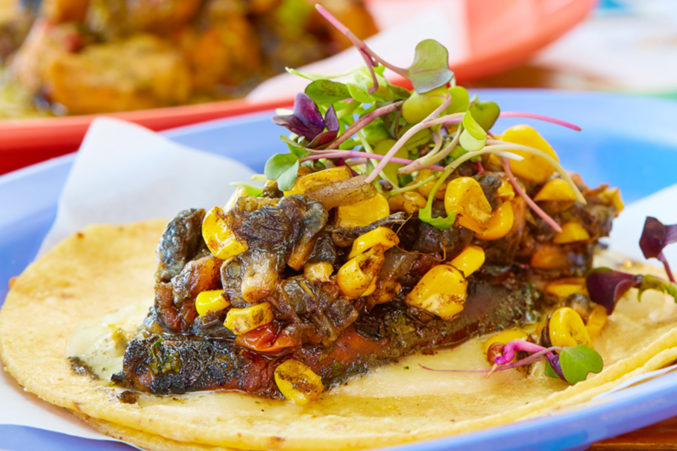 Tacos Mariachi to Debut Lowest Greenville Location in Late November
Late-night tacos and playful cocktails make a splash in one of Dallas' most popular entertainment districts.
By Steven Lindsey
Published in Food & Drink
November 2, 2018
11:10 am
Tacos Mariachi is opening on Lowest Greenville and there probably aren't enough tortillas to contain the excitement of taco lovers who frequent the entertainment district. Later this month, owner Jesus Carmona will open a second outpost of his wildly popular Singleton Blvd. Tijuana-style street taco joint. It is opening in the space formerly occupied by Crisp Salad Company, across the street from Trader Joe's. Best of all, almost nothing about Tacos Mariachi will change.
If it ain't broke, right?
"The only thing we're changing is the location," he says. "Same great food, great service and the best ingredients."
Though there are a few minor differences.
First, this location will have longer hours, staying open until 10 p.m. Monday through Wednesday and until midnight Thursday through Saturday. When permitting allows, perhaps three months after opening, hours will expand to 3 a.m. on weekends for those with insatiable late-night Mexican food cravings.
Speaking of which, the sole new food item for now will be a nighttime dish specifically designed for partiers spilling out of nearby establishments.
"I'm calling them Boracho Fries for people who drink too much," Carmona says. "Basically, we start with Idaho potatoes we cut fresh and fry crispy. We're going to top it with warm roasted tomato salsa, pieces of carne asada, house-made roasted poblano chile con queso, guacamole, pico de gallo and a dash of cotija cheese."
In order to keep things simple and efficient, he will not offer a full bar at this location, either, but will be adding a few more boozy offerings to the small but diverse cocktail list he offers on Singleton. You'll still be able to sip on a signature Mariachi Margarita, which features blood orange juice, as well as Jesse's Cucumber Lemonade made with Tito's Handmade Vodka. Among the newbies will be margaritas flavored with prickly pear, mango, or guava. Sangria by the glass and carafe, as well as a few new beers will also join in on the fun.
The final big-ish change is the restaurant's size. The new spot's layout means double the interior space of the West Dallas location with a capacity for 65 to 70 diners and an additional 20 or so seats on the patio up front, significantly spicing things up at 2020 Greenville Avenue.