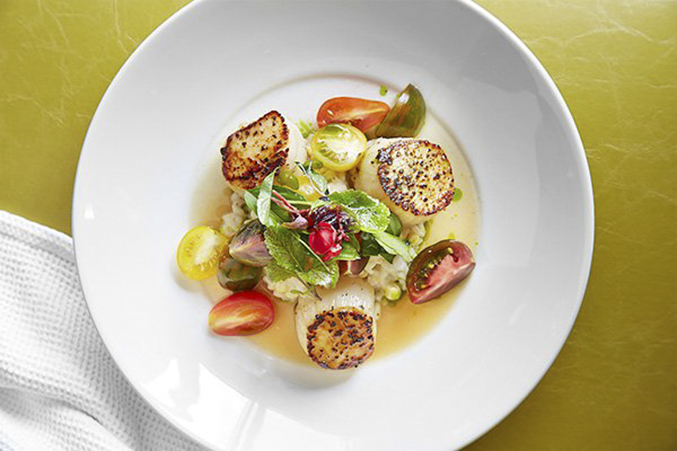 Lark on the Park is Closing
Head to the restaurant on Sunday to toast it farewell.
Two months ago, Stephan Pyles announced the shuttering of downtown's Stampede 66. Today, we learn that Shannon Wynne and his partners are closing Lark on the Park. Last year, the restaurant, with its gorgeous aquamarine bar and views of Klyde Warren Park lost its talented husband-and-wife executive chef team, Melody Bishop and Dennis Kelley. They had brought verve through a modern American idiom that placed finely prepared fish or lamb with Israeli couscous that flirted confidently with Moroccan spices on the menu. Our palate was changing, and places like Lark were the voice of change. But the landscape is shifting downtown.
Wynne, who is a savvy restaurateur, says it all, with candor and a keen awareness of the changing urban landscape and its implied need for a flexible business model, in a message titled "Bye Bye Lark on the Park." The team plans to maintain the space and decide what the next avatar should be. According to the release:
"For everyone that celebrated an anniversary, proposed marriage, blew candles or toasted a business deal at LARK on the Park, we invite you to come say goodbye.

This Sunday will be our last day to serve Dallas, and we hope you will come help us deplete our inventory! Yes, we want to sell as much as possible, so great deals will be afforded while supplies last to all of the friends we've made over the past nearly six years.  Expect the liquor and wine to flow!

When we signed our lease, nobody knew what to expect from Park visitors. We think now, with the maturing of the downtown residential population, that we need to afford a more comfortable and approachable product that better serves the neighborhood, for those that both work and live there.

With the changing climate in chef driven concepts, Keith, Larry and I have decided to take a pause to work on a new idea for this location.

It is an unfortunate time to be closing right before the holidays, and we will be working hard to offer many of our loyal Lark employees placement at our other concepts where there is room.

I am in development with an important Dallas dining talent that has impressed me immensely over the past three or four years. I think together we will build a new concept that will strike the proper balance of work and play at this significant central downtown address. If all goes smoothly, we should be open by May.

Thanks again for all of your patronage and loyalty,

Shannon Wynne

Keith Schlabs

Larry Richardson"
In This Post