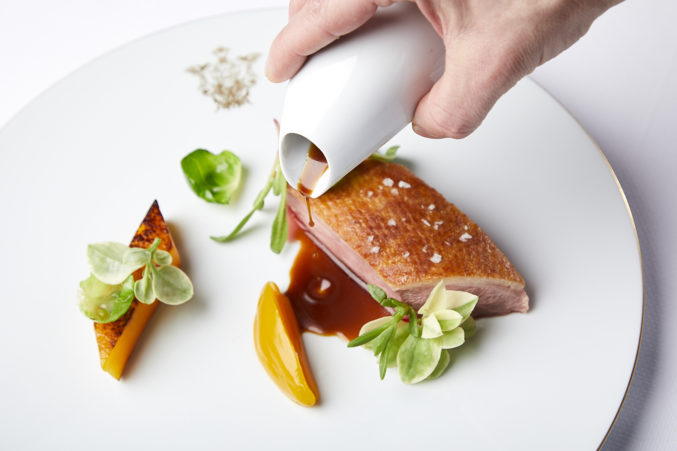 The French Room Has A New Executive Chef
And he's bringing à la carte.
Until July of this year, Michael Ehlert was the executive chef at the newly remodeled Adolphus hotel's French Room, the glorious atmosphere matched by a menu of French classical fare.
I was there late last month (I ordered from the menu in the setting of the slightly more casual French Room Bar), and not much had changed. It was still queen's fare. It was still fastidiously executed. They were still serving the ham and Gruyere bites that Catherine Downes told you that you should "Eat Now."
In many ways, not much will change, now that Anthony Dispensa, who has in fact been executive chef behind the scenes, debuts his own new menu.
The major shift is away from a tasting-menu-only format to one that includes the possibility of choosing dishes à la carte. The five-course, prix fixe tasting menu option will remain, but will be complemented by the freedom to pick and choose.
In a press release, Dispensa states, "At The French Room I aspire to create a sophisticated, yet approachable, dining experience that celebrates the heritage of the restaurant and my passion for technique- driven, contemporary French cuisine. I want dining at The French Room to be fun, not pretentious, but a dynamic dining experience filled with discovery that compels people to come back again and again."
The announced dishes—seared Long Island duck (pictured above), roast chicken with parsnip purée, braised savory cabbage, and roasted chicken jus, and a beautiful beet risotto in which pearl onion petals cup tiny daubs of horseradish gel—look to be just as luxe and refined as what we've seen under Ehlert.
The French Room Bar dining experience will shift slightly, with its own à la carte menu that leans more modern French brasserie, with oysters, a poached egg with foie gras cream, and a 28-day dry-aged ribeye.
The wine, tea, and pastry services will also see shifts between now and the new year.
Dispensa, who worked at the restaurants of Alain Ducasse, Gordon Ramsay, and most recently the highly acclaimed Dinner by Heston Blumenthal (in London), will not be moving away from the realm of fine dining. Not a jot. Though it will be slightly more democratic.