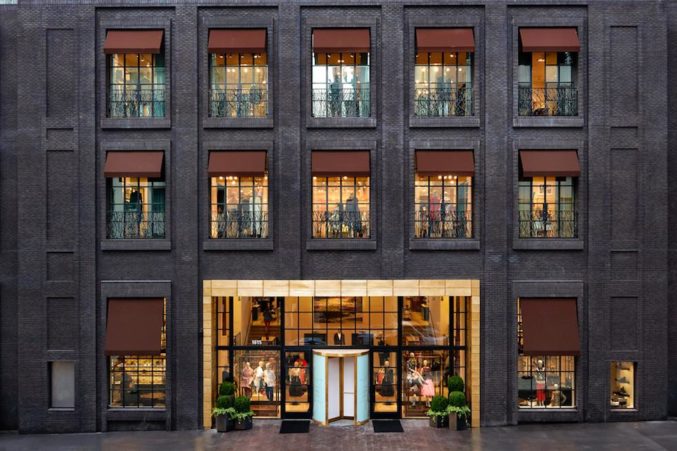 Forty Five Ten Debuts No Aloha
This art-forward coffee shop has watermelon on the walls.
When I wrote about downtown's Commissary, which opened in November last year, I highlighted the eye-catching blue and white mosaic interior-exterior mosaic by Jorge Pardo. Headington Company is up to its art antics again.
Over the weekend, the company's chic shop Forty-Five Ten soft opened a coffee shop mystifyingly named "No Aloha." You can order a quiche with artichokes and goat cheese, chia seeds larded throughout the crust. A beautiful salad of baby greens and carrot and radish slivers is on hand. Slices of tart were brilliant as an egg yolk: lemon curd over a pistachio filling like the inside of baklava.
It is the anti-café, aesthetically. No white subway tiles or natural wood. Instead, a site-specific mural that depicts, in moves reminiscent of Pop or graffiti art, halved watermelons and bunches of bananas, shapes that might be cigarettes and things that must be birds. Color lands everywhere, even on the ceiling, in explosions of screaming fuchsia, turquoise, and yellow, edged in drippy black. The whole café is modern art.
Tim Headington is the kind of man who can decide he wants to commission a site-specific piece by Brooklyn-based artist Katherine Bernhardt and make it the setting for what used to be the Copper Bar. A critical addition to this new incarnation: the side patio gives access to the giant eyeball sculpture and its square of grassy yard. Bernhardt, who works primarily in acrylic and spray paint, was the subject of a solo show last year at the Fort Worth Modern. Her subjects include Babar and Darth Vader. In her 2016 Reclining Nude, the Pink Panther rests under palmetto leaves. Other canvases flirt with kiwi fruit and toucans. There's provocation and playfulness, both.
But No Aloha is not like the art-themed café and restaurant Flora Bar, that opened last year and brought a cross-disciplinary bent to the Met Breuer in Manhattan with purple endives and rutabaga-raclette tart. There, even morning nibbles include black and white pound cake and milk buns with jamon Iberico. You can sip Keemun Mao Feng tea, a spritz, or a Bellini. Forty-Five Ten may be impossibly luxe, but its new coffee shop wants rebellion. The menu is simple. The color is mostly on the walls.