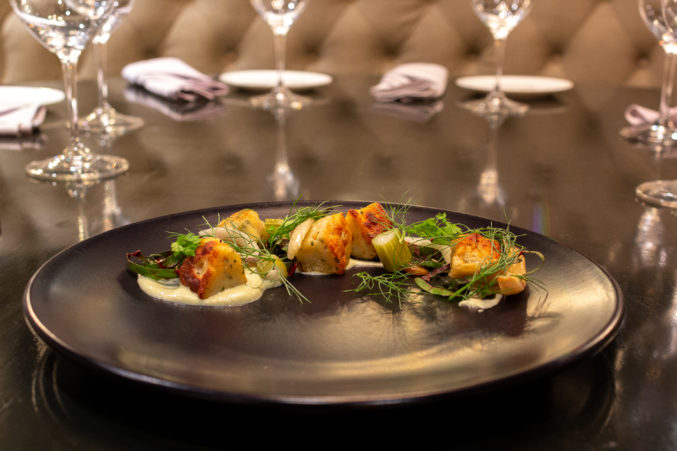 Felix Culpa Now Open on Henderson
The loungey new spot replaces Victor Tangos.
Felix Culpa will open tonight in the former Victor Tangos space on Henderson. The owners, SBBC Hospitium, the team behind Truth & Alibi, Tipsy Alchemist, Punk Society, and others, hasn't strayed too far—a place that's open late—but with a cheffy addition in the figure of Nick Amoriello, who earlier this year left his position as executive chef at downtown's The Mitchell.
Swanky and lounge-y, the spot has a pop art-inspired interior, all marble-topped bar, the glitter and glitz of crystal chandeliers, and wall art that includes Marilyn Monroe blowing a bubble-gum bauble, and Roy Lichtenstein and Jeff Koons prints.
The name Felix Culpa itself is all cheek, referring to the theological term for the idea that spins the Fall on its head, focusing not on disgrace, but redemption.
Amoriello, who was chef at  Rapscallion, Deep Ellum's non-pop-up version of Kitchen LTO, and most recently at The Mitchell, is one of the city's most reliable New American chefs, who laces his menus generously with French bistro influences. The opening menu includes grilled octopus and steak tartare, Yukon potato gnocchi and tuna crudo, with flatbreads and cheese and charcuterie platters to share. Of course, except cheffy touches.