What To Drink Now: Wine for the 70th Annual Emmy Awards
Toast the stars.
Tonight, Hollywood celebrities and behind-the-camera talents are celebrating performances and production on the small screen. But what to sip for this prime-time extravaganza? Consider one of these delicious options. (Some of which were sent for editorial consideration.)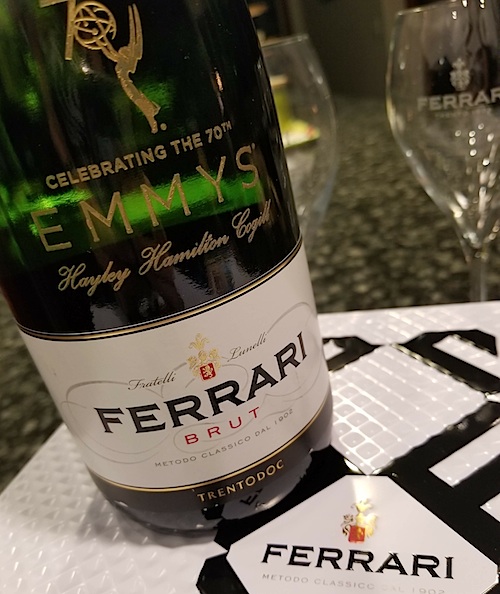 Every special occasion should include bubbles, so pick up a few bottles of the official sparkling wine of the 70th annual Emmy Awards, Ferrari Brut Trento DOC classic method sparkling wine from Trento, Italy. Since its origins around the beginning of the 1900s, Ferrari Brut has been made from Chardonnay grapes in the traditional way, aging the bottles a minimum of 24 months on the yeast in the bottle before disgorgement. With uncompromising attention to detail and quality, the sparkler is lively and vibrant with orchard fruit, fresh citrus, and soft, yeasty brioche. ($25, available at Central Market & Goody-Goody)
For non-sparkling options, take a hint from some of the favorite programs nominated this year. There are countless labels celebrating television favorites like Walking Dead wine, Downton Abbey wine, even Duck Dynasty wine. For all, one delivers as much style, strength, and personality as the Queen of Dragons herself, Game of Thrones Wines, including their newly launched Pinot Noir.
From esteemed winemaker, Bob Cabral, Game of Thrones Pinot Noir ($20) joins the current portfolio, which includes a robust, feast-worthy Napa Valley Cabernet Sauvignon ($50) luscious Central-Coast Chardonnay ($20) and red fruit, leather and woody herb filled Red Blend ($20) from Paso Robles. From hand-selected fruit grown in estate vineyards throughout Oregon, Cabral coaxes ripe berry and cherry notes out of earthy Pinot Noir fruit, then ages the wine in both French and American oak, adding spice, coconut and toasted vanilla notes for an expressive wine. The wines are available at Total Wine.
Celebrate the newest, and one of the youngest, EGOT inductee, John Legend, with his LVE wine. The "Jesus Christ Superstar Live in Concert" Creative Arts Emmy winner for production of the show also makes delicious wine. The Emmy, Grammy, Oscar and Tony winner began producing wine in 2015 when he partnered with Jean Charles Boisset and Raymond Vineyards. A wine lover, who researched extensively who to partner with on the project opted for Boisset as his goal was to be involved in every piece of the process, not just a celebrity adding his name to a bottle. He wanted to get his hands dirty, understanding the process as he has a true passion for the grape. Boisset and the team at Raymond Vineyards have worked side by side with Legend to create the style of wines he desired, with gorgeous texture, character, and taste.
The label started with dusty, earthy Rutherford LVE Cabernet, followed subsequently by a red blend, white, and most recently a Rosé from Provence. Selected to name the label "L-V-E", the acronym for Legend Vineyard Exclusive is also meant to evoke the word "love" as Legend believes that wine is really about celebrating with people you love. Like music, wine is something that brings people together, connecting them with mutual interests, ideas, and commonalities. LVE Rutherford Chardonnay is available at Total Wine for $55.