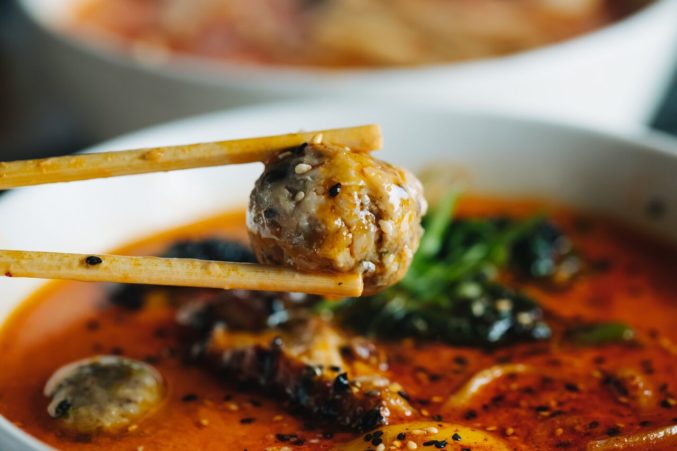 Uchiba's Uncommon Ramen Series Features Colorado Guest Chefs
Slurp like the Mile High City.
Pop-ups are always chances for culinary bridging and collaboration. Since 2015, the breezy, colorful restaurant atop Uchi has been the locus of a guest chef pop-up series, Uncommon Ramen, where, on the last Monday of the month, you could count on a menu that included some reputable chef's take on ramen. Some participating chefs: Misti Norris, John Tesar, Aaron Franklin, Peja Krstic, and Julian Barsotti. Until January of this year, that restaurant was Top Knot. Now, it's Uchiba, and the series continues.
As Uchiba's parent company, Hai Hospitality, headed by Austin's Tyson Cole, prepares to open another Uchi in Denver this fall (the first out-of-Texas location), we're getting a slew of Denver chefs as Hai Hospitality does that thing of bringing together their new tribe.
Up this month: Kathryn Caine, executive chef of Death & Co, a chic Manhattan and Denver bar of the small-plates and sheep skyr panna cotta-dessert type, where a flight of sorbets might involve flavors like guava-orange flower and coconut water-bay leaf. (She worked at the now-closed, Michelin-starred Range in San Francisco.) Caine is the third Denver chef to come to town to sling bowls of broth and noodles, preceded by chefs Tommy Lee and James Beard nominee Jen Jasinski.
But enough of a prelude. If you're in the mood for out-of-town ramen, hailing from the Mile High City, the menu for this month's pop-up involves chicken confit ramen in a miso broth with pickled carrots, corn-fresco relish, bean sprouts, and an onsen egg. Also, Wagyu rib-eye yakitori with bulgogi sauce and what is inscrutably being called a brandy champagne punch.
As with each installment of the Uncommon Ramen series, a portion of the proceeds benefits Promise of Peace Gardens, a non-profit organization involved in urban gardening.
The event takes place at Uchiba on Monday, September 24 from 5 p.m. until 10 p.m.