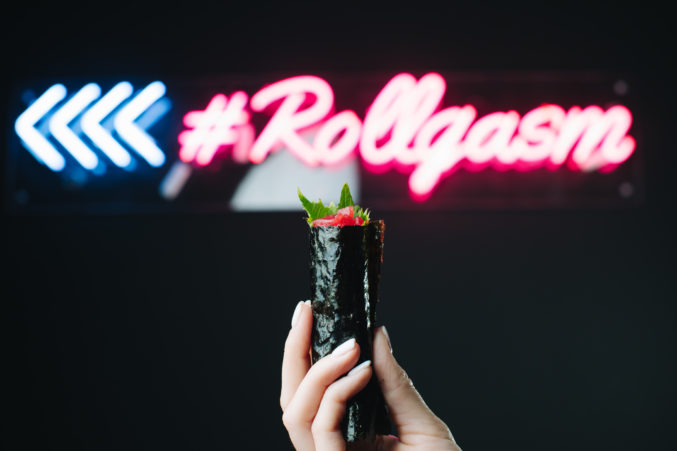 Red-Hot Sushi Trend To Land in Deep Ellum with Nori Handroll Bar
Move over, poké.
By Steven Lindsey
Published in Food & Drink
September 26, 2018
12:00 pm
Move over, poké. A new-to-Dallas dining trend is gearing up to smack raw fish lovers with something to hold onto. Literally. Nori Handroll Bar makes its Deep Ellum debut tomorrow night and comes from partners Mark Lee, David Lee (no relation) and David's wife, Donna.
"My wife and I were in New York for about 12 years and we really enjoyed going out for sushi," says David. "When we decided to move back to Dallas, one of the things we lamented was that Dallas didn't provide us many great sushi dining options. One day we ran into Jimmy Park who was the executive chef at Pōk [the Raw Bar] over in West Village and he said, 'hey, why don't you try out my omakase?' And sure enough, it was as good, if not better than some of the New York sushi restaurants we'd been to. And at an extremely affordable cost."
After introducing Park to Mark, an alliance was formed and after the chef parted ways with Pōk the Raw Bar he developed the menu at Nori Handroll Bar. Park's former boss, Brandon Cohanim, beat the Nori team to the handroll punch with the debut of Namo, a cozy spot next to Pōk, exclusively serving a focused menu of 10 handroll varieties and a trio of sashimi dishes.
For anyone unfamiliar with the concept, handrolls (or temaki as they're known in Japan) are burrito-like rolls that feature specially roasted nori wrapped around rice and some sort of raw fish or veggies. They seem simple to execute but require skill and finesse to bring out all the right flavors and textures in every bite.
Park plans to draw heavily on his time at Nobu to keep standards high. Nori Handroll Bar's fish will arrive daily, 24 hours after being line-caught.
"I don't want to compromise on our food. I want to give Dallas the Nobu experience, but at the best cost possible," says Park. "When it comes to my fish the majority of it is wild and if I'm choosing any type of farm fish, it will be high quality and not being fed any artificial hormones. Some of the fish other sushi places use is really low quality and I disagree with that."
Upon opening, chef Park will offer at least 15 different types of handrolls, 14 of which will be standard offerings and one that will be a daily special based on the freshest ingredients he has access to any given day. Several sashimi offerings will be available as appetizers along with Izakaya-style tapas (think Wagyu beef, garlic and yuzu sashimi) that Park says will pair nicely with their craft beer and sakes. Late-night service will likely roll out in the near future, too.
Nori Handoll Bar debuts tomorrow night and Friday with soft-opening dinner service from 5:30 p.m. to 11:00 p.m. and 15% discounts to followers of their Facebook and Instagram accounts. The restaurant is located at 2814 Elm Street in the same building as Hide.