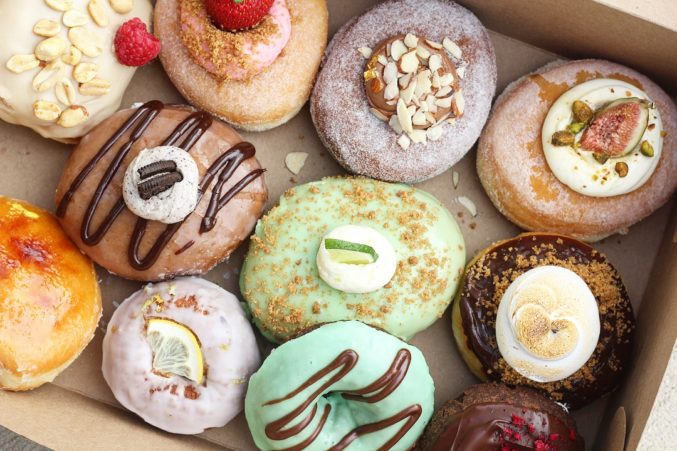 Head to Detour Doughnuts and Coffee For The Fig and Mascarpone Doughnut
And stick around for the Golden Lavender Latte.
By Daniel Walker
Published in Food & Drink
September 25, 2018
11:00 am
Odds are you're not too far from a doughnut shop right now. They dot nearly every corner of the Dallas. But in all honesty, most of these shops are nothing to get overly excited about, and many sell nearly identical offerings to their neighbors. So it's refreshing when a new shop introduces something exceptional, where the goods on display are the result of creativity and a desire to serve quality products. So without further ado, let me introduce you to Detour Doughnuts and Coffee.
Detour opened just over two months ago in Frisco by husband and wife pair, Jinny Cho and KJ Park. Cho's parents have owned their own doughnut business for more than a decade, and she learned her way around the bakery at a young age. With Detour Doughnuts, she wanted to put her own abilities to good use, creating a shop that would stand out from the rest. She did just that.
Detour offers a fairly sizable menu, and many of the standards you'd expect from a typical doughnut shop like glazed, cake, strawberry with sprinkles, and blueberry cake to name a few. However, they also delve into some genuinely fantastic special offerings. This part of the menu rotates seasonally.
A few impressive options: yeast doughnut filled with strawberry cheesecake cream, chocolate-frosted cake doughnut with freeze-dried raspberries, peanut butter glazed with raspberry jam filling, key lime pie, chocolate and coconut, cookies and cream, and the Ferrero Rocher, which is a chocolate yeast doughnut with a light hazelnut frosting center and sliced almonds.
But let me tell you. If there's a single reason you should venture to Frisco for a doughnut, it's for their exceptional fig and mascarpone doughnut. It's a work of art, folks. A soft yeast doughnut is rolled in granulated sugar, filled with a light, tangy, and slightly sweet mascarpone cream, and topped with toasted pistachios, honey, and sliced fresh figs. It's a pure delight. You need to get in there and eat it before it's gone.
"The standards for our coffee are held as high as our doughnuts, and the quality speaks for itself," says Cho. They use locally roasted beans from Oak Cliff Coffee Roasters and a La Marzocco Linea machine to crank out espresso shots. They offer a full coffee menu, from macchiatos to lattes, and make their cold brew in house. Their most popular coffee is the Golden Lavender Latte, with the flavors of honey and lavender.
In addition, on the weekends they offer Tacodeli breakfast tacos for those wanting a bit of savory with their sweet. They also make macarons in house with rotating flavors such as matcha, pistachio, honey lavender, and black sesame matcha.
Catch Detour daily from 6 a.m. to 6 p.m. They're located at 8161 FM-423 Ste. 250, Frisco.