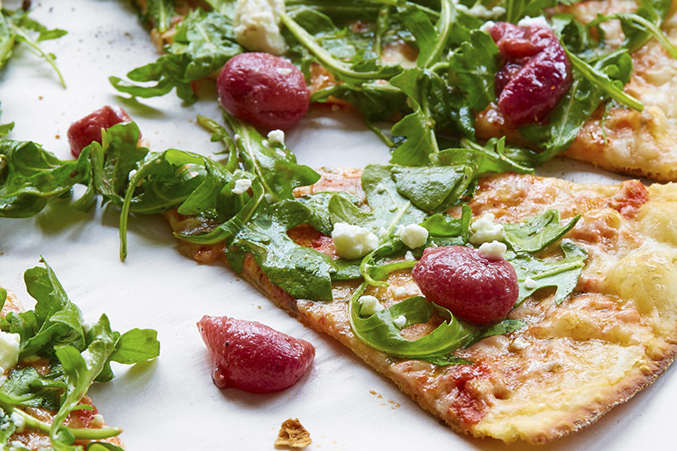 Bolsa Celebrates Its 10-Year Anniversary
Party with the restaurant that put farm-to-table on our map.
On Sunday, Bishop Arts go-to Bolsa is holding its 10-year anniversary party. And you want to go. I can hardly believe it's been 10 years since it opened. The economy was in disarray, but people were discovering that in Dallas, we could do farm-to-table.
Graham Dodds, who opened the restaurant and was at the helm the first three-and-a-half years (his sous chef was Randall Copeland), recalls the time. He'd just come from cooking abroad and all around the country, where the farm-to-table movement was already in vogue. "Sharon Hage was doing that to some degree" at her restaurant York Street in Lakewood, he remembers. "[And] as far back as the Green Room," he says, they were using chickens from Windy Meadows Farm. But Bolsa was one of the first restaurants to put it firmly at the center of the ethos and menu.
It was partly out of necessity. "We didn't have a walk-in fridge for a year and a half," Dodds says. "We'd get stuff every single day—sometimes twice a day." Which led to the kind of daily-menu ingenuity that makes diners feel its pulse.
What they were serving was goats from Windy Hill Farm in Murphy. Goat cheese from Caprino Royale in Waco. Rocky Tassione of Tassione Farms was growing microgreens and gorgeous heirloom beets and radishes, and Tom Spicer was acting as broker, a kind of a farm-to-chef midwife. "He would come to me last, and I would just take everything he had," says Dodds. Not to mention mulberries that might have been picked on someone's farm or giant goose eggs sold by a woman in the Oak Cliff neighborhood.
Almost everything, in those early days, went into the pizza oven, where they cooked the flatbreads with their hallmark thin, cracker crust.
Originally, Bolsa was meant to be a sandwich-salad-flatbread kind of place. But the first entrées introduced as specials sold out immediately. "Everybody wanted the dinner experience," Dodds says. So, the format was nothing over $25, super-simple but farm-sourced, says Dodds: put the time into the prep work and make it easy to execute.
(Perhaps the best early-Bolsa story is how confit pork jowl ended up on the cover of this magazine's Best New Restaurants 2009 issue instead of whatever image might have illustrated the cover line "The Greatness of Dirk Nowitzki." Could anything better illustrate the arrival of farm-to-table? The year Dirk was bumped for a pork jowl.)
For the 10-year event they're calling a "Family Reunion," the entire roster of seven Bolsa chefs over the years will be present and cooking up bites, with its bartenders mixing drinks.
Dodds says his dish will be sweet, spicy, savory duck breast—smoked and seared—served over warm purple hull peas and figs and finished with crème fraiche.
So very Bolsa-like? I think so.
What: Bolsa 10-Year Anniversary 10-Year Reunion
When: Sunday, Sept. 23rd, 6-9pm
Price: $10 for bites, $5 for cocktails
Get tickets here.