It was raining as my Lyft driver turned left on Elm Street from Malcolm X. The reflections of neon signs swirled in the pavement. My driver had just finished telling a story about a passenger who'd been twerking in the backseat of his car. There was a moment of silence before he blurted out: So you're going to a hostel?"
"Yes," I answered.
"Do you work there?"
"No."
He appeared uneasy. Fair enough. Dallas isn't a city abundant with hostels. A Google search finds a measly two options. The first: something called "The Wild, Wild West Dallas Irving Backpackers' B&B." Reviews say it's run by a guy named Josh. Josh has a "cute dog" and a "beautiful cat" and offers a free continental breakfast at his "quiet, secure, and country home atmosphere."
The second: Deep Ellum Hostel.
Collin Ballard and Kent Roth, the operators of the Firehouse Hostel in Austin, opened the spot in mid-July. The building is located at 2801 Elm Street and was, at one point, an auto repair shop. It was built in the first two decades of the 20th century, and the duo has done their best to maintain its structural integrity. The hostel offers 70 beds spread across nine dorm-style rooms and five private suites.
"Boutique hostels have become a trend over the past 10 or so years," says Ballard. "The Deep Ellum Hostel falls under that category … we want the space to be cozy. We may have gone a little over-the-top. But I've been to nicer ones. Sometimes, in Europe, the hostels are nicer than the hotels, depending on which city you're in."
Their hostel in Austin does not accommodate people who live in the city. In Deep Ellum, there is no mile restriction in order to stay. They also accept walk-ins.
"We've had international people, bands, people coming to town to see a show," says Ballard.
The driver stopped his car in front of my destination, flipped on the hazard lights and pulled out a business card. "Well, if anything happens and you need a ride back, you have my personal number."
Outside, rain drops attacked the top of my head with cold, wet vigor. The inside of the hostel was warm. The space had exposed brick walls, plush and vibrantly upholstered furniture, plants, wooden tables, books, games, art supplies, a record player with vinyl to choose from. Spherical light fixtures emitted a warm radiance, which filled the room.
This was my first time in a hostel. I missed the phase in college that was experienced by so many friends, spent collapsing on bunkbeds overseas with Icelandic puffin farmers and Talkboy-wielding cyberpunks. Or whoever.
I was greeted at the check-in counter by a friendly lady who couldn't have been a day past 25. I booked the female-only dorm online the day before—it cost $39. At the time, according to the website, three of the eight beds had been taken. The woman located the reservation and handed over a keycard. She also handed over a plastic number to hang on the bunk that I wanted to claim as my own. As I walked up the stairs to the room, I passed a dude in a navy blue t-shirt. A full sleeve of tattoos crawled up the leathery skin of his left arm. He was toting a massive, packed-all-the-way-full backpack. His disheveled mop of hair and shaggy white beard stirred up childhood memories of that Norwegian folktale Three Billy Goats Gruff. He was like the embodiment of the troll and one of the goats at the same time.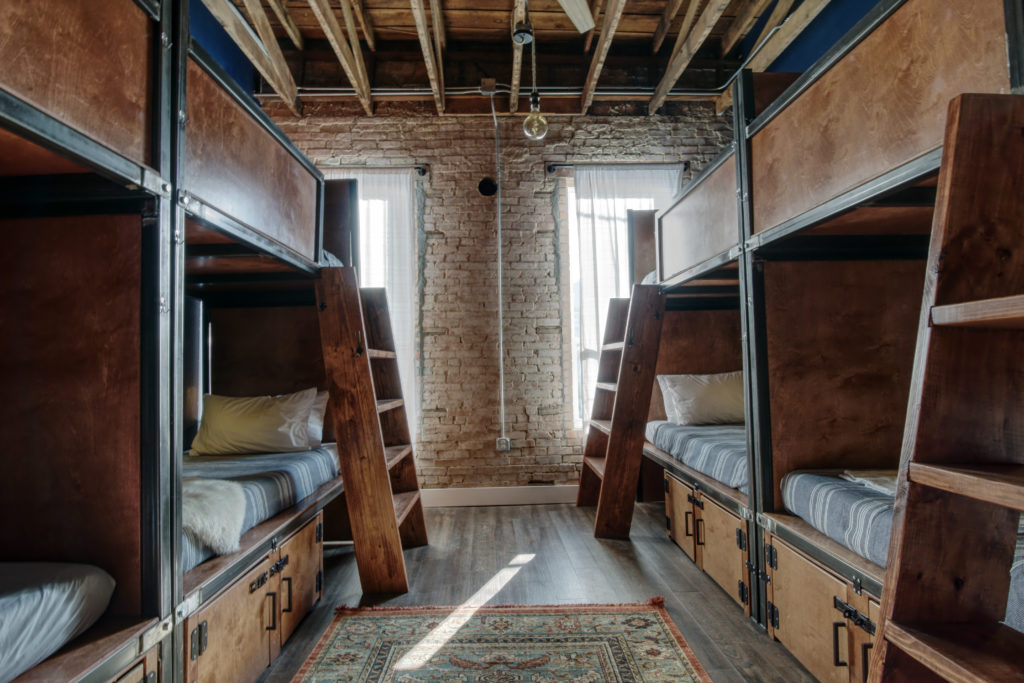 The doors in the upstairs corridor were a shade of blue similar to Goat-Man's shirt. Inside, dark-wood bunk beds lined both walls. A beautiful Persian rug spanned the floor. There were no signs of life, but three of the beds had numbers dangling from their hooks. The room was clean and smelled like the lumber section of The Home Depot. I chose a bed in the top right corner, next to the window. I was able to surveil the entire room, like a cat on top of a refrigerator. I climbed the wooden ladder, took my pajamas and toothbrush out of my backpack, and set them on the mattress. The white cotton sheets were soft. I fluffed the pillow. That was soft, too. Lightning flashed through the semi-sheer linen curtain. It was still raining.
I headed downstairs to the hostel's adjoined cocktail bar, Izkina, which also happens to serve Spanish-inspired bites. Owners Ballard and Roth attribute this to their time spent in Spain. The kitchen of the 2,000-square-foot space is run by executive chef Joel Orsini, whose résumé includes CBD Provisions and FT33.
The white marble-topped counter was covered in tinctures, bunches of fresh herbs, and bowls teeming with pudgy grapefruits, oranges, lemons, and limes. It was busy. But instead of being crammed with bedraggled vagabonds, the crowd was trim and frilly. Two women in sequined mini dresses twirled around a table of men who looked like extras in Preppies. A group of 20-somethings sipped cocktails with giant flowers floating on top of ice cubes. A couple sitting next to me, clearly on a date, compared their views on Catholicism. All the while I sipped a Paloma through a green and white striped straw. (Don't worry, it was made from paper and biodegradable.)
The semi-open kitchen was visible from the bar. A red snapper carcass hung from the ceiling and spun slowly. The dried bones, cured in pink peppercorn and smoked in hickory, are used for stock.
I ordered meatballs. And mushrooms.
The meatballs came out first. A pile of meaty spheres made from ground duroc pork were mixed with onions, parsley, garlic, and thyme. The balls are formed by hand and never compressed. They're seared in Texas olive oil and then slowly braised in smoked paprika, tomato, thyme, red wine vinegar, and bay leaf. Orsini's secret: "not pressing them too much to form, and also never allowing them to boil."
Up next: a glistening mix of lion's mane, oyster, shiitake, pioppini, and honey mushroom. The fungi are from Hi-Fi Mycology in Austin and are tossed in olive oil, garlic, parsley, thyme, reduced sherry, coriander, pink peppercorns, and lemon juice. They're seared for texture and sprinkled with fresh chives.
I sent iPhone snaps of my dinner, and everything else I'd encountered up until this point, to a friend who's an experienced hostel-stayer and he responded: "That is the bougiest hostel I've ever seen."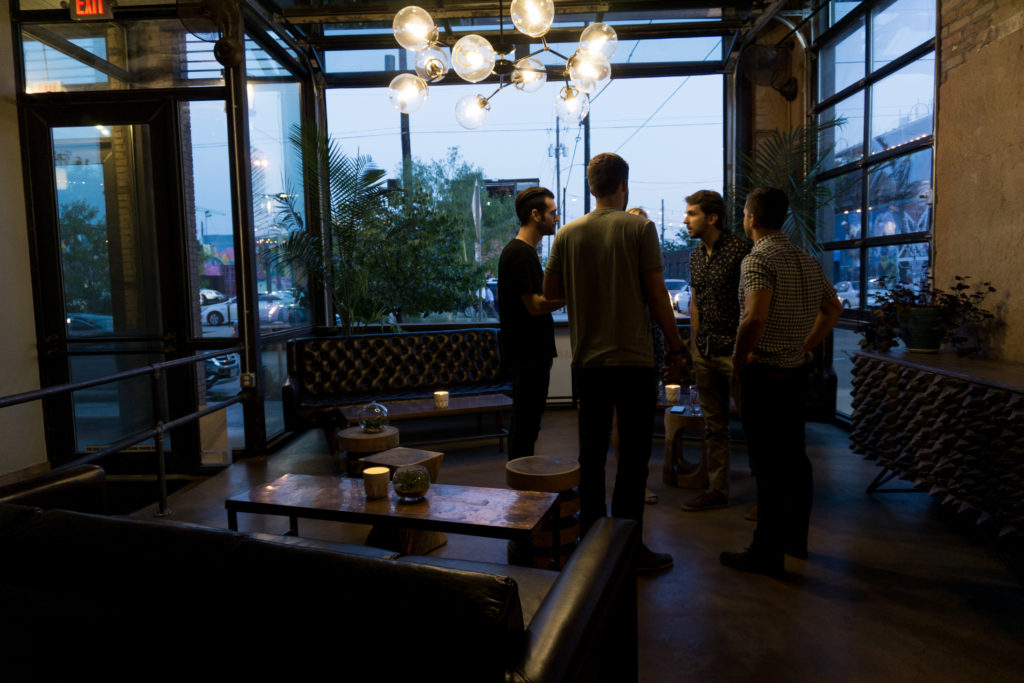 At this point, a DJ was spinning vinyl next to a palm near the entrance of the bar. He threw on some Glenn Underground. The dudes behind me, waiting to order drinks, bobbed their heads in unison. It was no longer raining, so I closed my tab and hit the streets.
Things I encountered:
A red Jeep Wrangler lugging a hotdog cart down Elm.
A dude on stilts dressed as Satan.
Two police officers, on horses, monitoring the entrance of a Hawaiian-themed private party.
A guy on a neon blue hoverboard.
Lots and lots and lots of drunk people.
Despite the rain, it was a typical Saturday night in Deep Ellum.
I walked to Double Wide, ordered a tequila and soda, and sat on the patio. A woman told me about her deaf mom who practices witchcraft, and then tried to convince me to re-read Vladimir Nabokov's Lolita even though it reminds me of my cheating ex with an affinity for community college students. She was nice.
There was a drag show that night—I paid $10 to watch a dude in a black sequined gown and florescent orange bouffant lip sync his trachea out to Jennifer Holliday's "And I'm Telling You I'm Not Going." At the end of the song, he tore off his wig to reveal dark, slicked-back hair. The crowd of 50 or so people erupted in delight.
It was drizzling out. I walked back to the hostel, and surrendered to my room. It was dark, the only visible light was coming from nearby bar signs, glowing through the curtain. I used my phone screen to guide me to my bunk. Two of the beds had dangling numbers with no bodies, but there was a person-sized lump, covered in white sheets, in the third. A roommate! 
I climbed up the ladder to my mattress, grabbed my pajamas and toothbrush, climbed back down the ladder, tiptoed across the Persian rug toward the door, and then trotted down the hall to the bathroom. This was my first time in one of the bathrooms. They're individual, so you don't have to worry about sharing with hairy Goat-Men. I was impressed with the cleanliness and white marble-looking tiles. I changed. (You don't get the details for this.) And then returned to my room.
I laid in bed, which was surprisingly comfy, and listened to the remaining few minutes of the DJs set. Bass gently rattled the window. Aretha Franklin's "Think" was followed by Dusty Springfield's "Son of a Preacher Man" and then, at 2:05 a.m., there was nothing but the cacophony of intoxicated people exiting bars and crowding the streets below.
I woke up the next morning to the sound of knocking on the door. There was some incoherent murmuring, rustling of covers, a zipper zipping, and the clunk of the door gently closing. I sat up. My roommate was gone.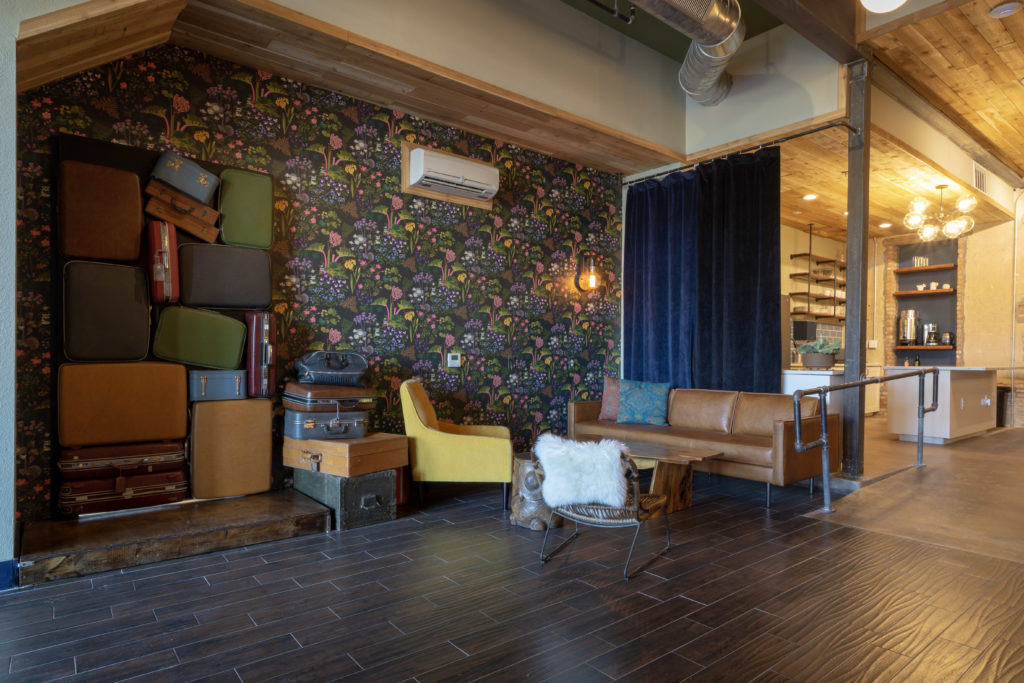 I put on pants but stayed in my tie-dyed pajama top and headed to the kitchen for breakfast. A woman sat at one of the wooden tables, typing on her MacBook and talking on her phone. She wasn't speaking English, or French, or Spanish, or German, or Russian, or Mandarin. My groggy head couldn't place the language. I poured a ceramic mug full of coffee and looked at my food options: Kroger Nutty Nuggets or Kroger Bran Flakes. I stuck with black coffee.
I hadn't washed my face from the night before and my hair was perched in a giant wad on top of my head. Not two minutes into sipping my coffee on a couch, a man rolled a suitcase past me. I ignored him. He rolled past me again. I ignored him again, but kept him in my peripheral vision. He was coming closer. Oh no. No. No.
"Hi, I'm Alex!" he said while bursting into my personal space. I looked up. "Can I sit here?"
It was too early and there wasn't enough caffeine stimulating my central nervous system. "Uh, sure." I calculated how much coffee was left in my mug and how long it would take me to finish. No more than seven minutes. I could hold a conversation for seven minutes. And who knows, my morning breath might send him packing sooner.
In those seven minutes I learned that Alex lived in Seattle, was visiting Dallas for work, had a spreadsheet of all of the restaurants he's been to, and, Nick & Sam's Steakhouse was his favorite in town. I poured the last drip of sweet, sweet generic coffee into my mouth. Time was up.
"Can I get your number?" Really dude? 
I climbed the stairs back to my room, shoved my toothbrush and pajamas into my denim backpack, and made my way to the check-in desk, which would now be the check-out desk. "Did you enjoy your stay?" the woman inquired as she printed my receipt. "Very much." I replied. "Would you stay with us again?" she asked. "Absolutely."
I turned toward the glass doors and exited. Alex, with his suitcase rolling behind him, passed me on the sidewalk. Where did he come from? "See you soon, Catherine!" he said. I waved.
I would not be seeing him soon. Or likely, ever.
The Deep Ellum Hostel is a welcome addition to the neighborhood, which, up until this point, had no such accommodations. It's a fitting option for the people who crowd Main and Elm streets on the weekends—artists and touring bands can call it home for the night, those overserved may find a bed to be cheaper than surge pricing. It also puts you in the middle of the city's most vibrant entertainment district, free of a car and free to explore.
I would consider returning, myself. If only to spot an elusive roommate.
Get the SideDish Newsletter
Dallas' hottest dining news, recipes, and reviews served up fresh to your inbox each week.