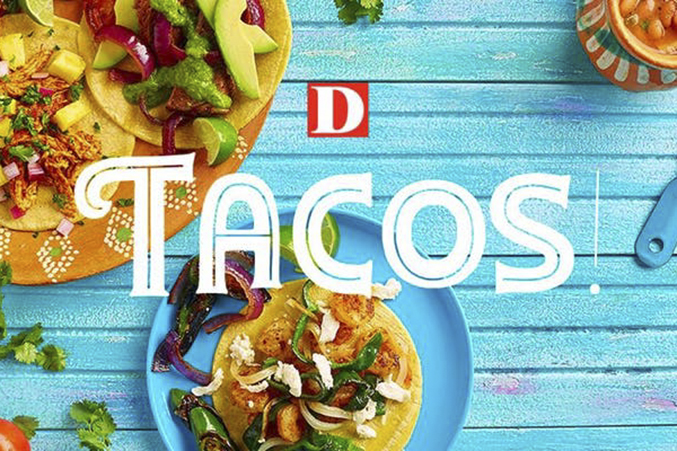 Tacos! A D Magazine Taco and Top Shelf Event
Come eat some tacos with us.
Spoiler alert: the September issue of D Magazine is all about tacos. Okay, not all about tacos. There's some other stuff in there, too. But the cover story highlights the best tacos in Dallas. It'll be on newsstands, and online, in a couple of weeks.
We're throwing a party in honor of our September issue and you're invited. Come hang, eat some of the best tacos in town, sip a cocktail, make a friend or two, eat more tacos with your new friends, exchange phone numbers, pick up the September issue of D Magazine, text your new friends and plan a taco excursion based on our recommendations, live happily ever after.
Sounds like fun, right? Here are the details.
The tacos:
Azucar Latin American Cuisine: Mayan Taco
Burrito Time: Al Pastor Taco
Casa Komali: Cochinita Pibil
El Come Taco: Suadero a La Casa
El Palote Panadería: Carnitas
El Tiz: Al Pastor Taco
Halal Mother Truckers: Tikka Taco
La Botana Taco Bar: Costra Taco
The Cedars Socíal: Taco del Dia
Tacodeli: The Otto (breakfast taco)
Trompo: Campechano
Taco Heads: Garlic Shrimp
Taco Y Vino: Blackened Baja
The tickets:
GA: $45 and includes access to all tacos and drinks.
VIP: $75 and includes access to a private lounge, specialty cocktails, and an exclusive cooking demonstration with Anastacia Quiñones from The Cedars Social and Leonardo Spencer from El Tíz.
When:
Tuesday, August 28
6 p.m. until 9 p.m.
Where:
Lofty Spaces
816 Montgomery St.