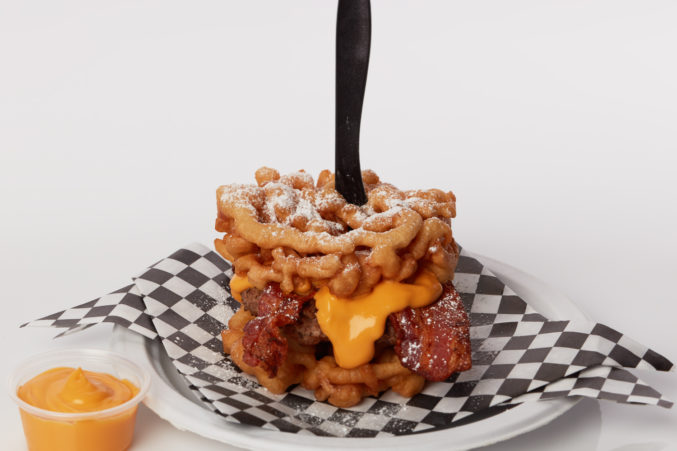 Fried Lobster Pops, Kool-Aid Pickles to Feature at State Fair of Texas
The Big Tex Choice Awards semi-finalists were revealed today. Did we mention the deep fried ranch yet?
I get misty-eyed thinking about the rich traditions of the State Fair of Texas. The family picture in front of Big Tex. The young farmhand hoisting a blue ribbon beside his prize steer. The first date among the lights of the Midway, the romance made real with a stuffed animal won at ring toss. The Fried Kool-Aid® Pickles.
Because whatever warm nostalgic feelings of Lone Star State pride the fair provokes in you, one reason we keep coming back—sometimes against our better judgment—is to see what fresh and fried madness has been cooked up in the laboratories of the fair's concessionaires. While the fair doesn't begin until Sept. 28, the annual reveal of the Big Tex Choice Awards' semi-finalists every summer gives us our first glance at what jaw-dropping creations will be flooding our arteries with sweet poison this fall. Here's what we're working with this year:
| SAVORY | SWEET |
| --- | --- |
| Corn Dog Ale | Bacon Brittle |
| Deep Fried Bodacious Bacon Bombs | Cherish Erbert Champagne |
| Deep Fried Chicken Tetrazzini Parmesana | Cotton Candy Taco |
| Deep Fried Lobster Pops | Deep Fried M&M's® |
| Deep Fried Ranch | Deep Fried Raspberry Brie-ret |
| Deep Fried Shepherd's Pie | Frosty's Frozen Hot Chocolate |
| Deep Fried Skillet Potato Melt in a Boat | Fruity Dessert Nachos |
| Fried Cup of Corn "Elotes" | Kool-Aid® Pickle-Dilly Sangria |
| Fried Kool-Aid® Pickles | Orange Julia's Beermosa |
| Hoppin' John Cake with Jackpot Sauce | Orange You Glad We Fried It?! |
| King Crispy Coconut Crab Sliders | State Fair Fun-L Cake Ice Cream |
| Pico Frito (Deep Fried Pico de Gallo) | Supra Stuffed Mini Sopapillas |
| Southern Fried Chicken Nachos | Sweet Bakin' Bacon |
| Texas Fried Hill Country | Sweet Crispy Rice (Arroz con Leche) |
| Texas Twang-kie | Texas Thai Delight |
| | The Roll Tide |
The fair has unfortunately released few details to go along with those names, so you'll have to let your imagination run wild with suggestive titles such as "The Roll Tide," "Cotton Candy Taco," and "Orange You Glad We Fried It?!" The contents of dishes like the "Deep Fried Ranch" and "Deep Fried M&M's," however, seem all too clear.
A panel of judges will pick the finalists from the above bunch at the 2018 Big Tex Choice Awards on Aug. 26 at Fair Park.  If you've got $125 to spend on a ticket, you can punish your body with a fried bodacious bacon bomb at the same time as the professionals. The rest of us will have to wait for the fair to begin in September.