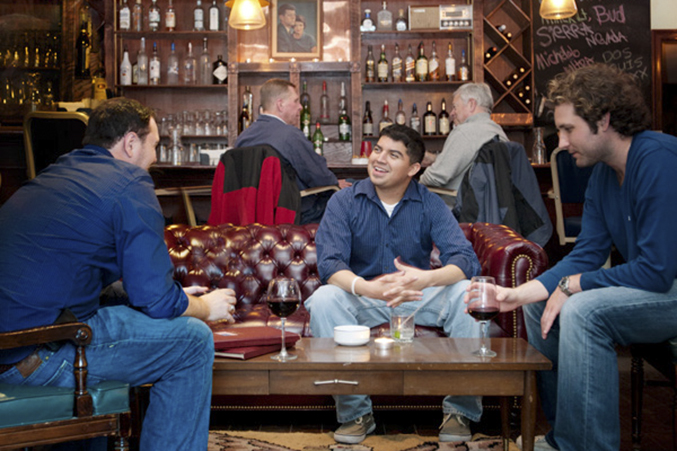 Head to the Kennedy Room for the $7 Burger
And stick around for the Exotic Pink.
There are two extremes when it comes to post-workday imbibing in Dallas.
The shoulder-to-shoulder restaurant bar crammed with pastel, button-down shirts tucked into slacks. Where the clink of dazzling crystal tumblers filled with amber-hued spirits are in supporting roles, and the people sipping are the leads. And, despite having only washed your body with a bar of odorless soap that morning, you leave smelling like a whirl of a dozen expensive fragrances.
And then, there are cavernous dens, where, if you're lucky, Wi-Fi is nonexistent. Forget about an Instagram check-in. You're off the grid, baby. It's just you, a can of Budweiser, and a handful of regulars who couldn't care less about the altercation you had with your significant other that drove you to drink alone on a Wednesday afternoon. And, despite not having pressed your lips to a cigarette since your sophomore year of college, you leave smelling like you rolled around in a pile of Marlboro ash.
The Kennedy Room falls somewhere in between.
The bar is situated off Maple Avenue in the core of Uptown. But it somehow feels removed from the buzz of surrounding establishments. Longtime restaurateur Al Heidari owns the property, which also houses The Old Warsaw and a handful of condominiums. If not for a street-facing neon green sign with the words "Kennedy Room," the building might completely fade into the background.
I stopped in Tuesday evening after work. It was drizzling and I wasn't in the mood for smalltalk. I didn't expect to run into anybody I know. The space was dark, all wooden benches and Persian rugs, with an Oxblood leather chesterfield sofa. Various taxidermied animals were mounted to the walls. Books lined the fireplace mantle. A painting of Jackie and John F. Kennedy hung above the clunky wooden bar. Football reruns flashed on flatscreens. Chubby Checker's "The Twist" played overhead.
The room was empty with the exception of a couple canoodling in a plush red booth. My expectations were shattered; I knew the woman. She will remain unnamed but I will tell you this: it was her first time at the Kennedy Room and she was on a, seemingly successful, date.
The bartender, a fit lady in a black romper with her hair pulled back, informed me that they don't "do" happy hour because "their prices are already so affordable." I ordered an $8 glass of Pinot Noir and a $7 cheeseburger but with a princess request: no bun and sub the fries for steamed vegetables. The patty was juicy, cooked medium with a slightly pink interior. The kitchen takes a ribeye steak, grinds it in-house, and seasons the meat with salt, pepper, and garlic. It came topped with a melted slab of cheddar cheese, romaine lettuce, sliced tomatoes, and a cluster of tangy dill pickle wedges. Next to it, a mound of steamed haricots verts and halved Brussels sprouts were coated in butter and garlic.
Halfway through my meal I decided that I was going to recommend this place, if only for the low price and no-frills execution of the burger. I finished and was about to head out when things heated up.
The bar started offering complimentary hookahs to customers about two weeks ago. I hadn't smoked one since college, so when my bartender handed a hookah over, I accepted. For nostalgia's sake. The tobacco flavor was called "Exotic Pink" and it tasted like somebody had wrapped a strawberry Fruit Roll-Up around a mound of cotton candy and vaporized it. The bartender mixed Midori melon liqueur with water in the glass base of the hookah for an "enhanced aroma." A few drags in, an elderly piano player in a tuxedo, who was performing in The Old Warsaw, walked over. He stood at the end of the bar and spent his break watching the TVs. I offered him a puff off the hose but he declined, pulled a pack of cigarettes out of his jacket, and mumbled something about smoking the real thing.
The woman and her date, still snuggling in the booth, wanted to smoke a hookah too.
"I think I'll put Malibu rum in yours," said the bartender.
"Oooh!" gasped the piano player.
I exhaled a cloud of sweet smoke.
A resident from an upstairs condo sat next to me, ordered a glass of white wine, and sorted through her mail. She was in her late '50s, early '60s tops. The bartender knew her. We exchanged stories of our days and she told me where to find the best fried catfish in Dallas. She moseyed upstairs to her abode, her red lipstick lingered on the rim of her empty glass.
A pair of colleagues from an advertising agency walked in and pulled up bar stools. It was their first time here, too. They ordered Old Fashioneds. There are no syrupy Luxardo cherries here. These drinks are served with crimson maraschinos native to Shirley Temples and banana splits. I shared the hookah with them.
One hour turned into three and by this time, the bar was filled with the sugary scent of Exotic Pink tobacco. I learned about the bartender's most recent failed relationship. I learned that the colleagues became friends four years ago over an inner-office kerfuffle. I learned that the woman's date did, in fact, go well. And I learned that sometimes a dreary Tuesday evening takes you someplace unexpected.
(I'll report back on that catfish recommendation.)