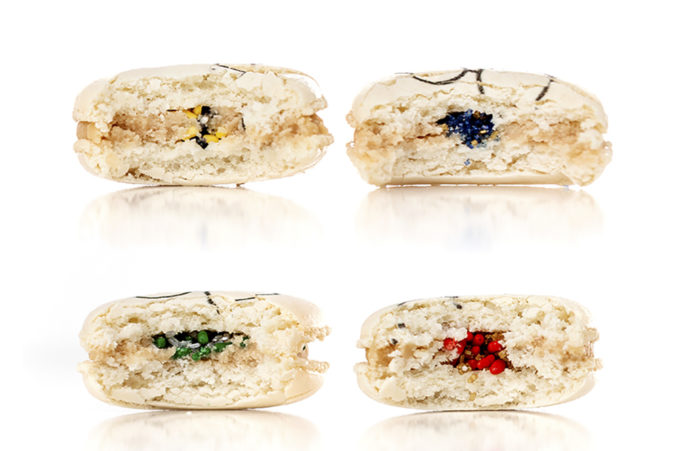 Harry Potter Macarons and 8 Other Summer-Only Flavors
Try them before they're out of season.
By Mary Cate Long
Published in Food & Drink
July 30, 2018
2:50 pm
These Dallas bakeries are serving macarons fit for summer. Better go try them before they're out of season.
Joy's seasonal macaron ice cream sandwich is what Instagram dreams are made of. Whimsically dubbed "the Mermaid," the macaron is a purple, pink, and blue swirl of strawberry and blueberry cheesecake-flavored ice cream. Also, while we're talking about mystical creatures and magic, it should be noted that Joy has released a Sorting Hat macaron for Harry Potter's birthday on July 31. The white shelled macs are imprinted with the iconic round-frame glasses and lightening bolt, and are crammed with a caramel-y  butterbeer filling and a burst of sprinkles—designating you to your fated Hogwarts House.
Chelles (Dallas Farmers Market)
Get ready for a taste of nostalgia. Chelle's picnic-perfect seasonal cherry limeade and PB&J macarons will take you back to your childhood. The light green cherry limeade treat is filled with a pink tangy-sweet maraschino cherry buttercream and the PB&J is lavender-hued with a grape jelly and peanut buttercream filling. If your senses aren't already too overwhelmed, try a signature macaron-edition cakeball, the "Macball." Although flavors rotate often at this Farmer's Market patisserie, expect options like Lucky Charms, matcha green tea, and birthday cake.
Savor is offering a Christmas in July collection. The desserts are only available for the next few weeks, and there's a green, buttery Christmas Cookie, a Mexican Hot Chocolate with marshmallow buttercream, and a Gingerbread with white chocolate ganache. Christmas only comes once a year (unfortunately) but that's no excuse to not be jolly in July.
When you walk in the doors of Chocolate Secrets on a Monday, it is no longer the dreaded dawn of another wearisome week; it's Macaron Monday. And Macaron Monday means buy two macs, get one free. That way, you can easily try a trio of whatever constantly rotating flavors they are featuring at the time, like watermelon or orange Cointreau.
For the next two to three weeks, Lette is featuring a ruby red strawberry macaron with strawberry and white chocolate ganache. Fun fact: this store is the California chain's first venture in branching out of state.
This boutique chocolate shop sells more than artisan truffles. They also carry some pretty sweet macarons. True to Kate's constant creativity, it's not rare to find playful new flavors. This summer, go for the hot pink, citrusy-sweet strawberry yuzu.
Rush is not for a spontaneous macaron fling. Rush requires your full commitment with a 24-hour in advance order. The downside being you need to anticipate your macaron needs, the upside being you can request any flavor you can dream up. Rush says summertime has been spurring lots of champagne and berry-flavored requests. Or you could even go a little glitzy and ask for a custom black truffle mac.
Hospitality Sweet is foremost a cafe for sandwiches, salads, and soups. However, if you catch them on a good day, you'll also find the juiciest raspberry macaron. A pink shell is overflowing with vibrant raspberry jam (unlike many stores and their fruity buttercream fillings). Sweet, southern hospitality, indeed.
Bisous Bisous offers a respectable range of macaron flavors, from lemon to Tahitian vanilla. Something a bit more exotic that they offer are ornate macaron-topped cakes and French-pastry-making classes.