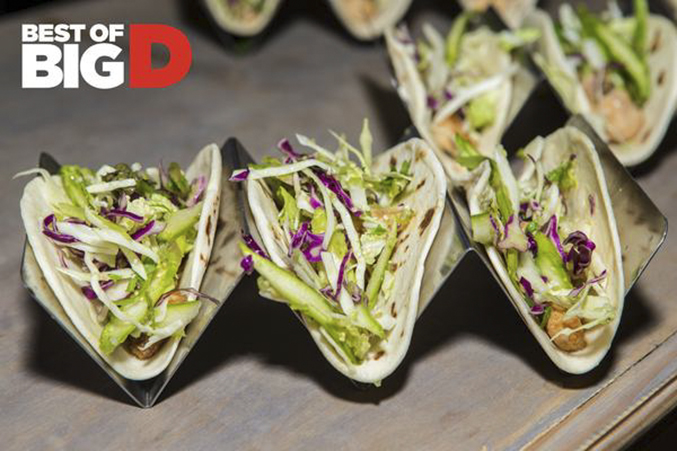 Eat Your Way Through the 2018 Best of Big D Party
And have a drink or two while you're at it!
Every year D Magazine throws a really big party. This year, we're throwing a really, really big party. For $65 general admission, or $103 for VIP, you have access to some really, really, really amazing food. Some of best food in Dallas. Come eat!
Here's the current lineup (with more to come):
Uchi Dallas: bigeye tuna, thai chili, nam pla, watermelon
Jimmy's Food Store: mini cannolis
Mot Hai Ba: coconut braised chicken with kimchi caramel, jasmine rice, and fried shallots
Cattleack Barbeque: brisket que-t pies
Maple Leaf Diner: chicken, bacon and waffles on a skewer
Ten Ramen: diced pork sautéed in a savory sweet soy sauce served over a bed of rice, topped with green onions and fried shallots
Shinsei: salmon, dill, lemon zest, olive oil, Himalayan sea salt
Asian Mint Restaurant: bacon fried rice with green onion, white onion, and eggs
American Butchers: grilled seasoned pork sausages, sautéed beef meatballs, grilled beef, pork brats, handcrafted and smoked jerkies
Scardello: cheese, duh!
Bbbop Seoul Kitchen: Kimchi, kale, and pork fried rice
Meso Maya: pollo con mole poblano and plátano macho
Lovers Seafood & Market: seared scallops
Commissary: dry-aged beef and pork meatballs, marinara, provolone picante, parsley, chili oil, focaccia
Sixty Vines at the Crescent: mushroom fregola pasta
Pappas Bros. Steakhouse: dry-aged strip loin with potatoes and roasted mushrooms
Bullion: pork rilette, puffed pork skin, Espelette jam
Revolver Taco Lounge: The Kermit in Bangkok: frog leg guisado, spicy Thai curry, almonds, sweet coconut flakes, and fresh Thai basil to garnish
Jalisco Norte: Habanero ash tuna aguachile, yuca chips, and guacamole purée
Bob's Steakhouse: Steak kabobs with mashed potatoes
And for dessert:
Lake Highlands Creamery: ice cream bars
9 Rabbits Bakery: matcha and yuzu castella
Commissary: pistachio gelato and mini gelato cone
Cade's Cakes: cake, duh!