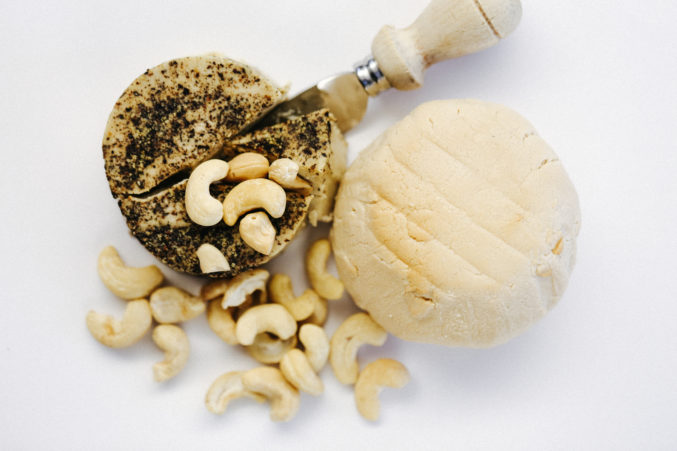 The Vegan Cheese Renaissance Has Arrived in Dallas
Cheese can taste good even when it's made without milk. Really.
V-Eats' executive chef Troy Gardner isn't vegan. He loves cheese, especially Manchego. He eats it shaved and on top of Granny Smith apple slices. But his longing for aged sheep's milk doesn't stop him—and his team of one—from producing excellent, plant-based dairy substitutes.
The vegan restaurant's charcuterie board, which features a selection of nut-based cheeses, has been a special since V-Eats opened in October 2016. It's been so well received, however, that Gardner is adding the dish to his summer menu as a mainstay.
Gardener made his first, solid plant-based cheese in 2016 during his time studying at the Sabor Vegan Gastronomy Academy in Spain. He has since added an assortment of blocky, spreadable, and tangy morsels to his repertoire. The restaurant currently offers mozzarella, firm and soft "goat" cheese, creamy cheddar, hard cheddar, gouda, and blue cheese. The cheeses are made from water-soaked cashews and additional components, depending on the style.
Gardner credits sous chef Evita Tezeno for the depth of flavor that's packed into the restaurant's cheeses. "She helps bring my cheesemaking to a different level" he says. "She uses rejuvelac," a lactobacillus-loaded beverage that's made from soaking and then fermenting grains. Tezeno brews hers with quinoa, which gets used as a culturing agent. "The process gives the cheese its 'stink,'" says Gardner.
The charcuterie board also features seitan-based salami. For those not brushed up on their non-meat "meats," seitan is a protein-rich food made from wheat gluten. On its own, it is mild and flavorless, but the "wheat meat" absorbs the essence of the items it's cooked with. As such, it is an advantageous vehicle for herbs and spices. It's commonly used in stir-frys, and to make sausages and burgers. Gardener's cured meat substitute is packed with black peppercorn, garlic powder, onion powder, red pepper flakes, nutritional yeast, miso paste, sugar, and salt. It's an agreeable addition to the board, but it's V-Eats' cheese that makes this platter essential for vegans, dairy-intolerant, and audacious eaters alike.
"Some of the best vegan cheeses I've had, that are available at Whole Foods and Central Market, are Miyoko's, and Treeline," says Gardner. Miyoko Schinner, the founder and CEO of Miyoko's Kitchen (vegan cheese and butter), released her book Artisan Vegan Cheese in 2012. She set the stage for plant-based dairy products.
V-Eats is one of the first restaurants in Dallas to make its own vegan cheese, but Dallas resident Michelle Silver has been doing it in her home for the past three years. She started her plant-based cheese company, The Goat's Revolt, in April 2015 and sells her organic cashew-based spreads, powdered mixes, and cubes to area shops and farmer's markets.
While these plant-based cheeses have been gaining momentum in niche markets, they've yet to infiltrate Dallas' elite cheese shops. It's nothing but bona fide milk at Scardello and Molto Formaggio. But there's a conversation to be had.
"Yeah, nut-based cheeses are coming along," says Lance Lynn, cheesemonger at Scardello. "They're way better than they used to be, particularly some of the cheddar substitutes." Lynn aspires to major in Food Science at the Department of Nutrition and Food Science at Texas A&M. "When it comes to traditional, artisan cheese, there's really no substitute for great milk, but being able to produce dairy proteins without a cow has some really exciting applications. We always say every cheese has its place, even Velveeta, so why not cheese made from lab-grown milk?"
We've come a long way since the first documented cheese, most likely produced around 5,000 BC from curdling milk inside the stomach of an animal carcass, to plant-based alternatives, and the lab-produced varieties of today. And while the real-deal remains prevalent—the natural cheese market brought in about $15 billion in 2017—consumers are beginning to aim their focus toward sustainable sourcing and eco-conscious practices (goodbye, plastic straws!). Will the blossoming non-dairy cheese industry continue to flourish?
Gardener thinks so. "It's not so much a food trend," he says. "It's a food expansion."