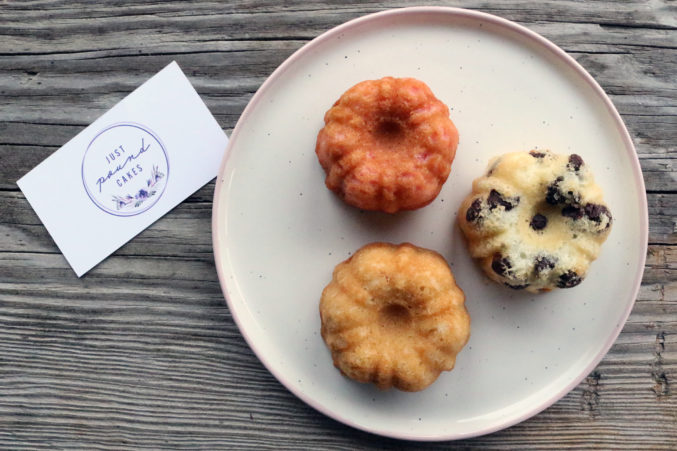 The Localist: Just Pound Cakes
A sweet and sticky must-try.
By Melissa Tate
Published in Food & Drink
June 4, 2018
11:51 am
Kelle Collins of Heath, Texas had been making pound cakes for friends and family most of her life when she started her business a couple of years ago. As a child, she watched her grandmother, Violet, bake her original southern butter pound cakes for family functions, church events and really just anytime she wanted to give a little joy to someone else's day. Kelle pursued a degree in piano performance and up until a few years ago had been the director of fine arts at a private school in the area.
As her sons grew older and went off to college, she took a step back from teaching full time and started giving private piano lessons from home. This change freed up some of her time to start experimenting in the kitchen with her grandmother's original southern butter pound cake recipe. As Kelle, her husband, and her two sons began to taste the experimental flavors, they all agreed that the "results exceeded all of their expectations." This was the moment she realized that these cakes were too good to keep in their circle of friends and family. They named the business Just Pound Cakes which shares the same initials "JPC" as Kelle's husband and two sons. They used the color purple and floral logo as a nod to her grandmother, Violet.
There are now 11 different flavors. The original has always been her best seller with Luscious Lemon, Key Lime, and Strawberry close behind it, especially for the summer season. One of the things I love about Just Pound Cakes is that she offers six different toppings and you can mix and match them with the different pound cake flavors. The toppings include chocolate ganache, lime glaze, pecan praline sauce, lemon glaze, raspberry glaze, and the most popular: cream cheese frosting. All cakes can be purchased as mini cakes (about two inches), four-inch cakes, eight-inch cakes and 10-inch cakes. The Original Southern Butter Cake is also sold in the original round fluted style that her grandmother baked it in for all those years.
You can find several flavors of her smaller cakes at a couple of boutique-type shops east of Dallas including The Rustic Warehouse in Rockwall and Hilltop Cottage in Sunnyvale. All flavors and sizes can be custom ordered via email at [email protected] Any of the flavors and sizes would be perfect for family functions, pot lucks and even corporate gifts. Visit their site for more.