Dining critic Eve Hill-Agnus and I spent a lot of time working on "Meat Markets," our guide to Dallas' top butcher shops in the July issue (on newsstands now). As the month went on, our co-workers started getting a little jealous of our tales of exotic cuts and perfect marbling. So a challenge was issued: could we come up with an ideal grilling menu using all of the butcher shops featured? Our response: chuck, yes.
This menu is intended to take you to 10 of the 11 butcher shops we featured (excluding Local Yocal because McKinney was just a tad too far to make in one day), and to offer an opportunity to try some interesting side-by-side comparisons. I imposed five arbitrary rules.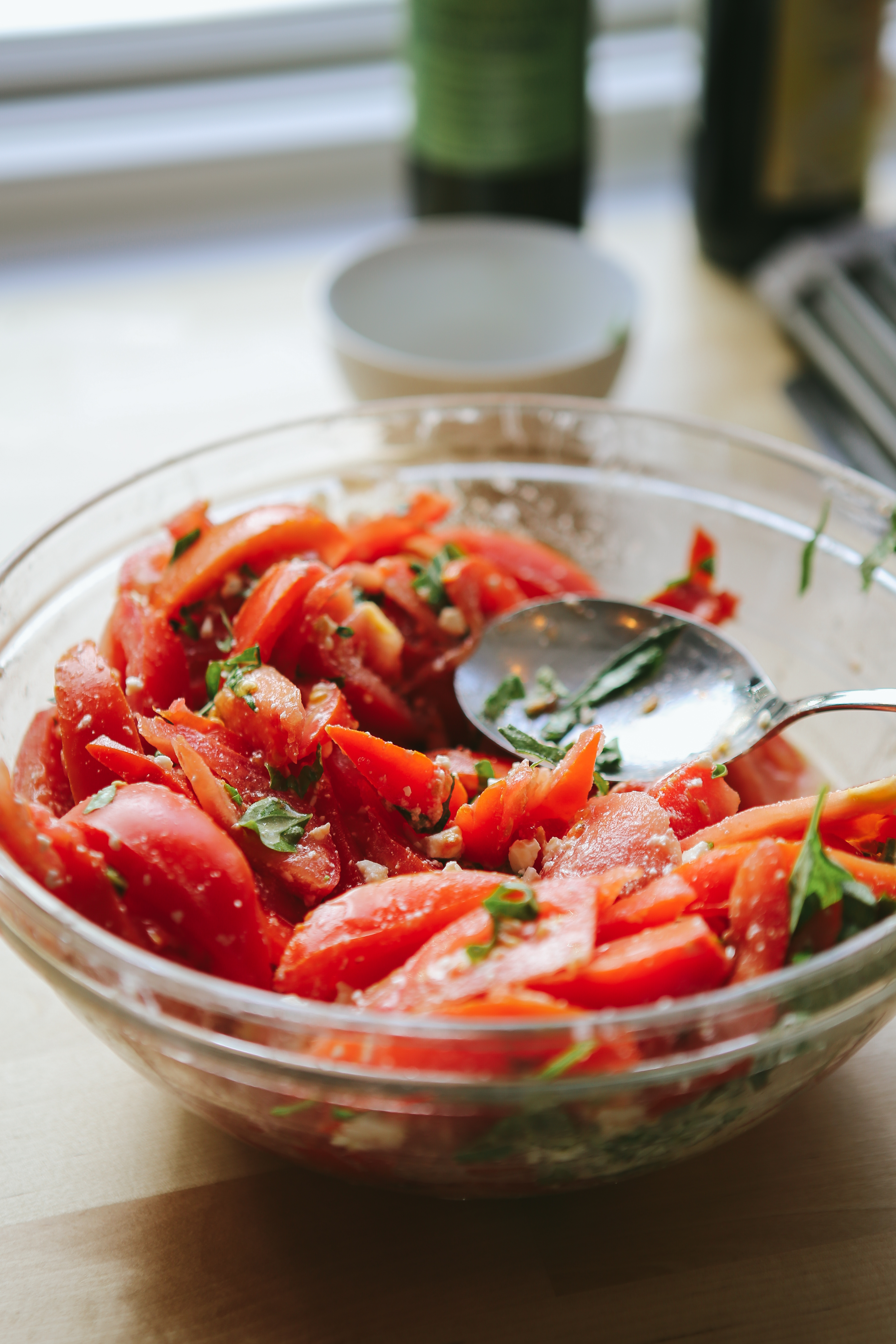 THE RULES:
Only the grill could be used for cooking.
Only lump charcoal could be used for fuel. ABSOLUTELY NO LIGHTER FLUID. Just a match, the Sunday New York Times, and a chimney charcoal starter.
All meats had to be quick and simple options for the grill. That meant no tri-tips or pork shoulders, no burgers that would require extras like buns, and no Wagyu steaks (which aren't at their best on the grill due to fatty flare-ups).
All of the shops had to be visited on a Saturday (I work during the week and a number of shops are either closed or have slim pickings on Sundays).
All items served at the barbecue, including booze, had to be from one of the 10 butcher shops.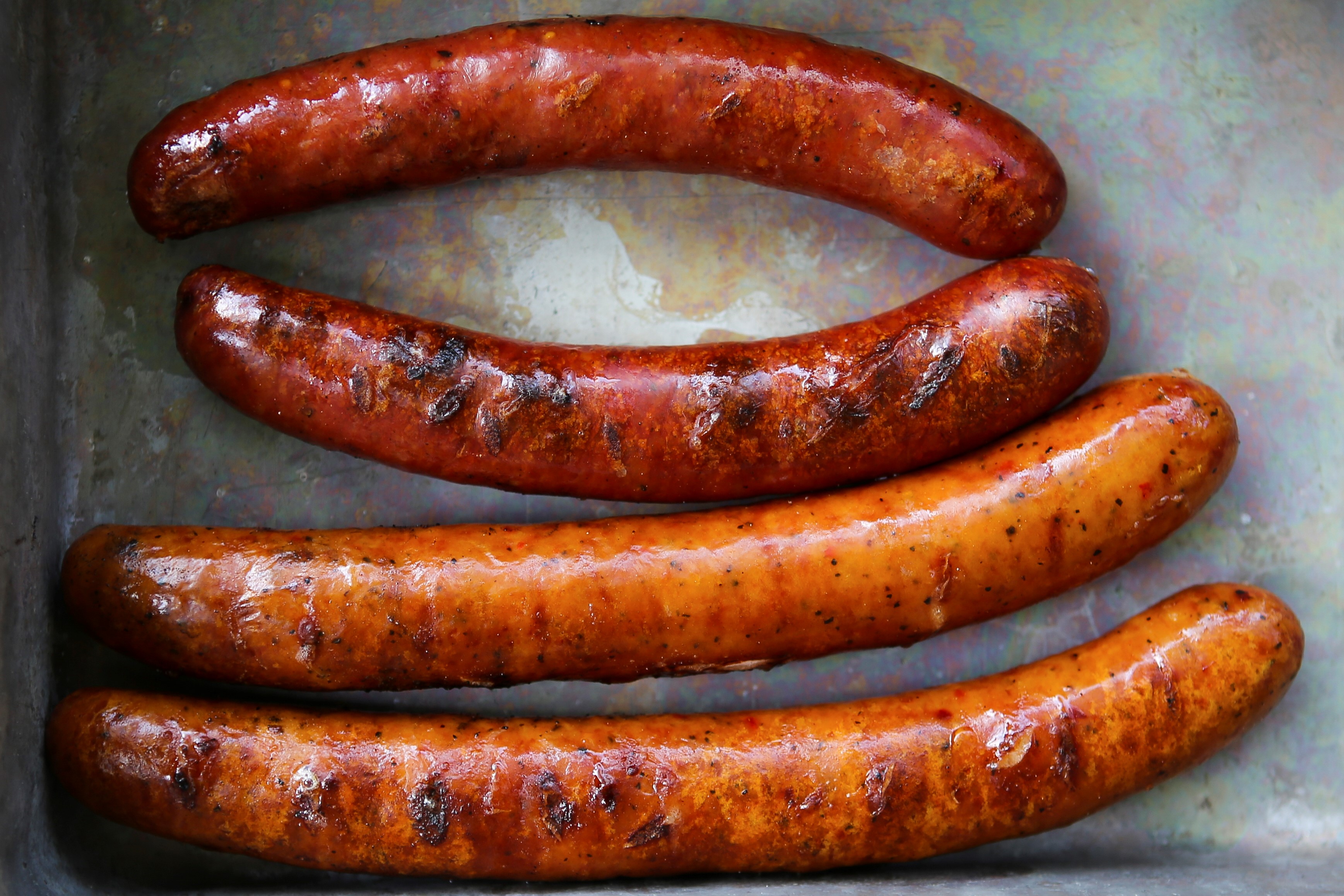 THE TIPS:
For each course, when the meat is done, remove it from the grill and let it rest for a few minutes. Then slice it up and serve with toothpicks (for the sausage) or forks (for the meat).
Advise your diners of what they are tasting as you go.
Side dishes (see shopping list below) require no preparation except for the tomato salad. For that, just slice up the tomatoes, season with Chef Milton Smoked Atlantic Sea Salt and Pepper Melange, drizzle with olive oil, and sprinkle feta cheese and torn basil leaves on top. Leave side dishes out for people to help themselves throughout the tasting.
If you have vegetarians in your midst, pick up some Brussels sprouts, fava beans in the shell, and russet potatoes at Sara's. You can throw them on the grill before you get started with the meat.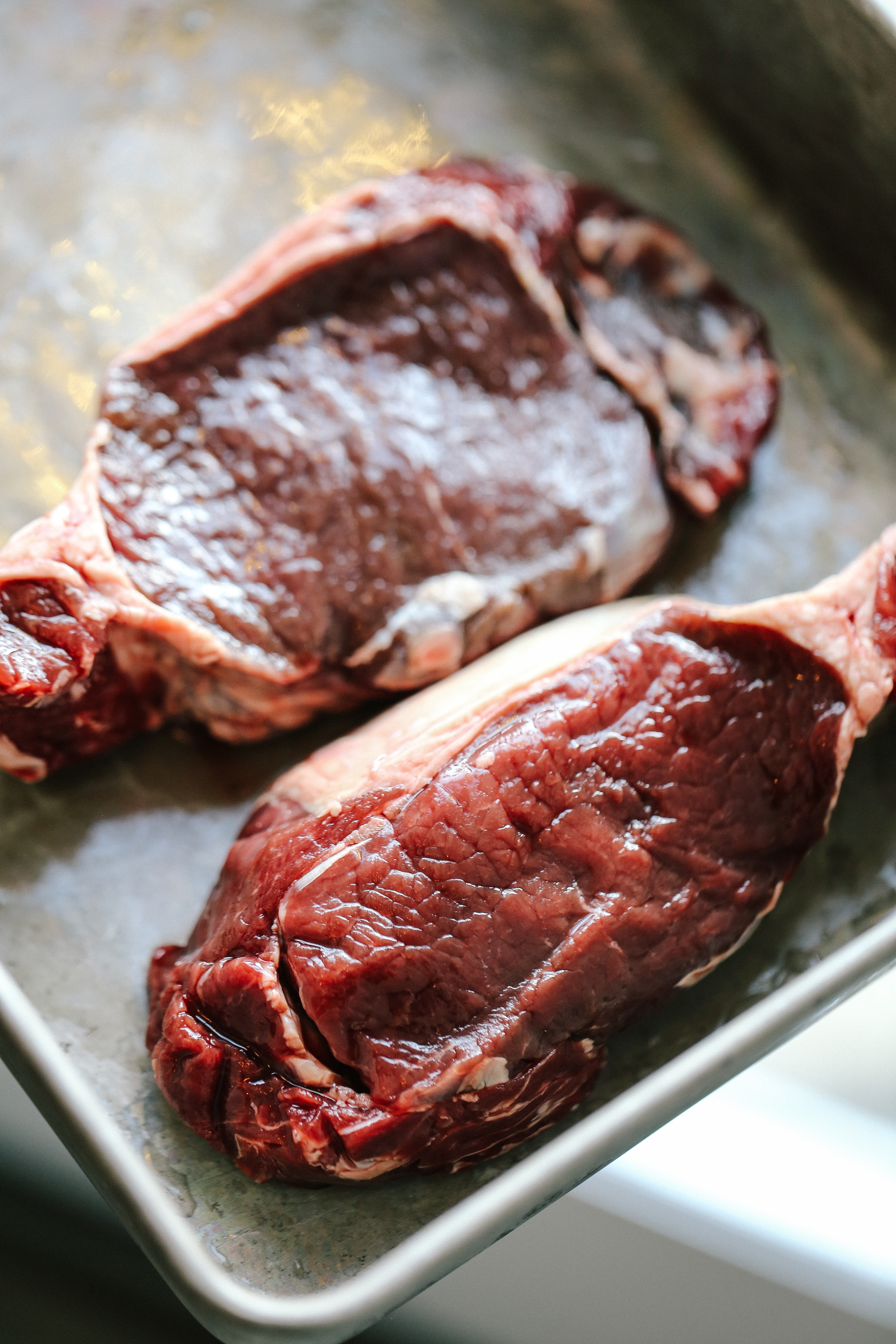 THE AGENDA:
Round 1: Take Flight
Hirsch's bacon-wrapped jalapeño quail
Round 2: On the Lamb
Sara's lamb and beef sausage
Round 2: Brat Battle
Kuby's fine bratwurst v. David's green apple cider brats
Round 3: Smoke Out
Rudolph's smoked jalapeño-cheddar sausage v. The Meat Shop's pork sausage
Round 4: Chopped
Hirsch's brined pork chop v. Cooper's Berkshire pork chop
Round 4: Royals v. Yankees
Matador's dry-aged Kansas City strip v. David's wet-aged New York strip
Round 5: Game On
Deep Cuts' elk steak v. American Butchers' chuck-eye steak
Round 6: Cool Down
Sara's rice pudding and coconut macaroons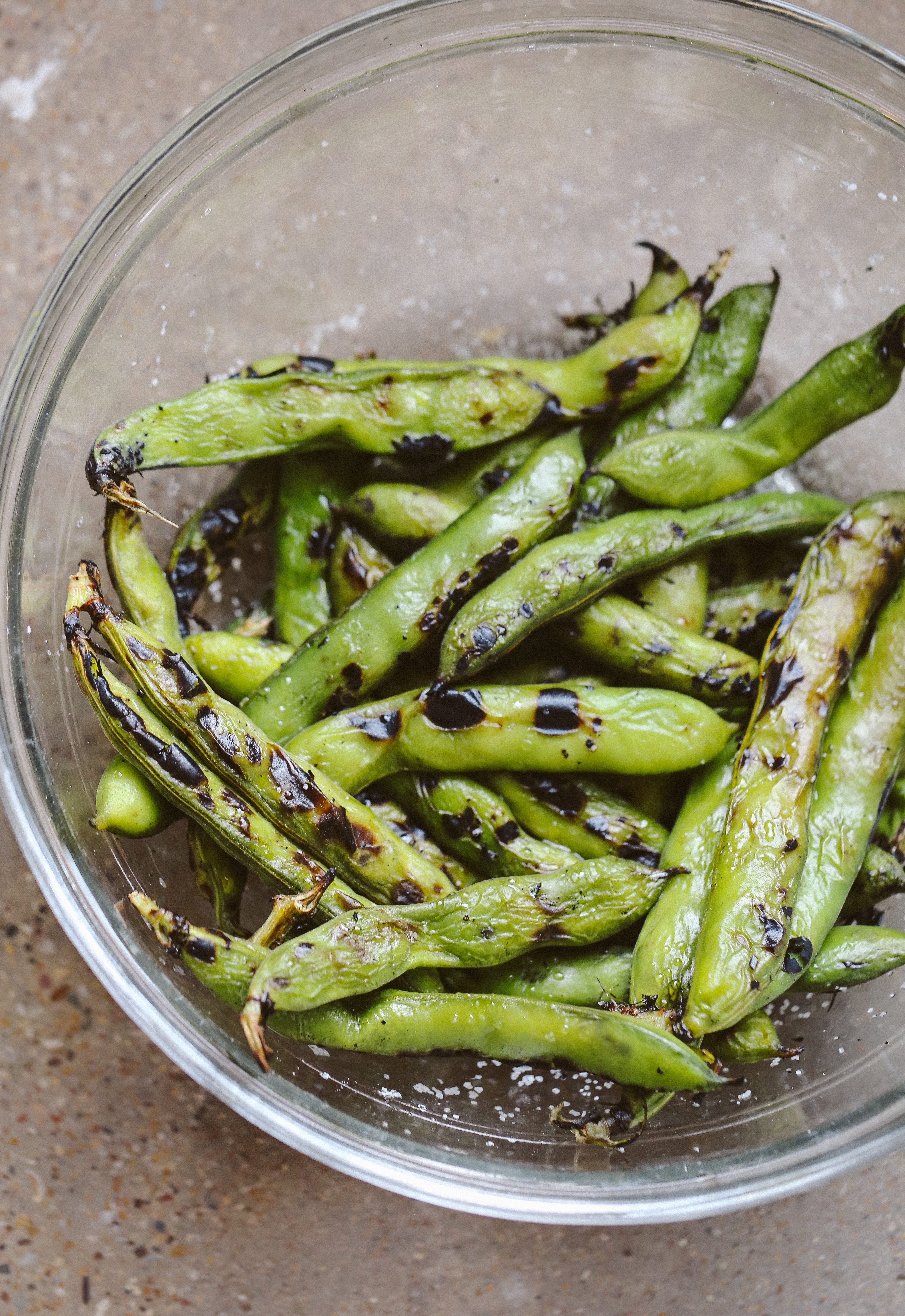 THE SHOPPING LIST:
Cooper's Meat Market
778 Fort Worth Ave., 214-200-4128
Open Saturday 9 a.m. to 10 p.m.

2 bottles Tangley Oaks Pinot Noir
2 bottles Ken Wright Cellars Pinot Noir
2 bottles Joel Gott Pinot Gris
2 bottles Protea Dry Rosé
2 bone-in Berkshire pork chops, 1-inch thick
Note: In the alternative, you can also purchase local brews here. But wine and beverage director Selena Dodge has roots in Oregon and has compiled an excellent selection of Willamette Valley wines. She'll direct you to exclusive deals like the Tangley Oaks Pinot Noir, a steal at almost half the price of the Ken Wright, and advise you to decant it for half an hour before serving. The pinots also provide a versatility that pairs equally well with pork chops and elk steaks. You can also upgrade the meat to a 50-day aged rib-eye (be prepared to pay $75 for a 1.5-pound behemoth), but Cooper's Berkshire pork chops are some of the best you'll ever eat.
American Butchers
920 S. Harwood St., 214-655-6328
Open Saturday 10:30 a.m. to 8 p.m.
Note: Butcher Calvin Wineland, a former Army helicopter pilot, once challenged me to taste-test his chuck-eye steak against a rib-eye that cost more than twice as much. The chuck-eye, tender and beefy, was the hands-down winner. Now I don't order anything else. But if you're not sold, ask Wineland: he has met all of the animals he sells prior to slaughter and has all of his small family ranchers on speed dial. He can tell you what's what. Or you can walk two stalls down at the Dallas Farmers Market to Beyond the Butcher and taste for yourself before you buy.
Rudolph's
2924 Elm St., 214-741-1874
Open Saturday 9 a.m. to 3 p.m.
2 smoked jalapeño-cheddar sausages
Kuby's Sausage House
6601 Snider Plaza, 214-363-2231
Open Saturday 6 a.m. to 9 p.m.
2 fine bratwurst
1 large container mustard potato salad
1 large container beet salad
The Meat Shop
4410 W. Lovers Ln., 972-850-9959
Open Saturday 10 a.m. to 8 p.m.
2 pork sausages
1 large container house-made vinegar coleslaw
Note: The Meat Shop with its backyard hangout is hopping on Saturdays, which means options may be slim come Sunday.
Deep Cuts Dallas
7989 Belt Line Rd., 469-906-6420
Open Saturday 9 a.m. to 8 p.m.
2 elk steaks
Chef Milton Smoked Atlantic Sea Salt and Pepper Melange
Chef Milton Smoked Atlantic Sea Salt and Genuine Red Hatch Chile Peppers
Note: If you want to gild the lily and offer a charcuterie board for your cookout, Deep Cuts is the place to get a fine selection of European cheeses and Spanish cured meats. Ask owner Nathan Abeyta if he has any boudin noir on hand.
Sara's Market and Bakery
750 S. Sherman St., Richardson; 972-437-1122
Open Saturday 9 a.m. to 9 p.m.
1 dozen lamb and beef sausages
8 vine-ripe tomatoes
1 bunch fresh basil
1 watermelon
6 packages of orange-blossom rice pudding
1 package freshly baked coconut macaroons
1 package roasted almonds in the shell
Note: The last Sunday I stopped in, Sara's was completely cleaning out its meat and dairy cases. There wasn't a single sausage or yogurt to be had. So you may want to call ahead to check the clean-out schedule.
David's Meat Market
4010 N. Jupiter Rd., Garland; 972-495-8315
Open Saturday 10 a.m. to 5 p.m.
2 wet-aged New York strip steaks
1 package green apple cider bratwursts
Note: If you really want to get crazy, ask competitive barbecuer and owner Devon McDougall about the pineapple he stuffed with a pork shoulder and then smoked for hours.
Hirsch's Meats
1301 Parker Rd., Plano; 972-633-5593
Open Saturday 9 a.m. to 5 p.m.
2 brined pork chops
2 packages bacon-wrapped jalapeño quail
1 large bag lump hardwood charcoal
Note: This is the place to go to for wood chips for your smoker. They have just about every kind of wood you can imagine, including sassafras.
Matador Meat and Wine
8308 Preston Rd., Plano; 972-377-6328
Open Saturday 10 a.m. to 7 p.m.
2 dry-aged Certified Angus Beef Kansas City strip steaks
Note: Wine is in the name, but Matador doesn't actually carry any.
Get the SideDish Newsletter
Dallas' hottest dining news, recipes, and reviews served up fresh to your inbox each week.