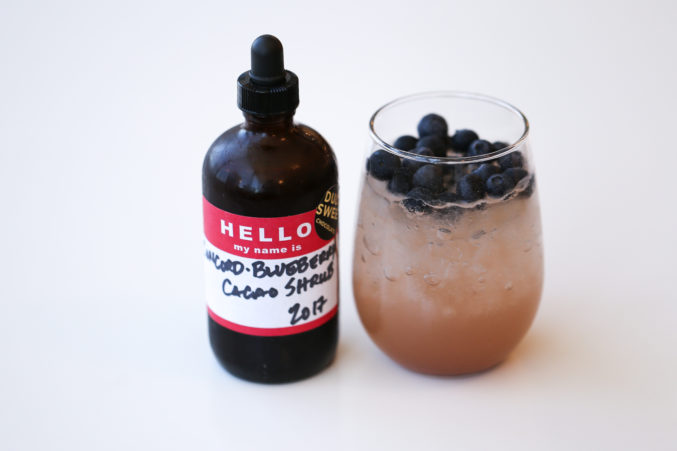 Drink This Now: Blueberry-Grape-Chocolate Shrub From Dude, Sweet Chocolate
The sparkling cooler has a great story.
With the arrival of triple-digit temperatures, the enlightened folks at Dude, Sweet Chocolate are bringing out shrubs they bottled last December. In this case, a blueberry-grape shrub whose primary ingredients are Concord grapes plucked from owner Katherine Clapner's grandmother's home in Tennessee.
A shrub, or drinking vinegar, is a sweetened, vinegar-based syrup that dates to colonial America (and before that England), and was used as a refreshing tonic and a way to preserve seasonal fruit before refrigeration. The season's best macerate in tart vinegar and sugar before being strained and bottled. The result, a delicious, tangy-sweet elixir, preserves the original nuances of the fruit.
You've seen them on cocktail menus in the last decade, in flavors like strawberry-dill, plum-allspice, grapefruit, blackberry cacao-nib, or rhubarb vanilla.
In Dude, Sweet's shrub, blueberries, champagne vinegar, sugar, and a touch of cacao (of course!) round out the picture. On a sweltering day last weekend, I discovered that a generous glug in a chilled Topo Chico makes a tall, fizzy glass to sip, quench your thirst, and fend off the sultry temperatures. They'll be on the shop shelves till the "harvest" runs out.