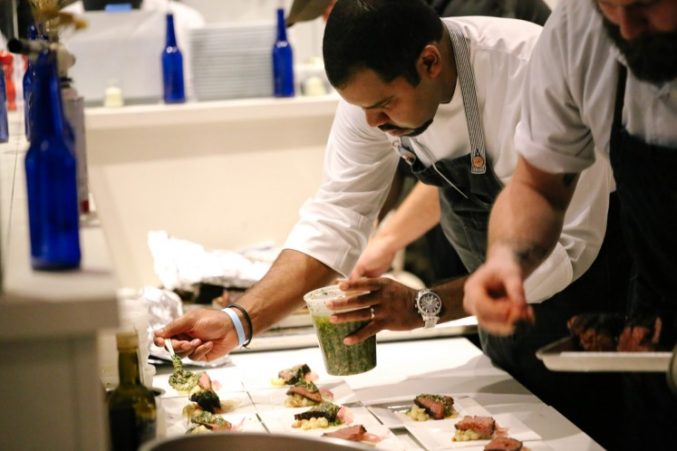 An Update on Junior Borges' Unnamed Restaurant
Get ready for ranch-raised meats.
I wrote in March that a new chef-driven restaurant by the owner of Le Bilboquet and Up on Knox (Stephan Courseau) would soon be giving chef Junior Borges a well-deserved solo voice. Earlier this year, Borges left his position as executive chef at The Joule, where he had overseen menus for its restaurants, which included CBD Provisions and Mirador. As I mentioned then, Borges has broad range: Brazilian-born, he's worked in the realm of high-end Italian, modern Japanese (as executive chef at Uchi), and, working and living in New York, was perennially based in classical French technique. This will be one of the more significant openings next year.
The new restaurant's name is still not disclosed, and the restaurant's projected opening date has not changed (March 2019). But we have specificity on a few key things. One, the location: 4514 Travis St., next door to Le Bilboquet, in a space formerly inhabited by Villa-O. Two, that the restaurant will be accompanied by a farm-shop that sounds like it could be for its Knox neighborhood quite a bit like what Commissary is for downtown Dallas: a Mecca for sandwiches and to-go whole rotisserie chickens with pedigree sourcing and a bevy of sides. As regards the décor, they're working with a top-notch design team, naturally.
Read more from the press release:
The unnamed restaurant will put a big emphasis on farm-to-table food sourced from local farms with a meat-centric menu. The duo will be working closely with friends who own an East Texas ranch to ensure the best free-range chicken, seasonal vegetables and, of course, grass-fed beef. The chef wants to create cuisine that is "interesting, fun, refined and innovative, while at the same time approachable—with some Brazilian nuances." Though, they assure, it will be neither a steak house nor a Brazilian restaurant.

Instead, the flavor of Borges' hometown of Rio will be showcased in the "farm shop" adjacent to the restaurant, a butcher shop-meets-bodega with an entrance facing the quaint fountain and courtyard that connects Le Bilboquet and the new space.

"I grew up with these bodegas, or 'botecos' as we call them in Brazil, everywhere—we called them TV for dogs," he laughs, as he describes the sizzling rotisserie chickens slowly turning in the windows of all the botecos of Rio. "The dogs would sit in front of the windows, mesmerized!"

The shop will serve things like paninis and salads for the lunch crowd, but it will also showcase goods from the farms they source foods from for the restaurant. "It will be a place where people can come in and buy some beautiful radishes, some seasonal greens and farm eggs, something we think will be really great and new for the neighborhood." At the center of it all will be the in-house rotisserie, where people can come in and purchase an organic, free-range chicken with sides—such as potatoes cooked slowly under the rotisserie drippings—to take-out and enjoy at home.

As for how to create three restaurants on one block that do not compete with each other, Courseau is confident: "I'm into what I call a niche that is more sexy European, yet the restaurants I am trying to open are very anchored in the American culture. You know Le Bilboquet is French, but you don't really see French restaurants like it in Paris. Up On Knox has lots of elements of a brasserie, almost like a Balthazar (NYC), but it's not that French either. The new one is the same thing, just trying to mix the different cultures. I have been in America for 30 years, that's who I am now—I'm as French as I am American, or as American as I am French. For me, the new restaurant must have that identity that is the European culture that is really part of what America has become. The new space will share that identity, but it will be very different."