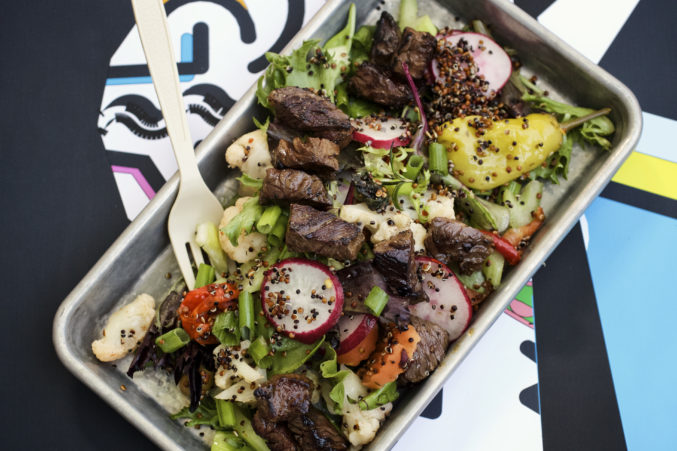 An Exclusive Interview with Tim Byres About Opening Tight Quarters
Get behind the latest vegetable-centric project from the owner of Smoke.
There are reasons the latest development from the celebrated owner of Smoke is vegetable-centric. Yes, it's trendy. Yes, kombucha fills a niche on modern menus and pickled heirloom radishes are the new bacon. But Tim Byres' decision to jump onto the healthy band-wagon had less to do less with business savvy and more to do with a personal mission.
Byres' father died of complications of diabetes. Byres himself has been diagnosed with pre-diabetes. Health, we might say, led him to hummus.
"As a chef, it's easy to eat high on the hog," he tells me on the phone. "This idea of this super unbalanced, high in processed foods, Western diet" he says, had to go if he was to take care of himself.
Byres started cooking at home, seeing a nutritionist. He began eating a more vegetarian diet, fermenting, and making his own drinking vinegars from the apples on the tree in his backyard. Kimchi fermented in pots at home, as did sauerkraut. As someone interested in how food works, Byres was falling down the rabbit hole. And feeling better, healthier.
"Then one day, I had [homemade] salsa," he says—pico de gallo. "I threw it into this one-gallon fermenting contraption I'd made and let it sit at 75 degrees for about a week." He threw it on the table. "The fermented salsa was super killer. The kids loved it."
So was born the idea of making "really complex" salsas and chutneys that derived their pique from fermentation. "God's sort of sour-sweet sort of thing," he says, of the complexity and punch that's endemic to the natural process and is part of what can make food that uses little sweetener or fat, but relies on spices and fermentation, delicious.
At Tight Quarters, the stall he acquired in Legacy Hall, he'll be peddling power bowls built around the ratio of 70 percent vegetables, 30 percent meat that has been his mantra. Into these bowls he is coalescing all the R&D he has been doing in his personal life for over more than a year. The idea that each dish should have four to five distinct flavor pops, for example. "It's awesome," he says, to make whole food vibrant and fresh. "You start tricking yourself. And in the end, it's not a trick; it's great."
The smallest spot at Legacy Hall, the stall rocks shelving up to the ceiling, two woks and a tiny steamer, and an 80s pop culture theme in 171 square feet. TVs will roll MTV music videos. Byres wants it to be "small, in-your-face, fast, and fun."
"It will be about eating better when you're out," he says.
Housemade kombuchas, fresh fruit juice, detox teas, and mother shrub vinegars will round out the menu. Tight Quarters and its tiny team will open with three bowls: seared beef over spicy quinoa salad with a chile citrus mojo and pickled vegetables; poached egg with cauliflower-cashew grits and baby kale; and poached salmon and zucchini noodles with crispy garlic chile oil, lime, and cilantro over a tomato broth—"It almost has a ramen-y vibe to it," Byres says. He'll also have his fermented relishes available in the future.
"I'm gonna spend a lot of time there," he says, hoping to turn it into an incubator for other projects. It's like the really fun high-school job you always wanted.
I've seen the renderings and logo. Picture Flashdance and quinoa salad and you've got it.