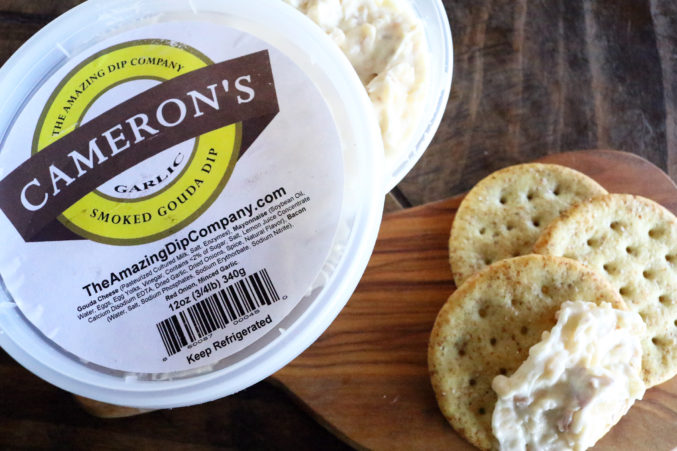 The Localist: The Amazing Dip Company's Smoked Gouda Dip
Spread it, dip it, mix it into mac and cheese.
By Melissa Tate
Published in Food & Drink
May 15, 2018
9:50 am
The Amazing Dip Company was started in 2016 by SMU grad, Marcus Wentrcek. The original smoked gouda dip was actually created on a whim when Marcus, who was working in IT at the time, began playing around with some ingredients in the kitchen. He started with a smoked gouda base and just began adding a little of this and a little of that until his masterpiece was created. He named the dip after his son Cameron because he was such a big fan of the flavor. Cameron's Original Smoked Gouda Dip is a combination of gouda cheese, mayonnaise, bacon, jalapeño peppers, and red onion.
In February of 2017, Marcus and his girlfriend started selling their original dip at farmers markets. From there, they expanded by adding new flavors every few months. They currently have six additional options: Original, Mild, Hatch Pepper, Spicy, Vegetarian and my personal favorite, Garlic. These dips are perfect for charcuterie boards, picnics, or even just spreading on some crackers. Marcus has also created several recipes you can incorporate the smoked gouda dips into like smoked gouda pizza, mac and cheese, and his family's favorite, stuffed gouda mushrooms.
You can find Marcus, his girlfriend/business partner Heather, or his mom Tricia every weekend at several local farmers markets throughout the Dallas area. They carry all flavors weekly. You can also find their products at Market Provisions in the Dallas Farmers Market and at their commissary kitchen located inside Chelles Macarons in Plano. All of their products, along with several of their recipes, can be found on their website.