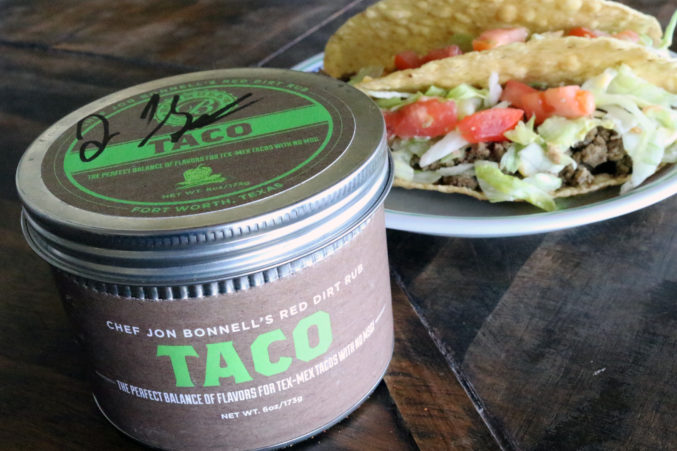 The Localist: Chef Jon Bonnell's Red Dirt Rub Taco Seasoning
Take taco night to the next level.
By Melissa Tate
Published in Food & Drink
May 30, 2018
10:00 am
As a kid, I thought my mom made the best tacos in the world. Crispy corn shell, perfectly seasoned ground beef, lettuce, tomatoes, and cheese. As I got older and wanted to recreate her masterpiece, I realized for all those years that she had been using the regular store-bought taco seasoning that comes in an pouch. I tried it a few times but, as with most things, it was not the same as I had remembered as a kid. My palate is more mature and packet seasoning just wasn't cutting it. Sorry, mom. Taco seasoning is very hard to reproduce, though, so I was so excited to see that chef Jon Bonnell, out of Fort Worth, has created a dry taco seasoning mix.
What's funny is, Bonnell created his seasoning for the same reason I had been looking for one. As we talked about the seasoning, he explained that his wife had been encouraging him for a while to find a blend of flavors that she could whip up easily for basic tacos. They tried out many combinations, he as the seasoning mixologist and his family as the taste testers. One night, they all agreed he had hit the mark and created the "perfect balance of flavors for Tex-Mex tacos."
Thankfully he committed that combo to memory, small-batch produced some, and made it available for the public to purchase. You may remember me sharing another one of his seasonings earlier last year, well, the taco seasoning is just as easy to use. I used one-pound of ground beef with about 3 Tbsp. of seasoning. Simply brown your beef over medium heat, drain about half of the fat, and add the seasoning and water a Tbsp. at a time until you reach desired taste and consistency.
You can purchase all of Bonnell's seasonings and cookbooks at his restaurant in Fort Worth or on their website here.