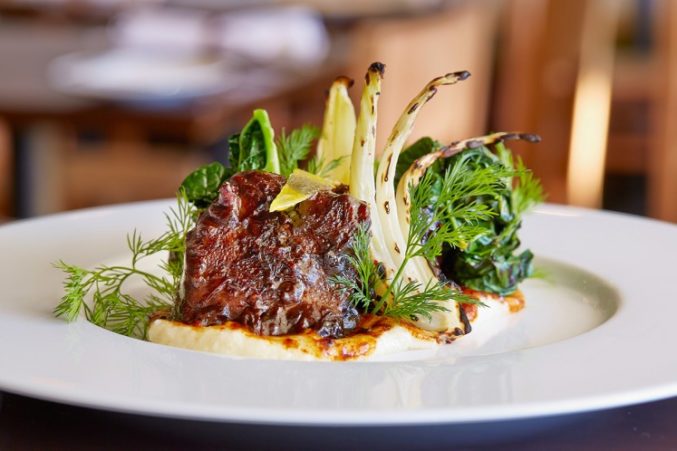 On the Closing of Matt McCallister's FT33
Where do we go from here?
As Catherine Downes reported yesterday, chef-restaurateur Matt McCallister announced via social media that he would be closing FT33 with a last service on June 23. (The date coincides, incidentally, with the second anniversary of his sobriety.)
There are certain restaurants that make you feel lucky you live where you do. FT33 was one of those. Six years ago, McCallister emerged as part of the group that dared to usher in a brave, new time for Dallas. And still, there is little like his inventiveness in Dallas. In its 6-year run, FT33 proved McCallister to be one of the most forward-thinking chefs in the city, one of those creative geniuses—I think of Wylie Dufresne—with an almost manic passion for bridging chaos and structure, alight with the goal to push himself and the city.
Almost as soon as it opened, FT33 was recognized by Food & Wine and Bon Appetit and the James Beard Foundation advanced nominations three years in a row for Best New Chef Southwest, with a speed to which "rising-star" talent doesn't quite do justice.
Since then, and with virtually no repetition, the spot in the Design District has been a place of culinary experimentation, à la El Bulli, Ferran Adria's now-closed laboratory of experimentation in Spain. Over the years, I've seen it be a breeding ground for serious talent, in much the same way The Mansion on Turtle Creek was under Bruno Davaillon. In those years, I've seen chefs come out of the FT33 and go on to head other creative endeavors. Misti Norris is one, Josh Sutcliffe another.
Meanwhile, the team matured. Certainly, Maggie Huff, pastry chef since the beginning. McCallister and Huff, in their creations, steered into pickling and fermentation. They could find homes for hail-damaged produce. (Several years ago, when I was working on an article, I wanted to write a story on the tiny walk-in fridge, full of coriander blossoms and "projects.") Recently they took on the challenge of sourcing everything within a small radius—hyper-local to the point of denying Huff of much of her traditional arsenal save chocolate.
Now, the restaurant is a pantry, where the produce of the season is preserved, powdered, brined, smoked, turned into vinegar, etc. and then showcased in dishes with artful pasta, well-raised meats, and thoughtful preparations. The combination of talent meant I could reliably expect an exceptional experience from beginning to end. I wrote a piece for the April issue of the magazine that touted FT33 as one of two places with exceptional vegetarian tasting menus. I'd found brined shaved kohlrabi, filled with crème fraîche and El Dorado cheese, rolled up, and dusted with kale powder and toasted benne seeds, like a vegetal version of taquitos. And toasted rye tagliardi in a compound butter made with sauerkraut and preserved lemon. And vin jaune.
In this city, where so much is derivative, McCallister and Huff pushed the fine-dining and farm-to-table forms to new heights and in their own directions. It was, by all accounts, a madcap adventure that highlighted that the tension between chaos and structure is the chef's domain. Meanwhile, McCallister opened and then closed his Southern-inspired restaurant Filament in Deep Ellum. He partnered with Jon Alexis of TJ's Seafood for Malibu Poké. They indicate a desire to do something else, but neither offer a good read on what might come next.
And I am reminded again of Wylie Dufresne, who went from WD-50 to Du's Donuts, going from avant-garde molecular gastronomy to, last fall, opening a casual spot for coffee and doughnuts (though in flavors like pistachio-pink lemonade, and the with the bakery consulting of talent from San Francisco's famed Tartine.) And of Adria, who shuttered El Bulli when he was at the top of his game, focusing instead on his El Bulli Foundation and various mystery-shrouded projects.
The closure of FT33 leaves a hole. McCallister has still not responded to my inquiries. In a response to a request for a few words, Huff wrote in a Facebook message, "As far as future projects are concerned, all will be revealed when the time is right." I know I am not the only one waiting to see what McCallister and Huff, separately or together, do next.
In This Post