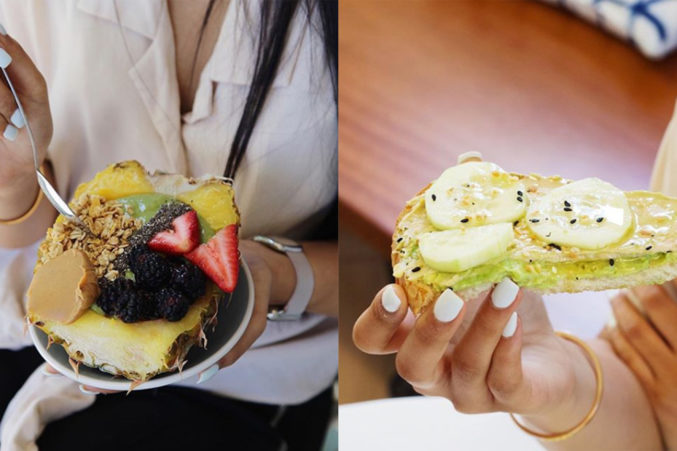 New Coffee Shop Brings Spirulina Bowls and Beachy Vibes to Bishop Arts
Serve House wants you to find your happy space.
This morning, I walked into a place that is still in its soft-opening, and immediately I was on vacation. Another coffee shop has opened in Bishop Arts and in it, couple Brad and Kim Lambert have designed a spot for all-day lattes with a beach vacation vibe.
Wicker chairs, light woods, tile, and marble-topped side tables fill an airy space that feels like an art gallery in which there happens to be a coffee shop. Through tall windows, you can see to the backyard, where cornhole beckons playfully and a vintage couch will soon be turned into a swing.
Brad is a realtor, and a house on Eighth Street that the couple bought as a real estate investment and were looking to flip became a way to address everything they'd want in a neighborhood coffee shop. For them, this meant specific points: a stop for healthy things to eat and drink, where kids could play. "A space that invites community to happen," Brad says. "A space that would really be a community gathering place."
They're brewing Ascension coffee, a Kyoto cold-brew tower preens on the counter, and summer days call for nitro cold brew on tap. Food-side, they serve toasts and paninis, smoothie bowls in flavors like acai and matcha. Later in the week, they play beach music and serve smoothies in coconut shells and pineapple halves. Dragon fruit tops the frozen blue spirulina smoothie bowl, dubbed a mermaid bowl, in a striking swimming-pool blue.
The plan to create "a happy space" feels right. The old house, given new life, is now a showcase for a friend's artwork. Workshops can be held in the light-filled side room, where a calligraphy class is coming up. They plan to have yoga on the lawn. It's all part of "the slow-down vibe we're going for," Brad says. "We're fast-life. Slow down."
Serve House is located at 320 W Eighth St.