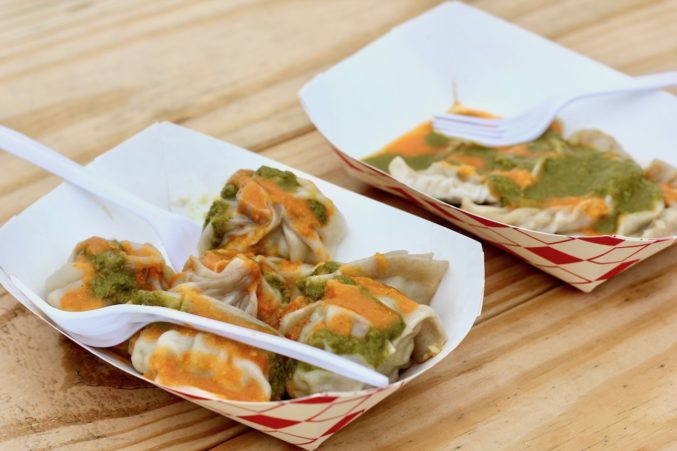 Momo Shack Offers Excellent Nepalese Dumplings
You want to eat these. Trust us.
By Daniel Walker
Published in Food & Drink
May 14, 2018
1:40 pm
While Chinese dumplings certainly boast some of the greatest popularity within international cuisine, it's safe to say that they stretch across many cultures. If you caught the recent dumpling-centered episode of David Chang's Netflix series, Ugly Delicious, you've heard that dumplings are a unifying force that can be found in nearly every nation. But clearly, there are a whole host of dumplings that have not yet become particularly commonplace at the American table. The Nepalese version of dumplings certainly fit that bill.
The folks at Momo Shack are working to introduce Dallas to these lesser known delights. It's brought to us by co-owners, Daniel Flores, and Minu and Leezen Amatya. The group has been peddling their momos at a number of events, pop-ups, and markets around Dallas, and have been in operation for only five months. Yet their enthusiasm for Nepali culture and a stand-out product have scored them big points in social media circles and with adventurous eaters.
Nepali momos are generally filled with various vegetables such as cilantro, cabbage, green onions, and red onions, seasoned with aromatics like ginger, garlic, coriander, cumin, and chili. Vegetarian versions exist, but they're often filled with pork or chicken.
At Momo Shack, the product is fairly traditional. Every dumpling is formed by hand, one-by-one, a labor of love that involves a team of people. They're delicately stuffed with fillings, almost to the point of bursting, to give each dumpling a generous heft. They come in chicken, pork, and vegetarian. The sauces are a critical component here. There's two to choose from: a slightly spicy red tomato-based, and a green cilantro and lemon-based. The folks at Momo recommend you request some of both and mix them.
The easiest way to score some Momo Shack is at the Dallas Farmers Market on Saturday. If you're like me and enjoy simply strolling around the market perusing the various offerings of the day, Momo Shack dumplings are convenient little noshes you can eat on the go as you wander. Follow them on their various social media outlets to stay in the know on their various pop-up events and collaborations with other local businesses. Here you're guaranteed some smiling, gracious faces, and hot, satisfying dumplings.